A Strategic Shift On Ebola Care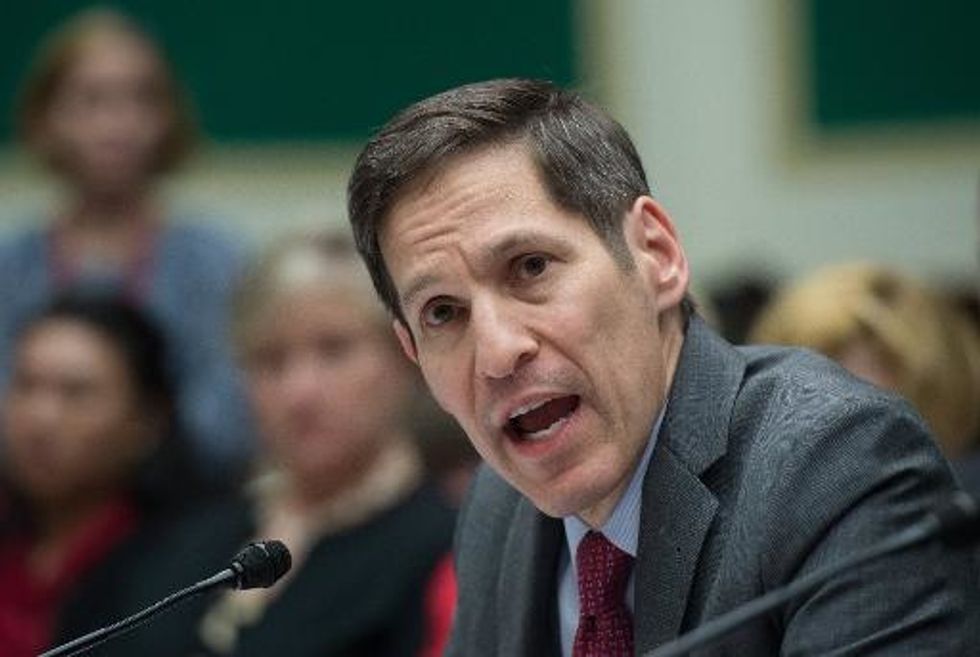 By Noam N. Levey and Michael Muskal, Tribune Washington Bureau (MCT)
WASHINGTON — The federal government effectively began to restrict the care of Ebola patients to hospitals with special bio-containment units Thursday, and the Obama administration labored to reassure jittery Americans and increasingly skeptical lawmakers that public health authorities can prevent a widespread Ebola outbreak here.
The tacit shift in policy came amid growing concerns about mistakes at Texas Health Presbyterian Hospital in Dallas, where two nurses who treated Thomas Eric Duncan of Liberia have since come down with the disease.
One of the nurses is being treated at Emory University Hospital in Atlanta, and the other was being transferred to a specialized treatment center at the National Institutes of Health near Washington.
On Capitol Hill, lawmakers demanded answers from the director of the U.S. Centers for Disease Control and Prevention, Dr. Thomas Frieden, who has acknowledged his agency's lapses in responding to the disease, including allowing one of the nurses to board a commercial flight after she treated Duncan.
Frieden strenuously defended the CDC's efforts.
"CDC works 24/7 to protect Americans. There are no shortcuts," he said. "We have a team of 20 of some of the world's top disease detectives in Texas now. We were there. We left the first day (Duncan) was diagnosed."
Despite repeated assurances from Frieden and other top health officials that the risk of a widespread outbreak is extremely low, fear of the deadly disease has led to school closings and a suggested ban on travel from the U.S. to and from West Africa — which President Barack Obama said Thursday evening that he might consider in the future.
Domestic air travel was of more immediate concern in Texas and Ohio, where several public schools closed as a precaution after officials learned that faculty and students had flown on the same plane as Ebola patient Amber Vinson, the second of Duncan's nurses to be diagnosed with the virus that killed him.
Now hospitalized at Emory, Vinson flew to Cleveland on Friday, returned to Dallas-Fort Worth late Monday and was diagnosed with Ebola on Wednesday.
Eight people who came into contact with Vinson quarantined themselves and are being monitored, according to health officials there.
Officials also are asking anyone who visited an Akron bridal shop that Vinson visited Saturday to contact health officials.
The deadly virus is transmitted by the bodily fluids of a symptomatic person.
In Dallas, where fears about Ebola are highest, local officials signed off on "control orders" Thursday that will restrict those being monitored for Ebola from using public transportation or venturing out to public places such as grocery stores.
Dallas County Judge Clay Jenkins said he expected officials to start serving the orders on 75 health care workers Thursday. During an emergency meeting of county leaders, Jenkins said the addresses of those being monitored would be flagged for first responders but not publicly distributed.
Growing public anxiety has fueled Republican lawmakers' escalating attacks on the Obama administration.
"People are scared," House Energy and Commerce Committee chairman Fred Upton, R-Mich., told federal health officials at the Washington hearing. "People's lives are at stake, and the response so far has been unacceptable."
GOP lawmakers and some Democrats urged a travel ban on passengers from Liberia, Sierra Leone and Guinea, the three West African countries at the center of the Ebola outbreak.
Many public health experts oppose such a move. And Thursday, Frieden also rejected that call, noting it would likely induce travelers from the heart of the outbreak to go underground.
"Right now, we know who's coming in," he said. "If we try to eliminate travel, the possibility that some will travel over land, will come from other places, and we don't know that they're coming in, will mean that … when they arrive, we wouldn't be able to impose quarantine as we now can if they have high-risk contact."
On Thursday evening, Obama said he might consider imposing a ban on travel to Ebola outbreak areas, but he fears it could encourage the sick to hide their illness and result in "more cases rather than less." But the president said he "may consider it if experts recommend it."
Obama emphasized, as have Frieden and others, the need to focus on containing the outbreak in West Africa.
The president signed an executive order Thursday authorizing the Pentagon to call up additional Ready Reserve forces to assist in the ongoing U.S. military effort to combat Ebola in Liberia, Sierra Leone and Guinea.
The order was aimed at calling up personnel with key skills, according to an administration official; so far the Pentagon had identified just eight people for the mission.
Obama also met at the White House for the second day in a row with senior officials coordinating the federal Ebola response.
Administration officials have insisted for months that a wider Ebola outbreak in the U.S. is unlikely because American hospitals can effectively isolate and care for infected patients, a key capacity missing in West Africa.
But the apparent breakdown at Texas Health Presbyterian in Dallas that led to the infection of Duncan's nurses has prompted growing calls for a new system to concentrate care in designed facilities.
The U.S. has four specialized facilities, including Emory, the NIH in Bethesda, Md., the Nebraska Medical Center in Omaha and St. Patrick's Hospital in Missoula, Mont.
Officials at Texas Presbyterian have acknowledged that they erred in sending Duncan home when he initially came to the hospital with flu-like symptoms and reported he had recently been in West Africa.
On Thursday, Dr. Daniel Varga, chief clinical officer of Texas Health Resources, which owns the hospital, testified at the congressional hearing that the hospital had not trained the medical staff to deal with Ebola, even after the CDC alerted U.S. hospitals to watch for possible cases.
Nevertheless, Nina Pham, the first nurse to be infected, had remained at Texas Presbyterian since her diagnosis over the weekend.
The hospital said in a statement Thursday that officials decided to transfer her because so many of the hospital's staff are being monitored for Ebola.
Pham was in good condition, according to health officials.
(Levey of the Tribune Washington Bureau reported from Washington and Muskal of the Los Angeles Times from Los Angeles. Times staff writers Molly Hennessy-Fiske and Geoffrey Mohan in Dallas, Kathleen Hennessey and Christi A. Parsons of the Tribune Washington Bureau in Washington and Christine Mai-Duc of the Times in Los Angeles contributed to this report.)

AFP Photo/Nicholas Kamm