Stronger Than The Storm? Polls Show Christie Weathering Bridge Scandal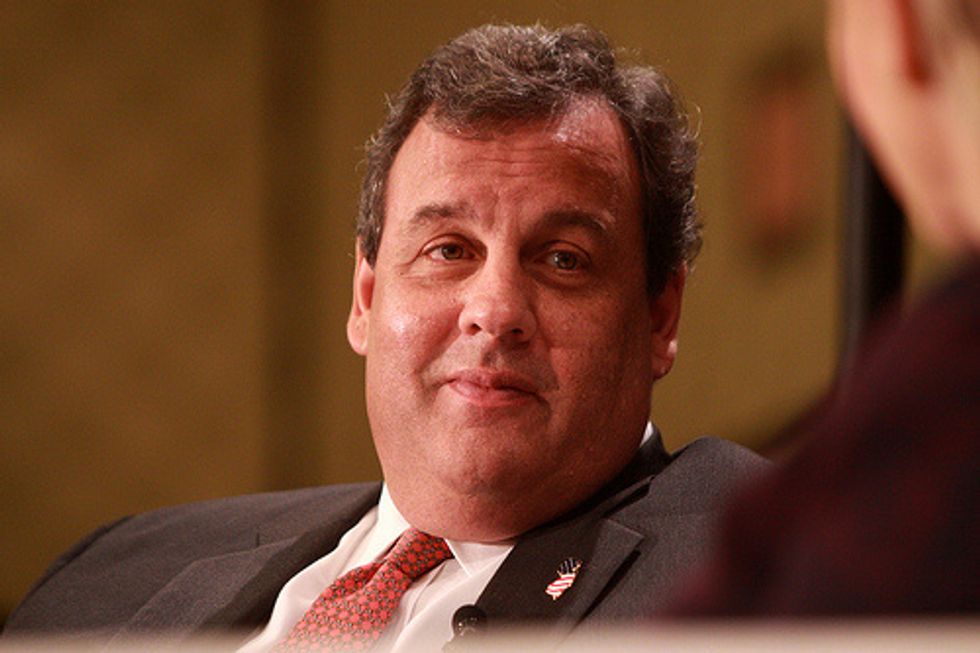 The George Washington Bridge scandal that has rocked New Jersey governor Chris Christie is taking a toll on his poll numbers in New Jersey, but has not had a big effect on his national standing, according to two new polls.
A Monmouth University/Asbury Park Press poll released Monday finds that Governor Christie's approval rating has dropped to 59 percent in the wake of the scandal. That number, while still formidable, is down from 65 percent in December, and marks the first time Christie's approval rating has dropped below 60 percent since before Hurricane Sandy hit the state in October 2012. Christie's disapproval rating similarly rose to 32 percent, up from 25 percent last month.
Christie's personal standing has taken a harder hit; 44 percent of New Jerseyans now hold a favorable impression of the governor, while 28 percent hold an unfavorable impression, and 28 percent are unsure. That's down from an overwhelming 70 percent who felt positively about Christie one year ago.
"There is now a gap between the public's view of Christie's job performance and his personal behavior," Monmouth University Polling Institute director Patrick Murray said in a release accompanying the poll. "There has been a shift from largely positive opinion of the man to a situation where some New Jerseyans are not quite sure what to think of him."
New Jerseyans are very plugged into the scandal, and they're skeptical of Christie's story — 83 percent are following the story surrounding the lane closures, and 64 percent believe they were an act of political retaliation; 51 percent say that Christie has not been completely honest about what he knows, and 52 percent think that he knew about his staff's involvement earlier than he claims he found out. Perhaps most troubling for Christie, New Jerseyans now say that their governor does not have the right temperament to be president, by a 49 to 44 percent margin.
Still, there is evidence that Christie can survive the damage in the Garden State; just 30 percent of those following the story say that they now have less trust in Christie, while 67 percent say their trust in the governor has not changed due to the bridge scandal.
The "Bridgegate" scandal has made a much smaller ripple across the country, however. According to a new Pew Research Center poll, 60 percent of Americans say their opinion of Christie has not changed in the past few days — 16 percent have a less favorable view of the embattled governor, 6 percent have a more favorable opinion, and 18 percent don't know.
The survey further finds that just 18 percent followed Christie's apology for the lane closures "very closely," trailing behind the cold weather that chilled much of the United States (44 percent), the U.S. economy (28 percent), and the unemployment debate in Washington (19 percent), among the most-watched stories of the past week. "Bridgegate" did draw more attention than former Secretary of Defense Bob Gates' book, a topic that captivated Washington, but drew close scrutiny from just 11 percent of the country.
Those who followed Christie's scandal closely are more likely to have changed their opinion of the governor; 29 percent say their opinion of Christie has become less favorable, while 11 percent say it has become more favorable and 57 percent say their opinion did not change.
Notably, Democrats who followed Christie's apology closely have become much less likely to support him — 43 percent say their opinion of Christie is less favorable, while 50 percent say their opinion hasn't changed, and just 3 percent say their opinion of him is more favorable. So if nothing else, the story may have dealt a serious blow to the governor's much-heralded ability to win Democratic support.
Photo: Gage Skidmore via Flickr