Struggling NRA Gave Big Raises To Executives
@jeisrael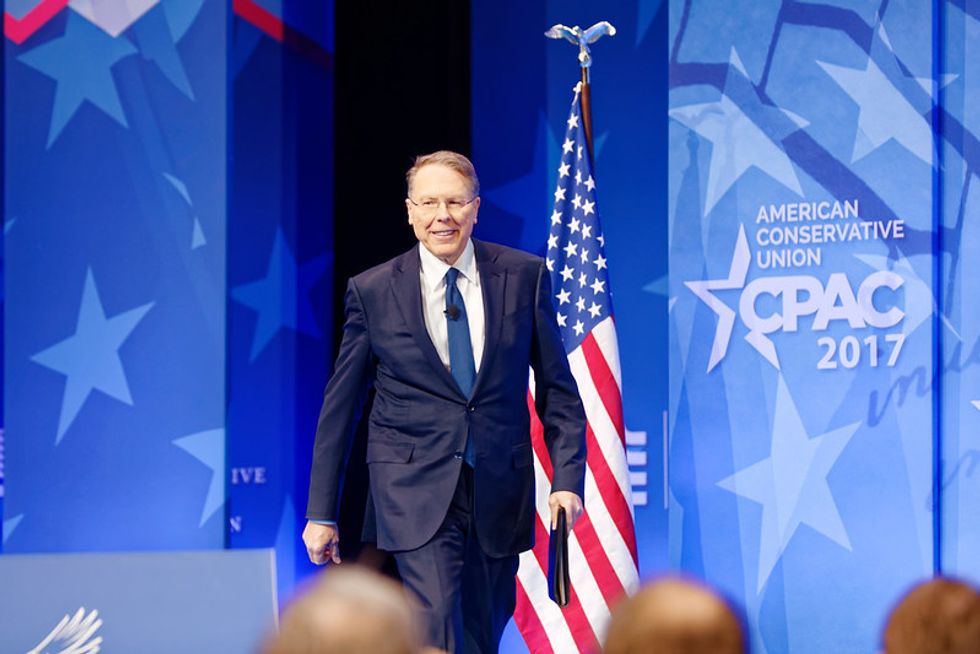 The National Rifle Association has had a bad couple of years, hemorrhaging membership, money, and public support. But that did not stop the group from giving its top officials huge pay raises last year, including a 57 percent increase to chief executive Wayne LaPierre.
The numbers, disclosed in the gun lobby giant's latest tax filings, were reported by the Washington Post on Tuesday night. Between 2017 and 2018, compensation for the NRA's top officials increased by 41 percent as the group's spending on its core programs dropped significantly.
Perks for top officials, the disclosures revealed, include charter and first-class jet travel for the leadership and their guests, as well as memberships at health and social clubs, plus housing expenses.
LaPierre received overall compensation in 2018 of nearly $2.2 million, even as the NRA reported a $55 million decline in income, and its 2018 campaign spending was less than half of its totals for 2014 and 2016 congressional races. It was reportedly so cash-strapped that it even slashed spending on free coffee for its employees.
Meanwhile, its revenue from membership dues have been dropping for years, declining by $35 million in 2017 alone. Dozens of its corporate partners have fled in response to online pressure, and it was forced to shut down its failed NRATV streaming service earlier this year.
Despite its major financial struggles, the NRA reportedly considered buying LaPierre a $6 million mansion in a gated Dallas-area golf club to protect him from potential attacks after a 2018 mass shooting left 17 people dead at a high school in Parkland, Florida.
That shooting — and the NRA's fierce opposition to any meaningful action to prevent similar future attacks — began a sea-change in public opinion. For the first time since 1999, polling has found more Americans view the NRA unfavorably than favorably. A Fox News poll in August, taken after two more horrific mass shootings, found just 42 percent support for the group, versus 49 percent disapproval. Even among gun-owning households, the group's support dropped to 56 percent from 67 percent a year earlier.
Still, the group continues to maintain a stranglehold over Donald Trump and congressional Republicans. After initially expressing support for universal background checks and red flag laws in the wake of mass shootings in Texas and Ohio over the summer, Trump quickly caved to LaPierre's demand that he "stop the games" and get back to blocking gun legislation.
Published with permission of The American Independent Foundation.