Student Killed At Connecticut High School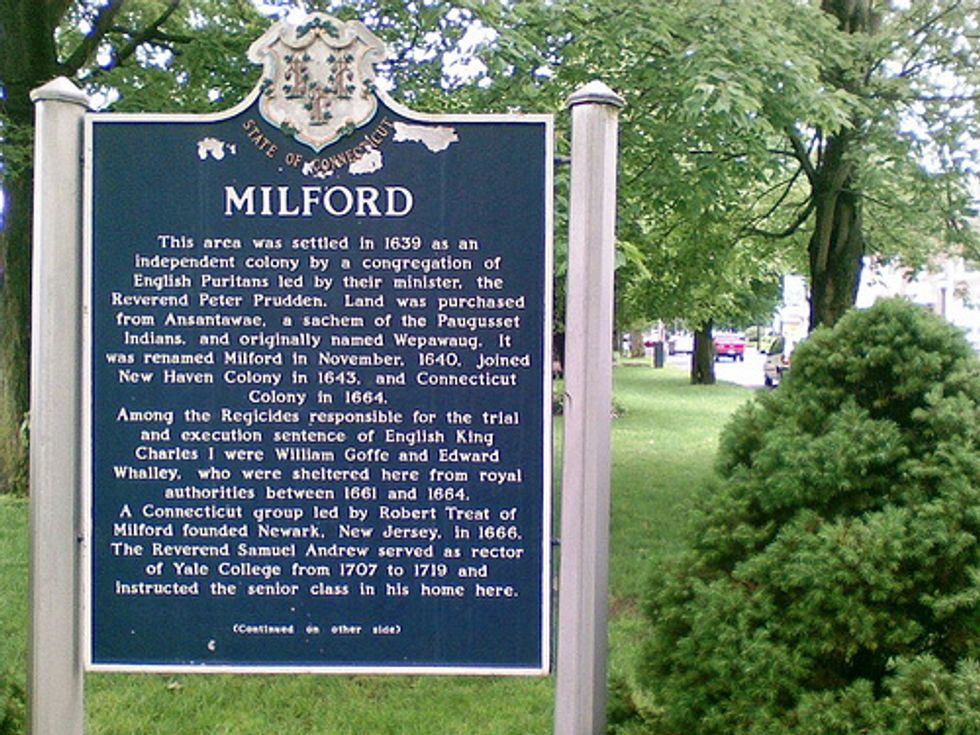 By Hilda Munoz and Savannah Mul, The Hartford Courant
MILFORD, Conn. — A 16-year-old Jonathan Law High School student was stabbed to death Friday morning, and police are investigating whether the 16-year-old male who is suspected of killing her had wanted to take her to the prom.
The victim has been identified as Maren Sanchez.
The suspect is in custody. His name is being withheld because he is a minor, police said.
Milford Police Chief Keith Mello said the assault happened around 7:15 a.m. in a hallway inside the school. A staff member witnessed part of the assault, he said, and tried to help. Others joined the effort, and EMS personnel soon arrived to take Sanchez to Bridgeport Hospital.
She was pronounced dead at 7:43 a.m., Mello said.
"There was blood on her neck. It was awful," said 16-year-old Sam Garcia, a junior at the school, as he walked home. "I saw the girl lying on the stretcher when they took her out."
The incident took place on the morning of the junior prom, which was set to begin at a banquet hall in nearby Stratford on Friday at 7 p.m. Officials said the event will be rescheduled.
Sanchez posted a picture of herself in her prom dress on the JLHS Prom Dresses 2014 Facebook group page on March 3.
Staff detained the student and the school resource officer took him into custody.
Mello said he asked the superintendent to dismiss students for the day so officers could process the scene.
"Jonathan Law High School is an active crime scene," he said.
Mello said he had heard rumors that that Sanchez had declined an invitation to the prom from the suspect, but he could not confirm whether that was the case.
Superintendent of Schools Dr. Elizabeth Feser said Sanchez was a very active student.
"She was an athlete, she was in the National Honor Society. She helped out with other athletic teams. She was very well respected and liked," Feser said.
Counseling services will be available until 8 p.m Friday. Counselors and staff will be on hand through the weekend for any students, staff, alumni or community members in need of support, Feser said.
"Needless to say we are all devastated by the loss of one of our students. Our thoughts and prayers go out to the Sanchez family," Feser said.
Chris Kulenych, an English and broadcast journalism teacher at Jonathan Law who coaches girls' tennis, said he knew Sanchez "because she was involved in so many different things."
Kulenych said Sanchez was often a guest on the student news television broadcast for the different activities she was involved in at the high school.
"She did everything _ people knew her that way," Kulenych said. "Today was just devastating."
Feser said earlier Friday that Sanchez was also involved in the drama club.
"She was someone who was loved and respected by her peers," Feser said.
Sean Chester, a student at Jonathan Law, said Sanchez was the class president and part of the Key Club.
"Everything you're doing right in high school, she was doing," he said.
Milford Mayor Benjamin G. Blake issued a statement Friday afternoon in which he said "Our hearts go out to the family of Maren Sanchez … and to those also affected by this tragedy. I would like to assure all residents of Milford that today's incident was an isolated event. … Jonathan Law High School will be open and counseling services will be available throughout the weekend. I encourage students, staff, alumni and members of the community to take advantage of these resources."
Photo: Troy David Johnston via Flickr