Study Finds Five Servings Of Produce Is Enough, But We're Not Eating It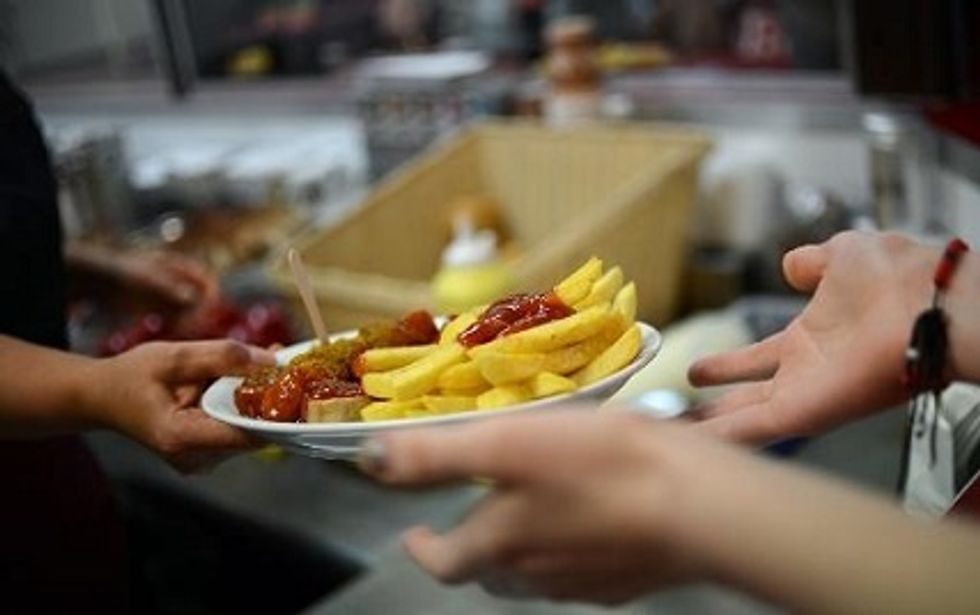 By Mary MacVean, Los Angeles Times
How many times will we have to be told? Apparently we haven't reached the point when we'll change our habits, but here goes again: Eating five servings of fruits and vegetables every day can help us live longer.
That comes from researchers' analysis of 16 studies covering 833,234 people, published this week in the BMJ.
Scientists from China and the United States looked at the growing evidence of a connection between produce consumption and heart disease and cancer. They wanted to quantify the "dose response" — or how much we need to eat — in relation with all causes of death, heart disease, and cancer.
The average risk of death from all causes was reduced by 5 percent for each additional daily serving of fruits or vegetables; risk of cardiovascular death was reduce by 4 percent for each serving. They did not find the risk of cancer to be appreciably associated with produce consumption.
"There was a threshold around five servings of fruit and vegetables a day, after which the risk of all-cause mortality did not reduce further," the scientists wrote Tuesday.
This conclusion contradicts a finding published recently in the BMJ's Journal of Epidemiology & Community Health, in which researchers led by Oyinlola Oyebode of University College London wrote that people "eating seven or more portions of fruit and vegetables daily have the lowest risk of mortality from any cause."
One of the researchers involved in the more recent study, Wei Bao of the Eunice Kennedy Shriver National Institute of Child Health and Human Development, said his group's analysis did not find additional benefits over five portions.
"There could be debate on how much, but we should be aware that the average intake across the world is very low, far below five," Bao said.
The studies followed participants for up to 24 years and tallied a total of 56,423 deaths — 11,512 from heart disaese and 16,817 from cancer.
Bao said it's possible that there is an optimal dose or particular kinds of produce that would affect cancer death rates.
Andy Bellatti, a registered dietitian, noted that half a cup of cooked leafy greens counts as a serving, as do about a dozen baby carrots or six asparagus spears. But the Centers for Disease Control and Prevention reports that only about a quarter of American adults eat vegetables three or more times a day, he said.
In the earlier study, the researchers noted that people do not eat enough produce, citing difficulty in changing habits, lack of motivation, lack of time, and cost.
Those scientists used the 2001-08 Health Surveys for England, plus several years of follow-up, on more than 65,000 people 35 and older. The study subjects reported eating an average of 3.8 servings of produce — 1.5 of them vegetables. The study didn't know how many of those were French fries, which tops many lists of vegetable consumption.
Eating at least seven servings was linked to a 42 percent lower risk of death from all causes, 25 percent lower from cancer, and 31 percent lower from heart disease or stroke in the study period, after excluding deaths within the first year of the monitoring, the researchers reported.
The World Health Organization recommended in 1990 that people eat at least five servings of fruits and vegetables a day to protect against cardiovascular disease and some cancers.
These studies suggest potential not only for individuals, Bao said, noting that to "promote people to consume more would be of some benefit" in terms of policy.
AFP Photo/Johannes Eisele
Interested in health news? Sign up for our daily email newsletter!