Study Illuminates The Way Cops Die In The Line Of Duty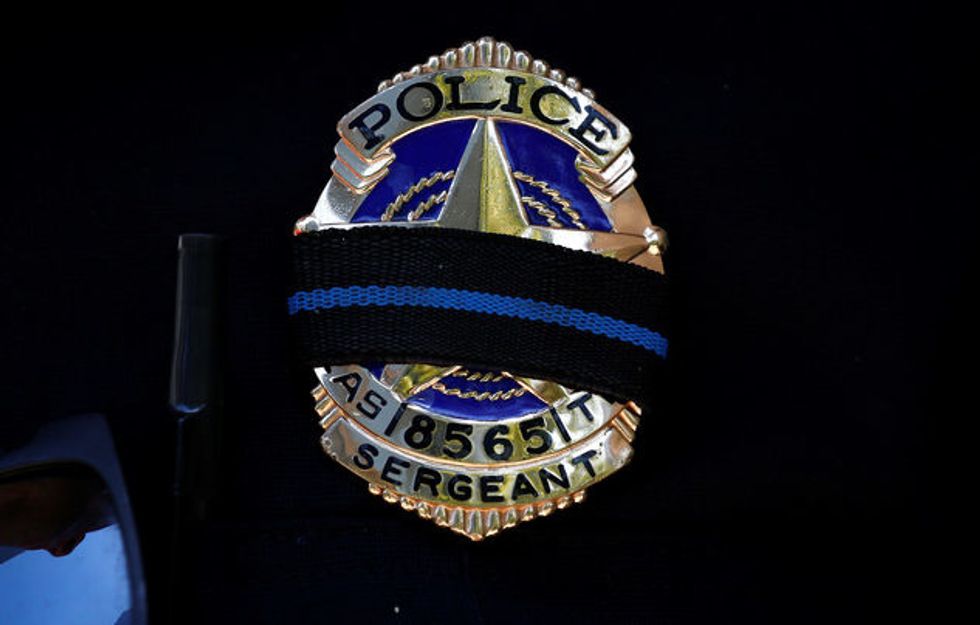 Slow down, buckle up and take special care around fighting family members.
Sounds like wisdom a parent might bestow. But, in layman's terms, those are the recommendations of a new study of law enforcement deaths while on duty.
In short, police will be more likely to return home safely after their shifts if more of them wear seat belts, take more care when racing to high-priority calls, wear their issued body armor and remember that calls involving domestic disturbances are often the most dangerous.
The release of the report by the U.S. Justice Department is well timed. It provides a striking counterbalance to a lot of rhetoric of late that aims to compel the public to choose sides between protecting blue lives and black lives — as if we can't do both.
The report, "Deadly Calls and Fatal Encounters," was being finalized as the nation reeled from the July ambush murders of five police officers in Dallas, followed by three more officers shot and killed by yet another deranged man in Baton Rouge, La.
Those murders understandably piqued fears for the lives of law enforcement. But some advocates of "law and order" have overreached, falsely accusing the Black Lives Matter movement of stoking violence against police.
There are tensions between citizens and police in low-income communities across the nation where homicide rates are high and police presence is heavy. But they have existed for years. That's the point. The protests – even the most outrageous ones that brought vandalism, looting and police lines being pelted with bottles and rocks — weren't the result of one incident. They are the result of cumulative outrage.
And it's patently unfair to decide that the many voices involved in the Black Lives Matter movement — and they are widely varied — can be blamed for all of the dangers to law enforcement.
The report illustrates that many of the fatal dangers for police are not easily categorized. The report emphasizes that "no call is routine," and complacency can result in an officer's death. But there is much that can be done to alleviate their risks.
Analyzing 684 deaths of officers between 2010 and 2014, the report dug deep into the circumstances, finding parallels in the types of calls, what information was available to officers and how they responded.
Traffic accidents took the most police lives by far, accounting for 272 deaths. When police officers were shot and killed, most often it was in dealing with a domestic dispute. Often police officers died when answering calls alone, not waiting for backup or when pertinent information about the suspect being armed was not relayed to them. That finding calls for better training, coordination with dispatch operators and changes to the ways information is disseminated by radio, tablets and computers in patrol cars.
Ninety-one officers were killed while responding to a call for service, such as 911. Forty-one died in self-initiated calls, including cases where an officer made an investigatory traffic stop. An additional 134 officers were shot while not responding to a call. Those deaths included officers being ambushed in unprovoked attacks and those killed while serving a warrant, during tactical operations or while doing follow-up investigations.
Interestingly, semi-automatic weapons aren't the firearms that most often take officer's lives. In 71 percent of the cases studied, the officers died by a handgun. That makes sense. Handguns are popular in many an American home, which relates back to the domestic disturbance-related deaths. Yet in 21 percent of the deaths studied, officers were shot by high-powered rifles, leading to recommendations for body armor and possibly ballistic panels for patrol cars.
When it comes to shootings of police officers or by them, we're increasingly being fed polarizing narratives: the police as prejudiced and above the law vs. the police as heroes with targets on their backs.
Reality is much more complex, and to come to grips with it we need access to the facts. Better data exist for cases in which officers killed in the line of duty than for cases of officers shooting civilians. The FBI is the clearinghouse for the latter cases, but law enforcement agencies don't always report up the line.
As much as people like to argue that their feelings and perspectives matter, facts will bring us together to solve the problems of police violence. Better data, and reports that take the time to drill down into those data, are necessary. It's the only way to spot problems and correct them.
After all, the goal of a civil society ought to be for citizen and officer to return safely to their homes at night.
(Mary Sanchez is an opinion-page columnist for The Kansas City Star. Readers may write to her at: Kansas City Star, 1729 Grand Blvd., Kansas City, Mo. 64108-1413, or via e-mail at msanchez@kcstar.com.)
Photo: A Dallas police sergeant wears a mourning band on his badge during a prayer vigil in a park following the multiple police shooting in Dallas. REUTERS/Carlo Allegri