Suarez Faces World Cup Ban Over Bite
@AFP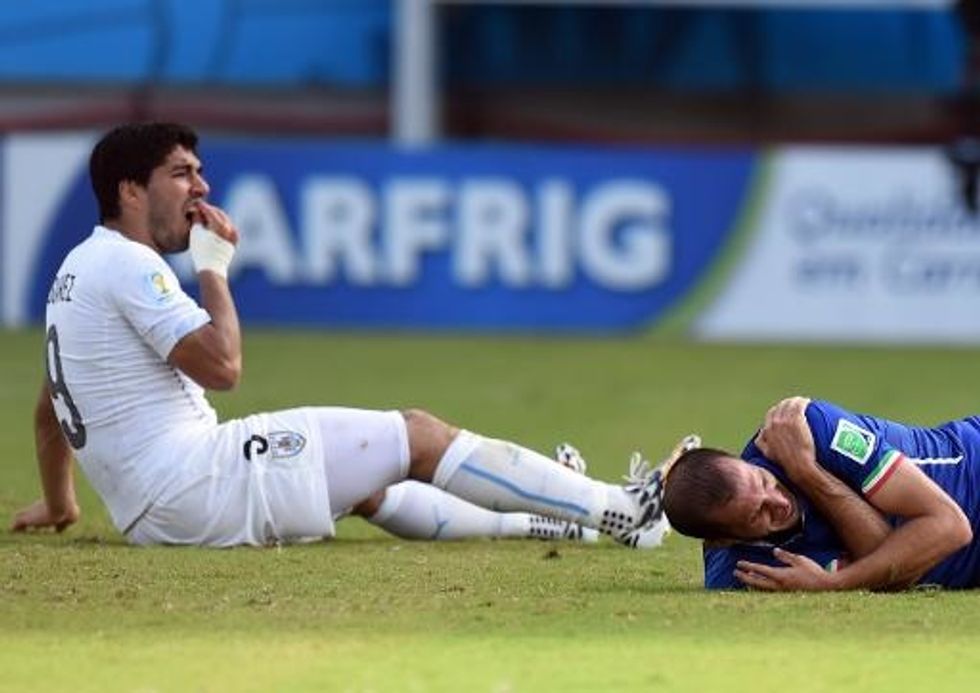 Rio de Janeiro (AFP) – Football disciplinary chiefs gathered evidence against Luis Suarez on Wednesday as calls mounted for the Uruguay star to be kicked out of the World Cup after his latest biting storm.
The Liverpool striker shocked the footballing world when he sank his teeth into Italian defender Giorgio Chiellini during Uruguay's 1-0 victory over the Azzurri on Tuesday.
Suarez, banned twice before for biting opposing players, could be expelled from the tournament if found guilty.
Suarez and Uruguayan officials have until 5:00 pm to submit evidence to a disciplinary panel set up by football's governing body FIFA.
"The disciplinary committee is working to get a decision as early as possible," FIFA spokeswoman Delia Fischer said when asked if a decision would likely be made before Uruguay's last 16 match against Colombia on Saturday.
Fischer would not speculate on any possible punishment, although she said Suarez's previous offences could be taken into account.
"The disciplinary committee can take all elements into account as it deems necessary," she said.
While Suarez had "a right to be heard", he was not expected to travel to Rio de Janeiro from Uruguay's training base to address any disciplinary hearing, Fischer said.
Suarez was nowhere to be seen Wednesday as his Uruguay team-mates trained in Natal amid the raging controversy.
Suarez, who plays in the English Premier League for Liverpool, is one of the world's biggest stars, and could theoretically be banned for up to 24 games under FIFA rules.
Fischer declined to say whether any potential punishment of Suarez could extend to club football as well as international football.
"It's the disciplinary committee which decides the scope of any potential sanctions," she said.
Suarez has already received long bans for biting during his club career as well as racially abusing Manchester United player Patrice Evra during a game in 2011.
The latest flashpoint occurred towards the end of Uruguay's clash with Italy.
Replays showed Suarez biting Chiellini's shoulder as the two players made contact in an off-the-ball incident.
Chiellini angrily remonstrated with Mexican referee Marco Rodriguez, pulling his shirt off his shoulder to show red marks on his neck.
Afterwards, Chiellini told Italian television: "He bit me, it's clear, I still have the mark."
Suarez sought to play down the incident in comments to Uruguayan television, claiming Chiellini had barged him.
"There are things that happen on the pitch and you should not make such a big deal out of them," Suarez said.
However the damning video evidence drew almost blanket condemnation on Wednesday across the globe.
Former England captain Alan Shearer, working in Brazil for the BBC, said FIFA should impose a lengthy global ban.
"I would give him a worldwide ban for as long as I could," Shearer said.
"It's not the first time, it's not the second time, it's the third time — to actually bite someone on a football pitch in front of millions. It's unacceptable."
Sponsors linked to Suarez reacted cautiously.
German sporting goods manufacturer Adidas said it was awaiting FIFA's "full investigation into this matter."
British online gambling firm 888poker said it was "reviewing" it's relationship with the player.
"We will not tolerate unsporting behaviour," the firm said.
Many in Uruguay defended Suarez, echoing suggestions by coach Oscar Tabarez that he was being unfairly persecuted.
"We have no doubt that this (probe) was started because it is Suarez, and two because Italy was eliminated," Alejandro Balbi, lawyer and member of the board of the Uruguayan football federation, told radio Sport 890.
"There is no doubt that Suarez is a stone in the shoe for many," he added.
But a notable exception was ageing national hero Alcides Ghiggia, who scored Uruguay's World Cup-winning goal against Brazil in the 1950 tournament in Rio.
"This boy's clearly not right in the head. That's just not something you do on the pitch," said Ghiggia.
With the Suarez controversy dominating the off-field headlines, it was left to Argentina captain Lionel Messi to put the focus back on football.
Messi scored two goals — taking his tournament tally to four in three games — as Argentina beat Nigeria 3-2 to finish top of Group F.
Nigeria also reached the last 16 for the first time since 1998 despite the defeat after Iran were beaten 3-1 by already eliminated Bosnia.
©afp.com / Javier Soriano