Suddenly, America's Top Corporate Leaders Are Shunning Tea Party Extremism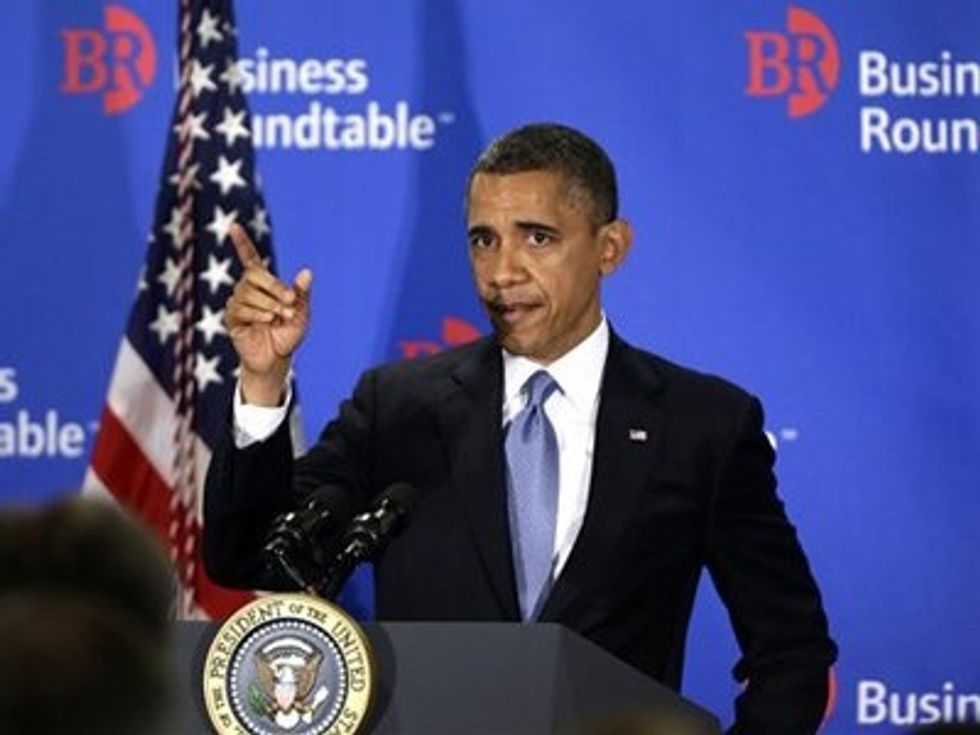 Leaders of the American business community, who have long indulged the Republican far right as an instrument toward their own ends, seem to be growing weary of its political excesses. Recognizing the public verdict of last month's election, corporate officialdom is moving toward moderation on taxes and other issues, showing support for the Obama White House and edging away from congressional Republicans.
The latest top executive to endorse the president's position on rescinding the Bush tax cuts for the top two percent is Fred Smith, CEO of Federal Express and a former economic advisor to Senator John McCain — who denounced as "mythology" the notion that raising the top rate would damage the U.S. economy.
Smith joined a lengthening queue of business leaders from all sectors who have stepped up over the past week to voice their acceptance of increased taxes as part of a budget agreement to break the stalemate on Capitol Hill — not only to avoid the so-called fiscal cliff on December 31, but because fairness requires the wealthy to pay their fair share. Randall Stephenson, chief executive of AT&T, the nation's largest telecom company, told Business Week that higher taxes and more revenue must be part of any budget agreement. So did  Lloyd Blankfein, the CEO of Goldman Sachs. And so did a group of defense industry executives from companies such as United Technologies, RTI International, TASC and Northrop Grumman.
Income tax rates "need to go up some," said David Langstaff, the CEO of TASC, at a Washington press event organized by the Aerospace Industries Association, a defense lobby. "This is a fairness issue — there needs to be recognition that we're not collecting enough revenue. In the last decade we've fought two wars without raising taxes. So I think it does need to go up."
Indeed, the president was warmly received this week when he visited the Business Roundtable, a powerful Washington lobbying group that officially prefers Republican policy on maintaining the Bush tax cuts unchanged. "This room likes a winner," said Roundtable chairman James McNerney, the CEO of Boeing, as his members applauded the president, who worked the room as if among old friends. They didn't seem terribly upset when the president told them that tax rates — their tax rates — would have to go up, and in fact, they are reportedly supporting him on the need to avoid another destructive struggle with Congress over the debt ceiling. Evidently they won't go along with the kind of blackmail game that congressional Republicans played with the debt ceiling in the summer of 2011, leading to a credit downgrade and slower growth for months afterward.
The suddenly sensible sounds emanating from the business community are astonishing when contrasted with the anger displayed toward the president by many of these corporate suits only weeks ago, when they berated Obama as "anti-business" and loudly yearned for a corporate-style Romney presidency. Resoundingly rebuked by the electorate, which overwhelmingly favors Obama's positions on taxes and entitlements — and stands ready to blame the Republicans if no budget agreement is achieved — the business leaders are backing ever so subtly away from their traditional alliance with the GOP.
These brand-conscious executives suddenly have realized that the Republican brand, especially at the congressional level, is politically toxic. And they would rather not be too closely identified with it at this dangerous moment.
Remarkably, the Tea Party Republicans have now alienated their party's most important constituency — the upper echelon of the business community. It is a profound irony that the issue raising friction between these politicians and their erstwhile backers is a fanatical partisan determination to defend the tax benefits enjoyed by those same wealthy executives.
The president's opponents are backing themselves into a corner where even their own old friends cannot defend them. Meanwhile Obama may finally have learned that if he stands firm and refuses to negotiate with himself, he can win over public opinion and break the partisan obstructionism.