Suffering From Pneumonia, Clinton Falls Ill At 9/11 Memorial, Cancels California Trip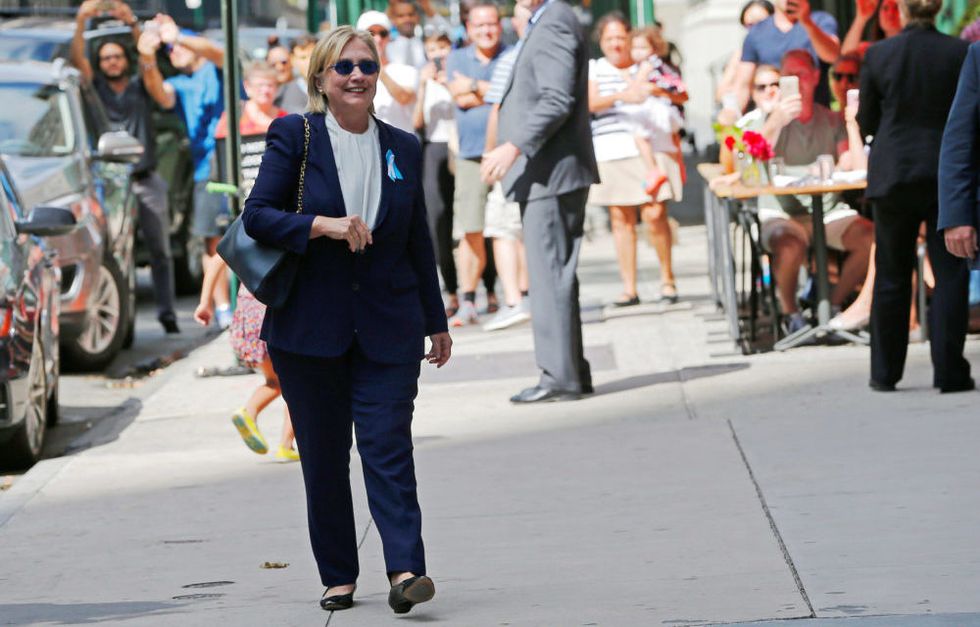 NEW YORK (Reuters) – Hillary Clinton is suffering from pneumonia, the Democratic presidential candidate's personal doctor said on Sunday after she fell ill at a Sept. 11 memorial, an episode that renewed focus on her health less than two months before the election.
Clinton canceled a trip she was scheduled to take to California on Monday for fundraising and other campaign events, an aide said, declining to provide further details about her schedule for the week.
Clinton, 68, was diagnosed on Friday but her condition only came to light several hours after a video on social media appeared to show her swaying and her knees buckling before being helped into a motorcade as she left the memorial early Sunday.
Clinton had a medical examination when she got back to her home in Chappaqua, New York, according to a campaign aide. Her doctor, Lisa Bardack, said in a statement that she has been experiencing a cough related to allergies and that an examination on Friday showed it was pneumonia.
"She was put on antibiotics and advised to rest and modify her schedule. While at this morning's event, she became overheated and dehydrated. I have just examined her and she is now re-hydrated and recovering nicely," Bardack said.
Clinton's pneumonia diagnosis comes at a crucial time in the White House race against Republican rival Donald Trump, who refrained from commenting on her health on Sunday.
The first of three presidential debates is on Sept. 26 and the election is on Nov. 8.
Democratic National Committee head Donna Brazile said she was encouraged that Clinton"already is feeling better" and looked "forward to seeing her back out on the campaign trail and continuing on the path to victory."
Several Clinton allies said the incident underscored the candidate's resilience.
"After being diagnosed with pneumonia, Hillary Clinton ran a two-hour national security meeting, gave a press conference, and spent an hour and a half in the heat at a September 11 event," said Peter Daou, who worked for Clinton in the past and now has a communications firm.
"It was an impressive feat of physical strength that undermined weeks of health conspiracies."
'LESS SPECULATION'
Clinton abruptly departed the high-profile, televised event at Ground Zero and was taken to her daughter Chelsea's home in Manhattan. She emerged around two hours later on a warm and muggy morning, wearing sunglasses and telling reporters that she was "feeling great."
The video that showed her swaying and buckling with aides holding her up came from an unverified Twitter account under the name Zdenek Gazda, who did not respond to a request for comment. The Clinton campaign did not respond to repeated requests for comment about the authenticity of the video.
Political strategists said the campaign should confront the health issue head-on to tamp down any concerns, particularly as Republican rival Donald Trump and some of his high-profile supporters have repeatedly argued that she lacked the "stamina" to battle adversaries abroad.
Bud Jackson, a Virginia-based Democratic strategist, said the statement from the doctor was a good start. He said the incident should encourage more transparency from the campaign about her health. "I think they did the right thing. They had her examined and put out a statement. It means less speculation," he said.
As the solemn ceremony began at the site of the World Trade Center that was attacked by two hijacked airliners 15 years ago, there was patchy sunlight, with temperatures at about 80 degrees Fahrenheit (26.6 Celsius). But the high humidity early into the ceremony caused it to feel much hotter in the crowd at times.
Clinton wore a high-collared shirt and a dark pant suit and donned sunglasses for the morning event.
Clinton's pneumonia diagnosis follows a wave of conservative conspiracy theories that circulated in recent weeks suggesting that Clinton's coughing was a sign of deeper problems.
Clinton's speech at a campaign rally earlier this month in Cleveland was interrupted by a coughing spell. During the speech, she quipped, "Every time I think about Trump I get allergic." She then resumed her speech.
Dr. Amesh Adalja, an infectious disease expert and senior associate at the UPMC Center for Health Security in Pittsburgh who is not treating Clinton, said coughing is a cardinal symptom of pneumonia.
Recovery from pneumonia, the 8th leading cause of death in the United States, can be variable, he said, adding it takes a week for most patients to get better. Adults above the age of 65 are at heightened risk.
PRESIDENTIAL PRECEDENTS
Past presidential candidates have released much more detailed information about their health than either Trump, 70, or Clinton.
For example, John McCain, the failed 2008 Republican presidential nominee, allowed reporters to see 1,173 pages of medical records after concerns were raised about a cancer scare.
Clinton has been in the news before for serious health issues.
In December 2012, she suffered a concussion and shortly afterward developed a blood clot.
In a letter released by her doctor in July 2015, Clinton was described as being in "excellent health" and "fit to serve" in the White House. It noted that her current medical conditions include hyperthyroidism and seasonal pollen allergies.
The diagnosis and illness on Sunday come after some tough days for Clinton, as national polls showed her lead over Trump diminishing. A Reuters/Ipsos poll of likely voters showed an 8-point lead for Clinton had vanished by the last week of August.
On Saturday, Clinton came under fire from Republicans and on social media for saying Friday night that "half" of Trump's supporters belonged in a "basket of deplorables." She later said she regretted using the word "half."
Trump has also been under pressure to release detailed information on his health and medical history.
Instead, in December, Trump's doctor wrote in a short letter that was made public that his blood pressure and laboratory results "were astonishingly excellent" and that he would be "the healthiest individual ever elected to the presidency."
(Additional reporting by Jonathan Allen in New York,; Alana Wise, Emily Stephenson, Jeff Mason and Sarah Lynch in Washington; Writing by Richard Cowan; Editing by Ross Colvin and Mary Milliken)
Photo: U.S. Democratic presidential candidate Hillary Clinton leaves her daughter Chelsea's home in New York, New York, United States September 11, 2016, after Clinton left ceremonies commemorating the 15th anniversary of the September 11 attacks feeling "overheated."  REUTERS/Brian Snyder