'Suge' Knight Arrested On Suspicion Of Murder; Held On $2-Million Bail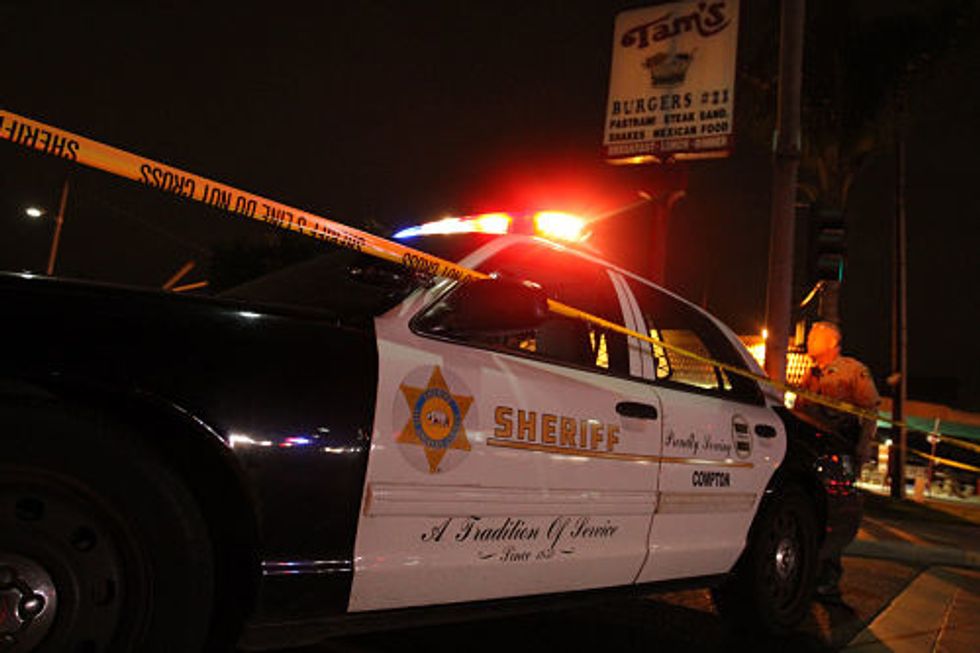 By Ryan Parker and Angel Jennings, Los Angeles Times (TNS)
LOS ANGELES — Notorious former rap music mogul Marion "Suge" Knight has been arrested on suspicion of murder after he allegedly ran over two men with his truck following an argument on a film set in Compton, the Los Angeles County Sheriff's Department confirmed. He is being held in lieu of $2-million bail.
Knight, 49, arrived at the Los Angeles County Sheriff's Department West Hollywood station with his attorney around 12:30 a.m. to be interviewed by homicide detectives as a person of interest in the case, according to authorities and his lawyer.
The interview concluded around 3:30 a.m., Knight's attorney, James E. Blatt, told The Times.
The confrontation began about 3 p.m. Thursday when Knight and two unidentified men began arguing on the set of "Straight Outta Compton," a biopic about the group N.W.A., said Capt. John Corina of the Sheriff's Department's detectives unit.
About 20 minutes after the alleged argument, the victims were at Tam's Burgers near Central and East Rosecrans avenues, authorities said. Knight is believed to have followed the men in his truck and run them over in the parking lot, Corina said.
Witnesses said the truck hit the men, then backed over them before leaving the scene.
One of the victims, 55, died, and the other, 51, suffered undisclosed injuries, Corina said. At least one of the victims was a member of the film crew, he said.
Blatt said his client was being attacked by a group of men, and, while trying to get away from his attackers, accidentally ran over the victims.
"I am positive Mr. Knight will be exonerated by Tuesday," Blatt said. "Investigators are still interviewing witnesses and still need to see video of the incident."
A representative for Knight had no comment on the allegations.
Traffic slowed to a crawl at the corner of Rosecrans and Central avenues as evening commuters tried to navigate past the crime scene. Onlookers gathered, trying to catch a glimpse of the parking lot of the popular burger joint. Social media exploded with the news about Knight's allegedly being involved in another crime.
Directed by F. Gary Gray, "Straight Outta Compton" tells the story of N.W.A., a pioneering rap group made of up Arabian Prince, DJ Yella, Dr. Dre, Eazy-E and Ice Cube, and later, MC Ren. Modern-day rappers credit the group with making rap mainstream and inspiring many of today's top artists. Knight's affiliation with the production of the movie, if any, is unclear.
Knight co-founded Death Row Records with Dr. Dre in 1991 and built it into the first rap label to consistently dominate the pop scene. But he has a history of legal troubles.
In 1996, Knight was at the wheel of a BMW in Las Vegas when passenger and popular rapper Tupac Shakur was shot by gunmen in another vehicle. Shakur died a week later, and the case has not been solved.
In 1997, Knight was sentenced to nine years in prison for violating the terms of his probation from an earlier assault case. He was released from prison in 2001 but was sent back to jail two years later for violating parole when he hit a parking lot attendant.
In 2006, Knight filed for bankruptcy. He put his Malibu mansion up for sale the following year. In 2008, he was arrested in Las Vegas on suspicion of drug possession and aggravated assault. The next year, he pleaded guilty to misdemeanor battery.
Last August, Knight and two others were shot inside a packed West Hollywood nightclub at a pre-awards party hosted by singer Chris Brown.
Photo: A Los Angeles County Sheriff's patrol car blocks the intersection at Rosecarans and Central avenues on Thursday, Jan. 29, 2015, near the parking lot at Tam's Burgers, where a fatal hit-and-run occurred. (Bob Chamberlin/Los Angeles Times/TNS)