Suicide Bomber Kills 48 High School Students At Nigeria School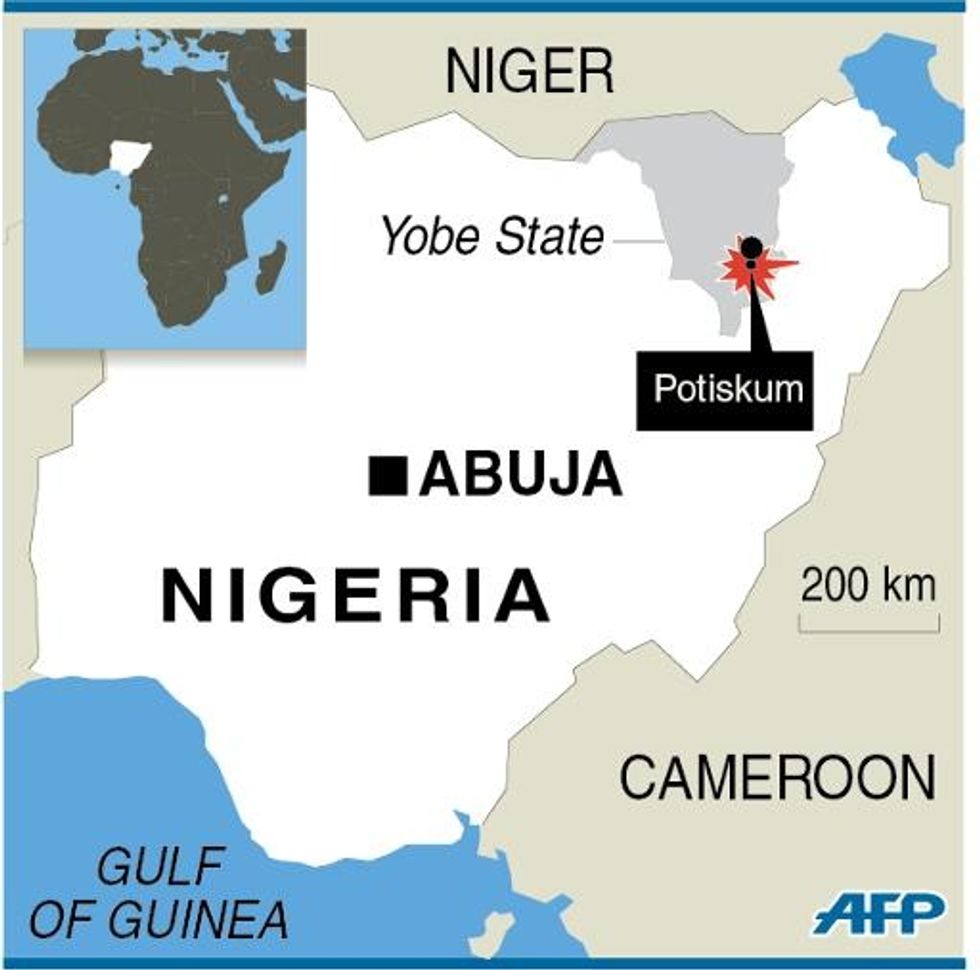 By Robyn Dixon, Los Angeles Times
Dozens of schoolboys were killed Monday in a suicide bomb attack on a high school in the town of Potiskum in Nigeria's Yobe state, Nigerian police confirmed Monday.
Monday's attack happened at about 8 a.m. as students gathered for school assembly, according to local media.
Dozens were killed and injured, with 48 killed in the attack, carried out by an attacker disguised in a school uniform, according to AP. A police spokesman, Emmanuel Ojukwu, said 47 were dead and 79 injured.
"Many bodies of students are presently on the ground in pools of blood. We are running home now," an unnamed witness told Nigeria's Premium Times newspaper.
"We were waiting for the principal to address us, around 7:30 a.m., when we heard a deafening sound and I was blown off my feet, people started screaming and running, I saw blood all over my body," 17-year-old student Musa Ibrahim Yahaya told AP, speaking in a hospital.
Since 2013, multiple attacks on schools and colleges in Yobe state in Nigeria's troubled north-east have targeted schoolboys, students and teachers, often killing dozens at a time. The attacks are believed to be the work of the extremist Islamist militia, Boko Haram, which is bitterly opposed to Western-style secular education.
Boko Haram emerged about a decade ago, fighting for an Islamic state, but has stepped up attacks in recent years, killing thousands of Nigerians in the north east. Nigeria's military, often accused of fleeing attacks or abandoning its posts, has been criticized for failing to halt the insurgency.
In north eastern Nigeria, extremists have also abducted hundreds of women and girls, including 279 abducted from a school in Chibok town earlier this year.
Nigerian authorities have repeatedly claimed progress in the fight against insurgents in the northeast of the country, only to be proven wrong. Boko Haram, or Islamist militia splinter groups have seized control of dozens of towns and villages in neighboring Borno and Adamawa states in recent months.
Last month, Nigerian authorities claimed to have reached a ceasefire deal with Boko Haram, but attacks and abductions have continued. A video purporting to be from the Boko Haram leader, Abubakar Shekau recently repudiated any deal and said the Chibok girls had been married off to fighters. (The authenticity of the video hasn't been established.)
In June last year, gunmen suspected to be from the extremist Islamist militia, Boko Haram, invaded a government high school in Damaturu, the Yobe state capital, shooting down eight boys and a teacher in the dining room. A month later, gunmen attacked a boys boarding school in Mamudo village, Yobe state, killing 42 people. The victims were shot to death or burned alive in their dormitories.
In September last year, gunmen invaded a dormitory at an agricultural college in the Gujba district of Yobe state, in the early hours of the morning and shot dozens of students in their beds, killing at least 42 students.
In February this year, gunmen attacked a school in Buni Yadi, Yobe state. They sent female students away, before killing 59 boys. The attackers threw petrol bombs into dormitories were students were sleeping, and sprayed the rooms with gunfire. Some students had their throats cut as they tried to flee.
Monday's attack follows a suicide attack last week in Potiskum on a Shiite religious procession, killing 30 people.
AFP Photo
Interested in more world and political news? Sign up for our daily email newsletter.