Suicide Bomber Kills At Least 52, Mostly Women, Kids In Pakistan Park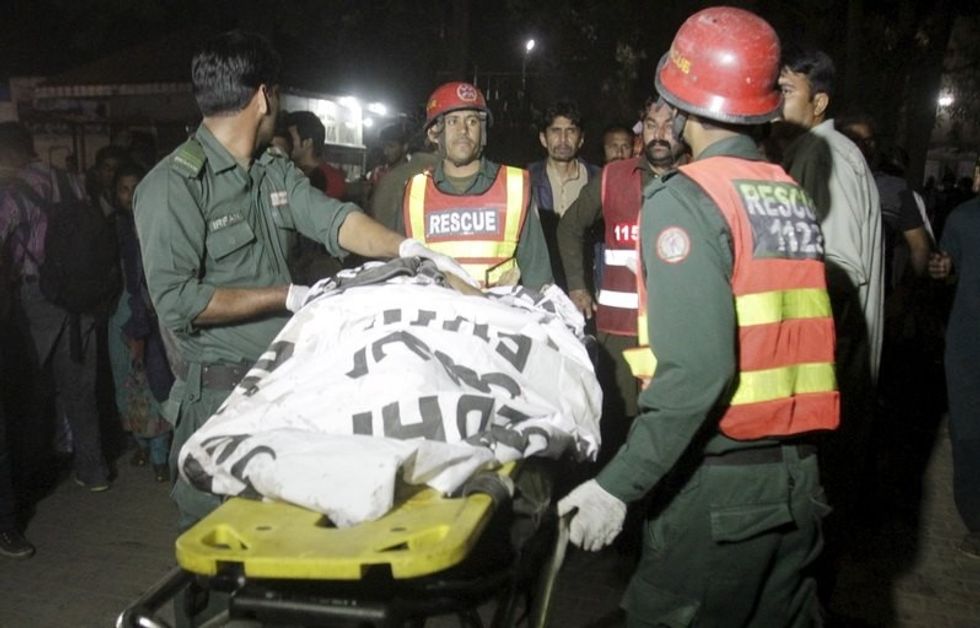 LAHORE, Pakistan (Reuters) – A suicide bomber killed at least 52 people, mostly women and children, at a public park in the Pakistani city of Lahore on Sunday, government officials and police said, striking at the heart of Prime Minister Nawaz Sharif's political base of Punjab.
The blast occurred in the parking area of Gulshan-e-Iqbal Park, a few feet away from children's swings. Around 150 people were injured in the explosion, officials said.
There was no immediate claim of responsibility for the blast. Pakistan, a nuclear-armed nation of 190 million people, is plagued by a Taliban insurgency, criminal gangs and sectarian violence. Punjab is its biggest and wealthiest province.
Eyewitnesses said they saw body parts strewn across the parking lot once the dust had settled after the blast.
The park had been particularly busy on Sunday evening due to the Easter holiday weekend.
Salman Rafique, a health adviser for the Punjab provincial government, put the death toll at least 52 people.
"Most of the dead and injured are women and children," said Mustansar Feroz, police superintendent for the area in which the park is located.
Media footage showed children and women crying and screaming and rescue officials, police and bystanders carrying injured people to ambulances and private cars.
In 2014, Pakistan launched an offensive against Taliban and affiliated jihadist fighters in North Waziristan, seeking to deprive them of safe havens from which to launch attacks in both Pakistan and Afghanistan.
Punjab has traditionally been more peaceful than other parts of Pakistan. Sharif's opponents have accused him of tolerating militancy in return for peace in his province, a charge he strongly denies.
Last year, a bomb killed a popular Pakistani provincial minister and at least eight others when it destroyed the minister's home in Punjab.
(Writing and Additional Reporting by Mehreen Zahra-Malik, Editing by Gareth Jones)
Photo: Rescue workers move a body from the site of a blast outside a public park in Lahore, Pakistan, March 27, 2016.  REUTERS/Mohsin Raza