Suicide Car Bomber Rocks Somalia's Presidential Palace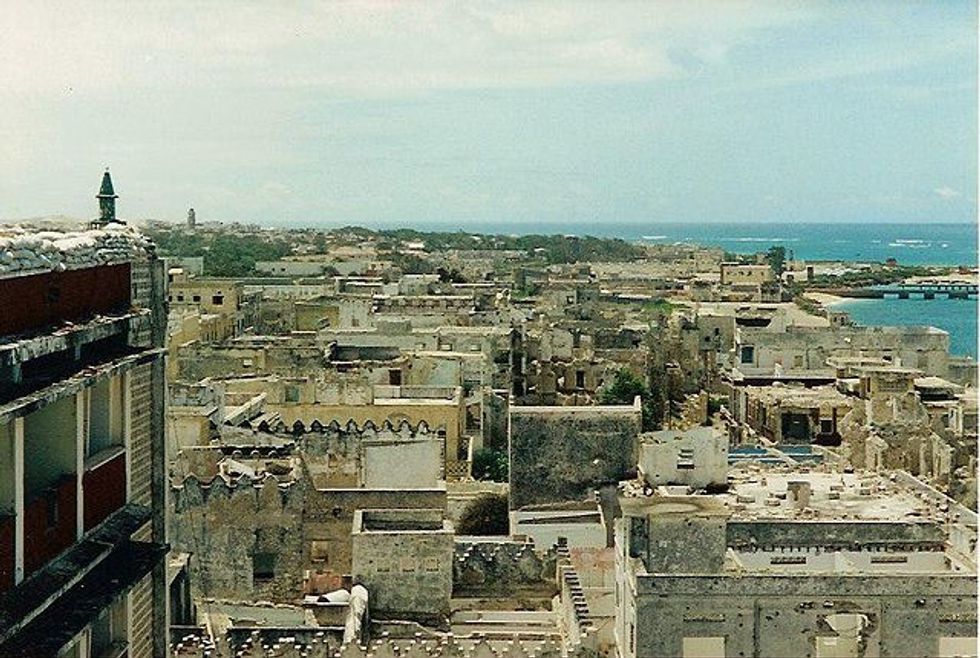 By Robyn Dixon, Los Angeles Times
JOHANNESBURG — A suicide car bomber attacked the Somali presidential palace in Mogadishu on Friday, triggering a massive explosion, before about 10 heavily armed gunmen jumped out of two more vehicles and opened fire.
Somali President Hassan Sheikh Mohamed, whose residence and office is in the presidential palace compound, known as Villa Somalia, was unharmed.
Al-Shabab, the al-Qaida-linked Somali terror group that carried out last year's attack on a shopping mall in Kenya, claimed responsibility for the attack, Reuters reported.
Abdikarim Hussein, Somali security minister, said security forces contained the attack and that all the militants were killed or arrested.
Members of the security forces guarding the compound were also reportedly among the dead, according to security officials. There were unconfirmed reports an official in the prime minister's office and a former intelligence chief were killed in the attack.
The attack was the latest in a series of recent suicide missions bombings in the Somali capital, where the government is trying to restore stability after decades of chaos.
The United Nations Special Representative for Somalia, Nicholas Kay, confirmed the attack in a tweet.
"President just called me to say he's unharmed. Attack on Villa Somalia had failed. Sadly some lives lost," he said.
Kay condemned the terror attack in a later statement. "This is another desperate and criminal act which does nothing but harm to the people of Somalia," said Kay. "The Somali people are tired of shootings, bombings and killings. It's time for a new chapter in Somalia's history and we cannot allow a slide back at this critical time."
"The U.N. and the international community remain steadfast in their determination to see a new Somalia rise, and continue to support Somalia in its quest to stabilize and rebuild institutions," he added.
It's not the first attack on the president. In 2012, several suicide bombers blew themselves up as he addressed a press conference at a Mogadishu hotel.
Al-Shabab, which controlled much of the country until it was pushed out of the capital, Mogadishu, in 2011, has since been waging a guerrilla campaign of suicide bombings, drive-by shootings, assassinations and other attacks.
Reuters quoted a police officer at the scene Friday, Hussein Farah, saying 10 heavily armed gunmen dressed in military uniforms and the suicide bomber were involved in the attack.
"All the Shabab fighters perished, some blew up themselves while others were shot dead. Several government guards also died. Now the fighting is over, and scattered on the scene is human flesh and blood," he said.
Local media reported that some of the gunmen reached a mosque in the compound where government officials were attending Friday prayers.
Photo via Wikimedia Commons