Sunnis And Kurds Walk Out Of Iraq Parliament Session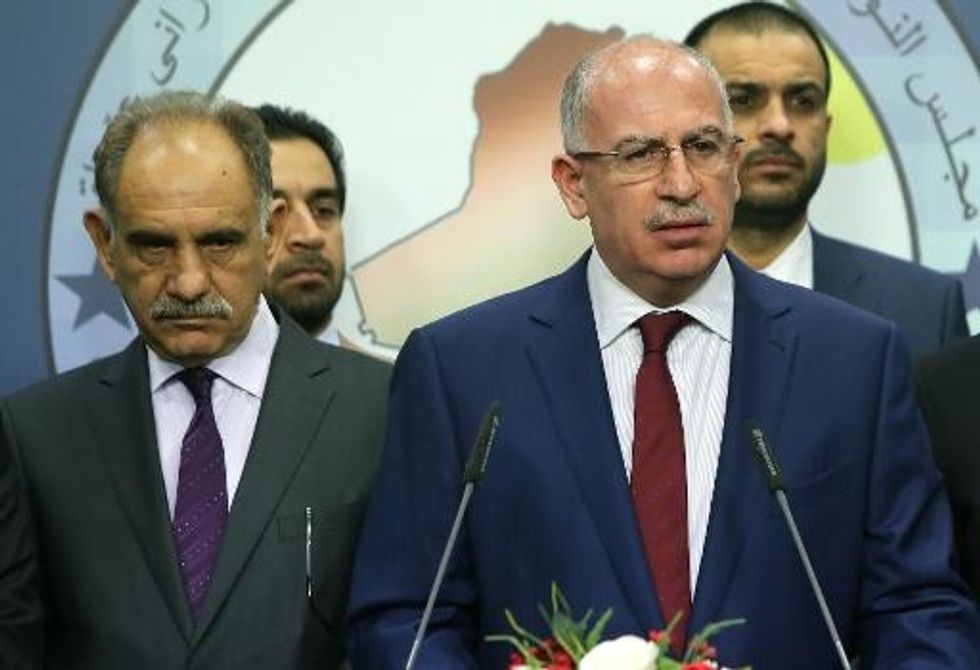 BAGHDAD — Hopes that Iraqi lawmakers could swiftly agree on new political leadership and halt a slide back into civil war were set back Tuesday when the first parliamentary session ended in an impasse after less than two hours.
Sunni Muslim and Kurdish lawmakers walked out of the chaotic session, the first since April elections, at which a parliamentary speaker was due to be nominated. That is considered the first step in selecting a new government, including a prime minister. Deprived of a quorum, acting speaker Mahdi Hafidh adjourned parliament for at least a week.
Sunni leaders said before the session that they wanted to know whom the largest bloc, the Shiites, planned to nominate for prime minister. After days of meetings, Shiite lawmakers have failed to agree on whether to back the embattled Prime Minister Nouri Maliki for a third term or nominate another contender, such as former vice president Adel Abdel Mahdi or the onetime CIA ally, Ahmed Chalabi.
The delay leaves Maliki in power in a caretaker role despite opposition from Sunnis and Kurds, who want him to step aside. Sunnis have blamed Maliki for running a Shiite-led dictatorship that has fueled the insurgency.
"We have to have a change and to have our demands be met for our people," Bafar Ani, a spokesman for the Sunni bloc, told reporters after the session.
Shiite lawmakers blamed the Sunni bloc for holding up the political process.
"They have made the session confused," said Ali Fayadh, a Shiite lawmaker. "We don't know what will happen next."
U.S. officials and Iraq's top cleric, Shiite Ayatollah Ali Sistani, have called on squabbling lawmakers to quickly form an inclusive government that shares power among all ethnic and religious groups in order to combat a raging Sunni insurgency that has wrested large chunks of the country from Iraqi government forces.
Underscoring the crisis, the United Nations said Tuesday that more than 2,400 Iraqis were killed in June — the vast majority of them civilians — making it the deadliest month since the height of the sectarian war in 2007.
Yet observers said the unruly opening of parliament — which featured lawmakers shouting at one another in scenes familiar from past years — did not match the urgency of Iraq's political crisis.
"I never have high hopes for Iraqi politics, but today was honestly a new low," said Fanar Haddad, a political scientist at the National University of Singapore's Middle East Institute.
"It was clear that the political elite don't see what's going on as a national emergency. They just see it as a new variable in their incessant political quarrels and the pursuit of their own political fortunes."
Los Angeles Times special correspondent Hussein Kadhim contributed to this report.
AFP Photo/ Ahmad al-Rubaye

Interested in world news? Sign up for our daily email newsletter!