Superstar Quarterbacks To Duel In Broncos-Pats Clash
@AFP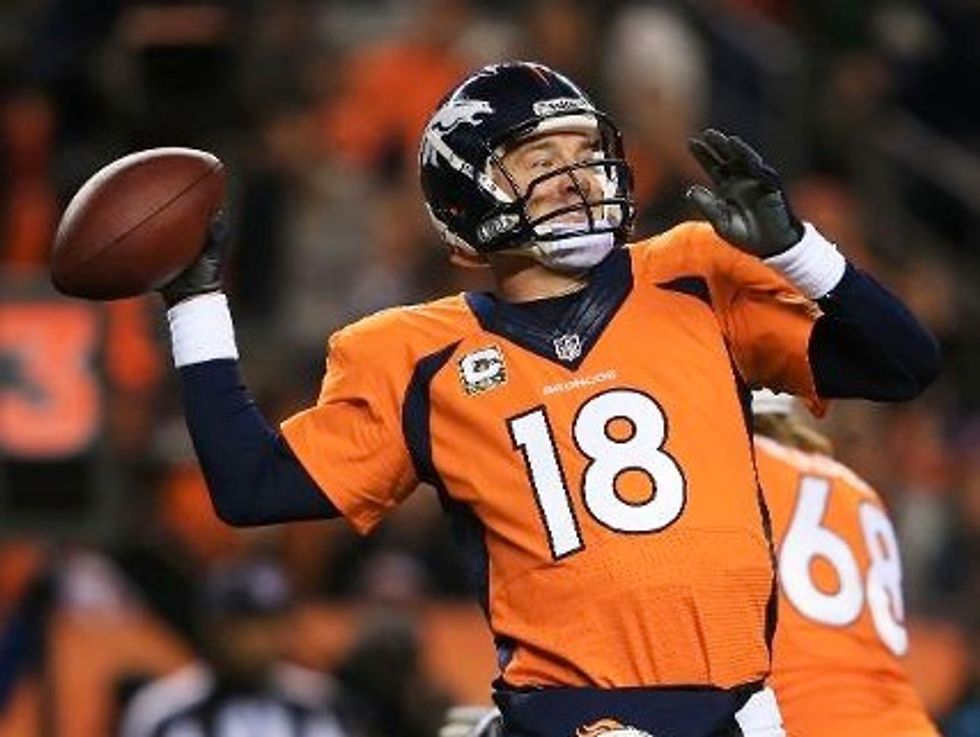 Washington (AFP) – Superstar quarterbacks Peyton Manning and Tom Brady square off Sunday when Manning leads Denver into New England in an NFL clash that could see Broncos receiver Wes Welker facing his old team.
"It's always a great matchup," Broncos interim head coach Jack Del Rio said of the Manning-Brady duel. "You're talking about two of the premier quarterbacks in the league."
Brady has the best winning percentage in the NFL's modern era and is at plus-101 for his career (143-42) while Manning is third overall in winning percentage and plus-92 (163-71).
Manning has the Broncos playing at a high level this season and Denver will be eager to build on their 27-17 victory over Kansas City last week. They handed the Chiefs their first defeat of the season and the two teams are now neck-and-neck atop the AFC West division at 9-1.
Manning played on a sore ankle against the Chiefs but completed 24-of-40 passes for 323 yards and wasn't sacked once by a Chiefs defense that went into the contest leading the league in sacks.
Welker left the game in the fourth quarter with a concussion, but was back at practice on Wednesday in a sign that he could be cleared to play against a team where he was Brady's top target for six seasons.
Welker notched 672 receptions and 37 touchdowns playing for New England, reaching the 1,000-yard plateau in five seasons.
"He's a tough guy so he's played through everything," Brady said of his former teammate. "This is a big game for both teams so you have to expect their best players. I'm sure all those guys will be ready to go."
Welker has slotted smoothly into the Broncos offense and has 61 receptions for 648 yards.

"Wes has a great work ethic and he's provided just good leadership to our offense," Manning said. "He loves football."
While the Broncos will be trying to keep pace with the Chiefs — who host the 4-6 San Diego Chargers on Sunday — the Patriots own a two-game lead in the AFC East despite a controversial 24-20 loss at Carolina on Monday.
Brady was angered by the lack of a penalty call on a Carolina defender on the final play of the game.
Taciturn Pats coach Bill Belichick said his team had moved on.
"Whatever calls they make are the ones that we live with," Belichick said. "We have to turn the page here quickly, get on to Denver. Good football team, playing well. Obviously, their record reflects that."
Week 12 opened Thursday with New Orleans holding off Atlanta 17-13.
The contest looked to be a pivotal NFC South clash when the schedule was released.
But as the Saints have thrived this season, the Falcons, who finished 13-3 in 2012, have struggled and fell to 2-9 with the loss to the 9-2 division leaders.
Saints quarterback Drew Brees passed for 278 yards and two touchdowns. He completed 23-of-33 passes and took his career passing yards to 49,564 — eclipsing Warren Moon (49,325) for fifth on the NFL all-time list.
Elsewhere on Sunday, expect NFC East rivals Dallas and the New York Giants to pull out all the stops as they close out their regular season series.
After an 0-6 start, the Giants have won four straight and still have a chance of grabbing the division title. Philadelphia, who have a bye this week, top the NFC East at 6-5 and the Cowboys are 5-5.
Other games see Pittsburgh at Cleveland, Tampa Bay at Detroit, Minnesota at Green Bay, Chicago at St. Louis, Carolina at Miami, the New York Jets at Baltimore, Jacksonville at Houston, Tennessee at Oakland, Indianapolis at Arizona and on Monday, San Francisco at Washington.
AFP Photo/Doug Pensinger