Supporters Hold Bike Rally For Marine Imprisoned In Mexico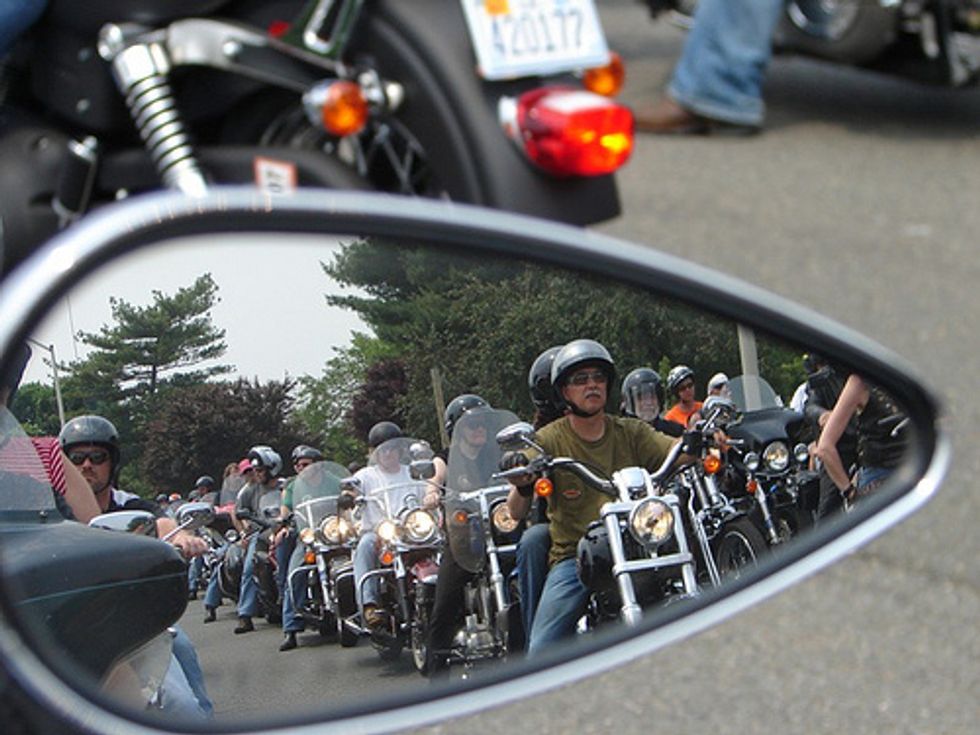 By Emma Court, The Miami Herald
MIAMI —  On Independence Day, Andrew Tahmooressi — a decorated U.S. Marine — won't be barbecuing or relaxing poolside with his friends and family in Weston, Fla. Instead, he'll spend it like he spent the last three months — in prison in Mexico.
Tahmooressi, who claims he took a wrong turn on his way to California, was arrested March 31 at the border with three firearms, which are illegal under strict Mexican gun laws. The 25-year-old, who was born and grew up in the Broward County city, is being held in La Mesa prison.
About 20 of Tahmooressi's friends, family and supporters took to motorcycles Thursday to draw attention to his case. It began at Chester's Harley Davidson in Sunrise, where Tahmooressi bought his first motorcycle, traveled to U.S. Senator Marco Rubio's office in Doral and then stopped outside the Mexican Consulate in the Brickell business district of downtown Miami.
Jill Tahmooressi, Andrew's mother, called the upcoming holiday weekend "bittersweet."
"I'm proud of Andrew for his service to keep us free," she said. "But tomorrow's Independence Day and he won't be joining us."
She said her son is "cautiously optimistic" about a Wednesday hearing, which will be Tahmooressi's first appearance in Mexican court with his new lawyer. Jill Tahmooressi said the performance of her son's previous two lawyers, who were fired, was disappointing, but the family believes that "lawyer No.3 will know how to defend him."
Still, she has concerns.
"He is in a foreign country, a foreign prison, a foreign judicial system," she said.
Tahmooressi, who served two tours in Afghanistan in 2010 and 2012, earning a promotion to sergeant, was an inactive Marine reservist when he was arrested. He was in the process of moving to San Diego, where he was receiving treatment for post traumatic stress disorder, which is why he had the firearms in his vehicle, according to his mother.
The violation is not uncommon. Dozens of U.S. citizens are arrested with firearms at the border, according to the website of the U.S. Consulate in Tijuana. If found guilty, Tahmooressi could receive up to a 30-year sentence in prison.
As his case slowly works its way through the Mexican judicial system, several members of Congress from both parties have spoke out on Tahmooressi's behalf, including Florida's Rubio, a Republican, and Rep. Debbie Wasserman Schultz, a Democrat.
Rubio was in Washington on Thursday but several members of his staff met with Tahmooressi supporters.
Jon Robles, who went to Cypress Bay High School in Weston with Tahmooressi and was stationed at Marine Corps Base Camp Lejeune in North Carolina with him, recalled going on long motorcycle rides on U.S. 27 with his friend during visits home.
He said his friend, whom he described as someone who "loves to go out and explore new areas," is frustrated in prison, ready to get out and "have his life back."
Not everyone at the rally knew Tahmooressi personally. The rally's organizer, Rick Sarmiento of 2 Million Bikers to DC — an organization formed to support members of the military — reached out to Tahmooressi's family when he heard about their story, telling them "you're our neighbors."
Christina Latchford, who joined the rally, told Jill Tahmooressi she had begun crying when she heard Jill talk about her son on the radio.
"I'm a mother too," Latchford told Jill.
Tahmooressi's supporters plan another motorcycle rally on Friday, beginning in the morning as part of the Weston Independence Day parade. They'll bike again to the Mexican Consulate in the afternoon.
Photo: Jim Brickett via Flickr