Supreme Court Case May Devastate Hospitals In 34 HealthCare.gov States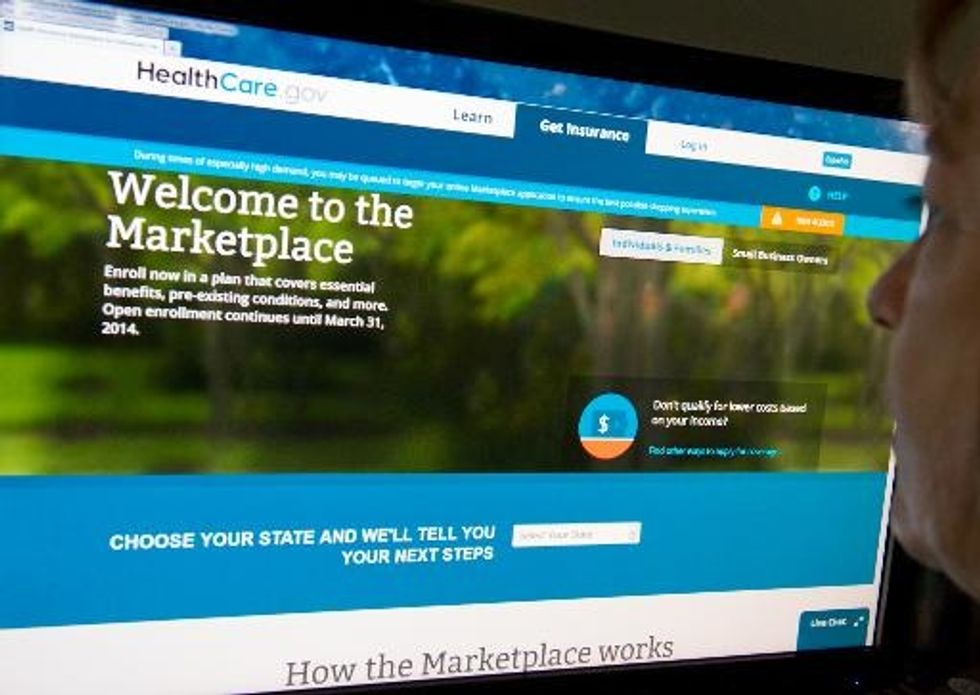 By Tony Pugh, McClatchy Washington Bureau (TNS)
WASHINGTON — As the nation's largest private health care provider, Hospital Corporation of America owns 155 hospitals, 112 surgery centers and three psychiatric facilities across the country.
Their 37,000 affiliated staff physicians and 75,000 nurses handled 7.5 million emergency room visits, 1.8 million inpatient admissions and 1.4 million surgeries last year.
Nearly 90 percent of the corporation's facilities are in states that use the federal health insurance marketplace at HealthCare.gov.
That puts the Nashville, Tenn.-based health care giant at the center of a potential financial catastrophe known as King v. Burwell.
The Supreme Court case will decide whether consumers in the 34 states that use the federal marketplace can continue to receive tax credits to help pay for their coverage. Plaintiffs argue that the subsidies can go only to people in the 16 states, plus Washington, D.C., that operate their own health insurance marketplaces.
If the plaintiffs prevail, an estimated 5.6 million people will lose their tax credits next year in the 15 HealthCare.gov states where Hospital Corporation of America has facilities, according to the Urban Institute, a centrist research center.
Nearly 4.9 million of these people would ultimately become uninsured, the institute predicts. Without coverage, most of these low- to moderate-income people would struggle to pay their medical bills and become prime candidates for hospital charity and uncompensated care.
That money-losing scenario after a plaintiff victory has sent a chill through HCA's corporate coffers and the hospital industry as a whole.
"It's kind of a perfect storm of all things bad," said Jimmy Lewis, CEO of HomeTown Health LLC, a trade association of roughly 50 rural hospitals in Georgia and Florida. "Anything that increases the uninsured puts rural hospital providers at an even greater risk for distress or closure."
Under the Affordable Care Act, Congress has cut hospital reimbursements for uncompensated care by $36.1 billion over 10 years. Lawmakers also cut hospitals' Medicare payments and inflation adjustment rates by an estimated $233 billion.
Hospitals were expected to recoup the money through an influx of newly insured patients, courtesy of the marketplace tax credits, expanded Medicaid eligibility and the requirement that most Americans have health insurance.
But 13 of the 15 HealthCare.gov states with HCA facilities haven't expanded their Medicaid programs. This limits the number of insured patients treated at HCA hospitals and hurts the company's ability to offset the funding cuts.
In fact, only 11 of the 34 states that use the federal marketplace have expanded coverage under Medicaid. That lost revenue stream would deepen the financial hole for hospitals in non-expansion states if tax credits are eliminated in the Burwell case.
"An ACA without subsidies would leave hospitals unable to make up the loss in their funding," a group of hospital organizations wrote in their friend-of-the-court brief in the Burwell case. "That could imperil some hospitals, and will make it more difficult for others to carry out their missions, including effectively serving their communities."
In its own court brief, HCA said patients with coverage through HealthCare.gov paid an average of $390 in out-of-pocket expenses when they visited an HCA facility, while 90 percent of its uninsured patients paid nothing.
HCA's uninsured patients are also half as likely to seek cost-effective outpatient care and three times more likely to get expensive emergency room treatment than its patients with federal marketplace coverage.
Because they pay more, use the emergency room less and utilize cheaper outpatient services more frequently, patients with coverage through HealthCare.gov have helped HCA weather $600 million in federal funding cuts under the Affordable Care Act.
Last year, the company generated roughly $250 million from previously uninsured patients who obtained coverage through HealthCare.gov. That revenue is just beginning to offset the federal funding cuts that HCA has absorbed under the health care law.
"This was exactly what Congress intended when it sought to have every stakeholder in the health care system share the costs and benefits of achieving universal coverage," HCA wrote in its brief.
HCA officials declined to discuss the Burwell case, but its corporate concerns and experiences are shared by scores of other hospitals in the 34 states where the tax credits could be eliminated.
Last year, Bothwell Regional Health Center in Sedalia, Mo., treated 589 patients who had federal marketplace insurance.
Forty-four percent — or 260 of them — were previously uninsured, a population that had paid an average of 3 cents for every dollar of care they received, said Jimmy Robertson, Bothwell's chief financial officer.
After getting coverage through HealthCare.gov, these 260 patients generated $935,000 in additional revenue, which shaved 5.5 percent off the hospital's $17 million uncompensated-care costs.
"That's a huge impact," Robertson said. "We were, quite frankly, a little amazed at what we saw, but pleasantly surprised."
And like the HCA's patients with marketplace insurance, Bothwell's newly insured began to use other hospital services, relying less on emergency room care.
"A lot of the hype that we heard before the exchange opened is actually coming true," Robertson said.
If the Burwell plaintiffs prevail and the tax credits are eliminated, Robertson said, he expects all 589 of the hospital's marketplace plan members to drop their coverage.
Texas hospitals spend $5.5 billion each year to treat the estimated 25 percent of state residents without health insurance, said Ted Shaw, CEO of the Texas Hospital Association. Killing the tax credits would drive Texas' uninsured rate — already the nation's highest — even higher.
"If we add another million people to that uninsured population, you're going to see the costs to hospitals of Texas skyrocket at least another $1 billion to ($1.5) billion dollars," Shaw said at a recent news briefing.
In Florida, hospitals that treat high numbers of the uninsured are already facing a $1.8 billion funding loss due to the pending expiration of a state-federal program that provides medical care for low-income residents. A plaintiff victory in Burwell is projected to add more than 1 million people to Florida's uninsured ranks next year, according to the Urban Institute.
That would "only add to the uncertainty" of hospitals that care for Medicaid and uninsured patients, said Ron Bartlett, spokesman for the Safety Net Hospital Alliance of Florida, an advocacy group for 23 hospitals that provide 41 percent of Florida's charity care.
Lewis, of HomeTown Health, said economically distressed consumers hadn't been following the Burwell case closely.
"I believe that they're so consumed with the trials of living day to day that they haven't even thought about this," Lewis said. "There may be a large part of the population that doesn't really get this or understand this until the day it happens. The day their insurance goes away."
AFP Photo/Karen Bleier