This Supreme Court Disaster Didn't Have To Happen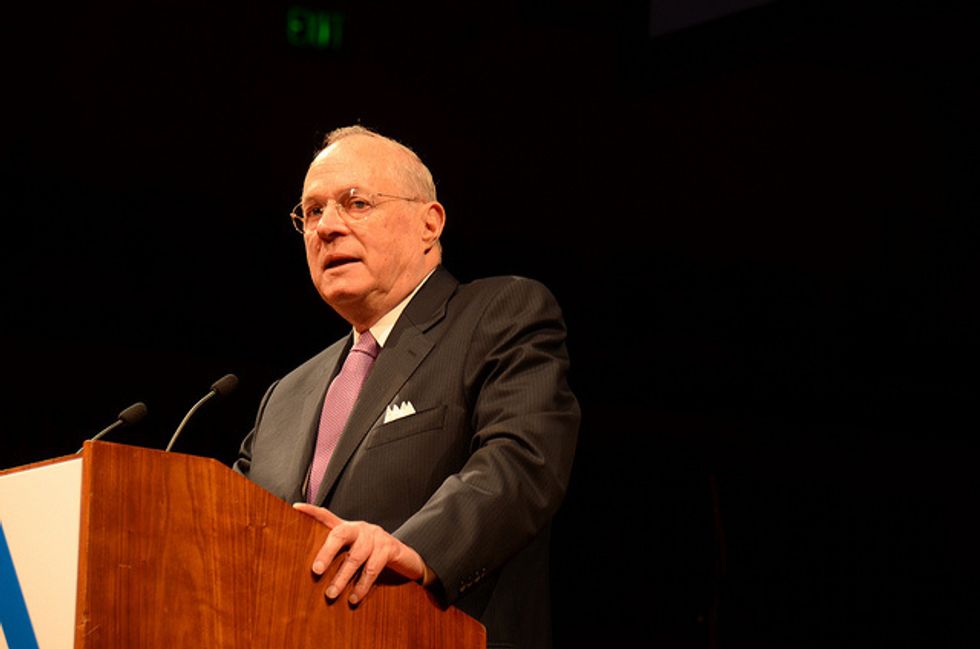 What once may have sounded like a distant and wonkish abstraction —  namely, the nature of future nominees to the United States Supreme Court — is now upon us as a rapidly worsening catastrophe.
Within the past few days, owing to the seat stolen by Senate Republicans for Neil Gorsuch in 2017, the high court has upheld Donald Trump's discriminatory travel ban, enabled the deception of desperate women by anti-choice "counseling clinics," and inflicted a stunning blow from which the American labor movement may never recover.
And yesterday Justice Anthony Kennedy sent a letter to the White House announcing his plan to retire from the court on July 31, which will deliver another seat to a Trump appointee. What that might portend for civil liberties, human rights, consumer protection, industrial regulation, and decent government is difficult to contemplate. But suddenly the most outlandish dreams of the far right are much closer to being realized.
Despite his reputation as a "moderate," Kennedy was in truth a very bad, mostly right-wing judge and a dim intellect, as his notoriously senseless Citizens United opinion proved. His record on the court was so bad, observes the astute judicial analyst Ian Millhiser, that even a Trump justice may not do much worse. Those who believed that Kennedy wouldn't surrender his seat to this dangerous executive overestimated his character.
The endless reign of injustice that stretches before us is hardly what most Americans want or deserve, at least as measured by the 2016 election results. If that presidential election was "a referendum on the future of the court and thus the country," as Trumpist pundit Hugh Hewitt crowed in The Washington Post, the Republicans lost by more than three million votes. And yet they won control of the high court and much of the judiciary for perhaps a generation to come.
As you imagine a nation without reproductive rights, voting protections, or environmental laws, are you looking for somebody to thank? It isn't hard to compose a list of those responsible for the present disaster, from the ruin of the Supreme Court to the torment of children on our borders and a thousand other disasters large and small. Such a list could include Hillary Clinton herself and her clueless campaign staff. But at least the Democratic nominee tried to warn us about the consequences of electing Trump, including his potential perversion of the courts.
Even more culpable than Clinton, perhaps, is anyone who told voters that she didn't deserve their support; anyone who complained that she was the same as Donald Trump or even worse; anyone who bloviated that Democrats are no different from Republicans; anyone who urged a ballot for Jill Stein as a way to advance progressive politics and achieve moral hygiene; and anyone who said that electing Trump might even "bring on the revolution." Trump's tiny, almost accidental margin in the Electoral College can be directly attributed to voters who acted out their "protest."
It is now clear that we will endure the consequences of their stupidity for a long time, as will our children. We all ought to have known better after the 2000 election, when a few handfuls of 'protest' ballots (and a crooked Supreme Court majority) smoothed the disastrous Electoral College victory of George W. Bush. Will we learn the lesson this time?