Supreme Court Suspends Execution Of Missouri Murderer
@AFP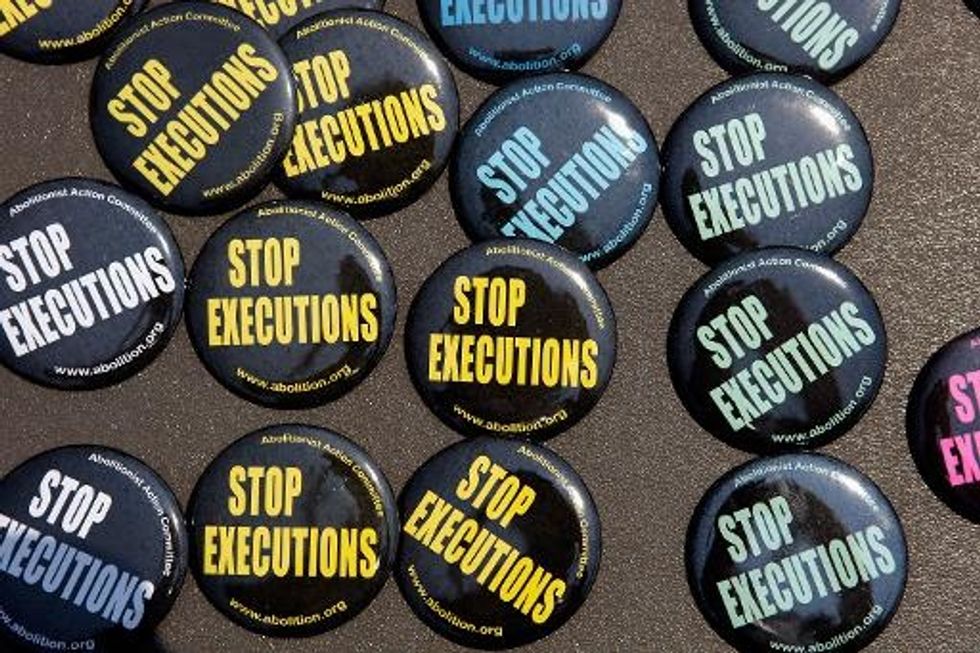 Washington (AFP) – The U.S. Supreme Court ordered a last minute stay of execution for a convicted murderer and rapist who argued that a rare medical condition risked making the lethal injection unconstitutional.
The temporary ruling came after a flurry of last minute proceedings by both sides before a lower court.
But the inmate could still be executed by lethal injection on Wednesday, depending on what the high court decides after considering the case.
The late night drama illustrated how executions by lethal injection have become highly controversial in the U.S. since the 32 state with capital punishment began facing a shortage of drugs used to execute death row inmates.
Originally set for Wednesday at 12:01 a.m., it was the third U.S. execution delayed by a court since an Oklahoma man's botched procedure last month prompted accusations of torture and reignited fierce debate in the United States about capital punishment.
Missouri inmate Russell Bucklew, who was convicted of murdering a love rival and raping a former girlfriend, argued that an unusual medical condition which leaves him with growths on his head and neck creates significant risk that he will die an agonizing death — making it unconstitutional.
A tortuous and painful death is in violation of the U.S. Constitution's Eighth Amendment prohibiting cruel and unusual punishment.
The Eighth Circuit appeals court ruled that "Bucklew's unrebutted medical evidence demonstrates the requisite sufficient likelihood of unnecessary pain and suffering beyond the constitutionally permissible amount inherent in all executions."
Missouri Attorney General Chris Koster asked the court to lift the stay, and just as the court announced it was in fact going to allow the execution after all, the Supreme Court's Judge Samuel Alito stepped in and stopped the procedure. This was one hour before the scheduled execution time.
The Supreme Court could use Wednesday to establish jurisprudence with regard to lethal injections.
Lower courts are facing a barrage of appeals challenging the origin of the drugs used for injections, the fact that states often will not reveal who manufactured them and the suffering that death row inmates potentially face if the drugs are administered.
In Oklahoma, Clayton Lockett, a convicted killer and rapist, was put to death on April 29 by lethal injection in a process that took 43 minutes, well over the expected time of a little over 10 minutes.
Lockett's gruesome death prompted officials in that state to temporarily halt executions and review its execution drug protocols, amid harsh criticism from human rights and anti-death penalty advocates.
President Barack Obama called the incident — in which Lockett eventually died of a massive heart attack — "deeply troubling" and warned that it raised "significant questions about how the death penalty is being applied."
Oklahoma used an untested cocktail of drugs during the procedure because some drug suppliers have ceased making the compounds usually used in executions available.
Some states have turned to compounding pharmacies as a source of the drugs, but the future of that option is in doubt, as state governments review their execution procedures.
Another execution planned for that same day in Oklahoma has been put off for six months while the state studies its procedures.
Another execution, scheduled for Texas, was also delayed — in that case for reasons unrelated to the controversial lethal injection protocol.
Despite the questions over lethal injection drugs, a recent study found that 59 percent of Americans remained in favor of capital punishment, with 35 percent against.
The survey of 800 adults also found sizable numbers of Americans would back other execution methods — such as the electric chair or gas chamber — if lethal injections were deemed no longer practicable because of a shortage of death penalty drugs.
AFP Photo/Chip Somodevilla
Want to keep up with the latest news around the country? Sign up for our daily email newsletter.