Supreme Court Upholds Health Care Law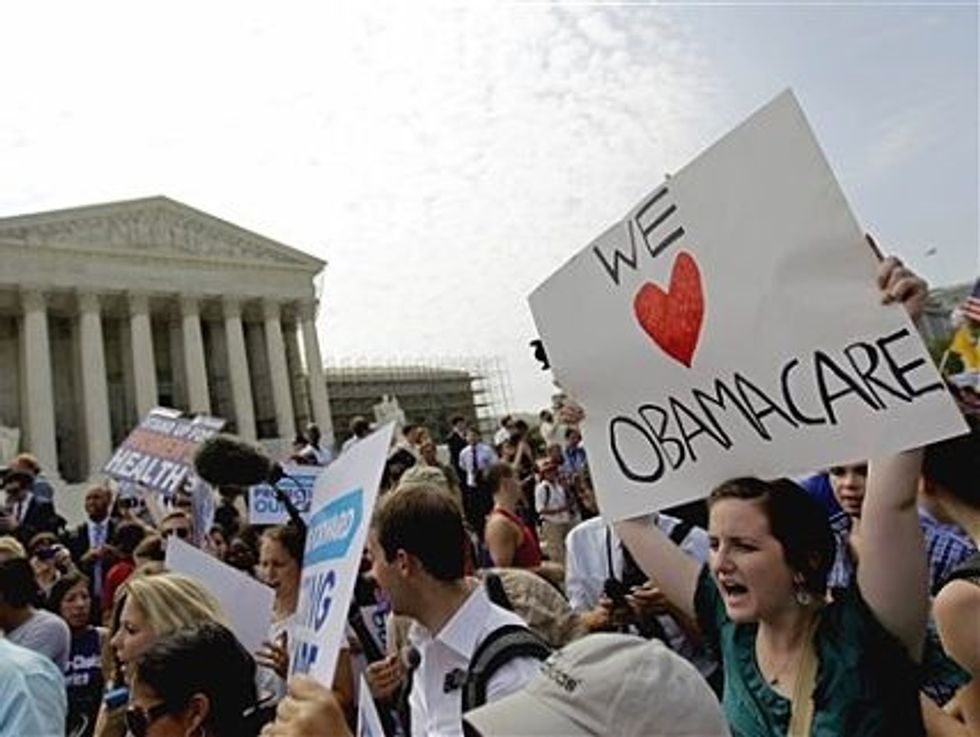 In a historic 5-4 decision, the Supreme Court ruled this morning that the Affordable Care Act — including the individual mandate that requires almost all Americans to buy health insurance — is constitutional. Chief Justice John Roberts joined liberal justices Stephen Breyer, Sonia Sotomayor, Elena Kagan, and Ruth Bader Ginsburg in affirming the mandate. However, the surprise decision didn't come on the basis of Congress power to regulate commerce as many had expected; instead, the Supreme Court held the individual mandate constitutional under the Congress taxing power. The individual mandate entails a person to buy insurance and if he or she refuses, that person will be penalized with a fine; the Supreme Court holds this penalty as a kind of constitutional tax that Congress is allowed to impose.
Chief Justice John Roberts explains in the majority opinion: "Simply put, Congress may tax and spend. This grant gives the federal government considerable influence even in areas where it cannot directly regulate."
SCOTUS blog'sAmy Howe further explains the decision, "Because the mandate survives, the Court did not need to decide what other parts of the statute were constitutional, except for a provision that required states to comply with new eligibility requirements for Medicaid or risk losing their funding."
Medicaid is a joint federal-state program that provides healthcare to certain poor Americans–the ACA provision sought to expand coverage to anyone with an income under 138 percent of the federal poverty line beginning in 2014. The provision also stated that if a state refuses to expand coverage, it will lose all funding and have to opt out of Medicaid completely. Several states argued that this provision would place a costly burden on them, and the Court agreed–ruling that states have a right to choose whether or not they want to participate in the Medicaid expansion. While the federal government can revoke new funds, it cannot take away all of the states' funding if they don't comply with the Medicaid expansion.
The full Supreme Court opinion can be read here.