Susan Collins, GOP Senator: 'I Am Unable To Support' Trump's Candidacy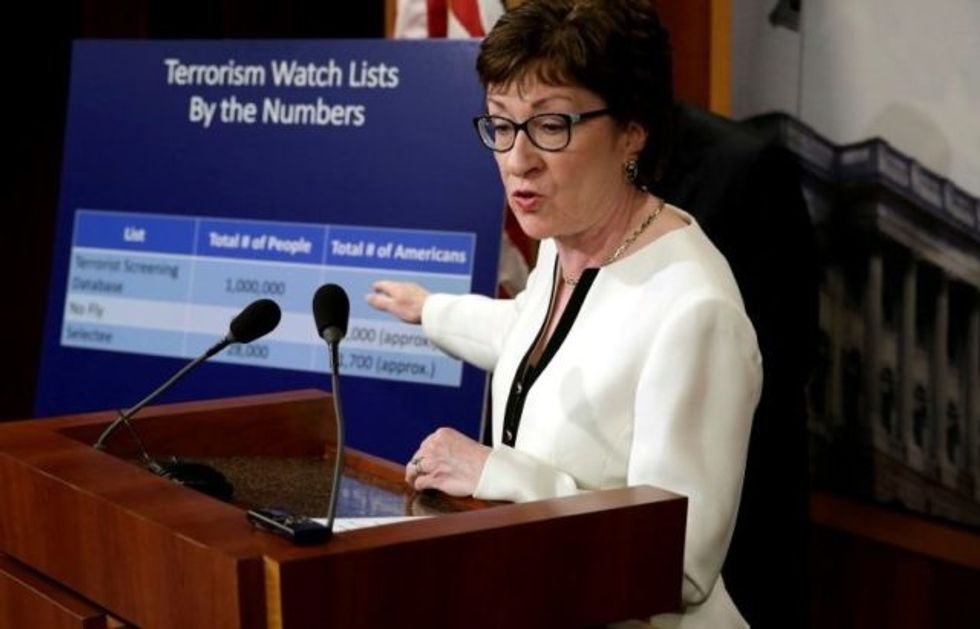 Susan Collins, GOP Senator from Maine, announced Monday that she would not be voting for Donald Trump. Collins joins the growing list of Republicans refusing to support Trump, and her decision was made public in a scathing column for The Washington Post.
Collins wrote that her decision does not come "lightly" and cited that her values as a "lifelong Republican" are guiding her.
She continued: "But Donald Trump does not reflect historical Republican values nor the inclusive approach to governing that is critical to healing the divisions in our country."
Collins' column then tracked the several instances of Trump "showing complete disregard for common decency," throughout the course of his campaign, including his disparaging comments towards Sen. John McCain (R-AZ). She also wrote about his rhetoric directed at Fox host Megyn Kelly, a reporter with disabilities, and federal judge Gonzalo Curiel. She wrapped up the column discussing Trump's latest ignorant comment, towards the Khan family.
Collins said she initially hoped to see a change in Trump as the campaign progressed, but called him "the same candidate who will slash and burn and trample anything and anyone he perceives as being in his way or an easy scapegoat."
Sen. Collins concludes her column with the following passage, directed at those who may question her Republican values for her refusal to vote for Trump:
Some will say that as a Republican I have an obligation to support my party's nominee. I have thought long and hard about that, for being a Republican is part of what defines me as a person. I revere the history of my party, most particularly the value it has always placed on the worth and dignity of the individual, and I will continue to work across the country for Republican candidates. It is because of Mr. Trump's inability and unwillingness to honor that legacy that I am unable to support his candidacy.
Photo: Senator Susan Collins (R-ME) speaks at a news conference on Capitol Hill in Washington, D.C., U.S., June 21, 2016. REUTERS/Yuri Gripas