Susan Rice Seeks China Cooperation Against Islamic State As Beijing Visit Ends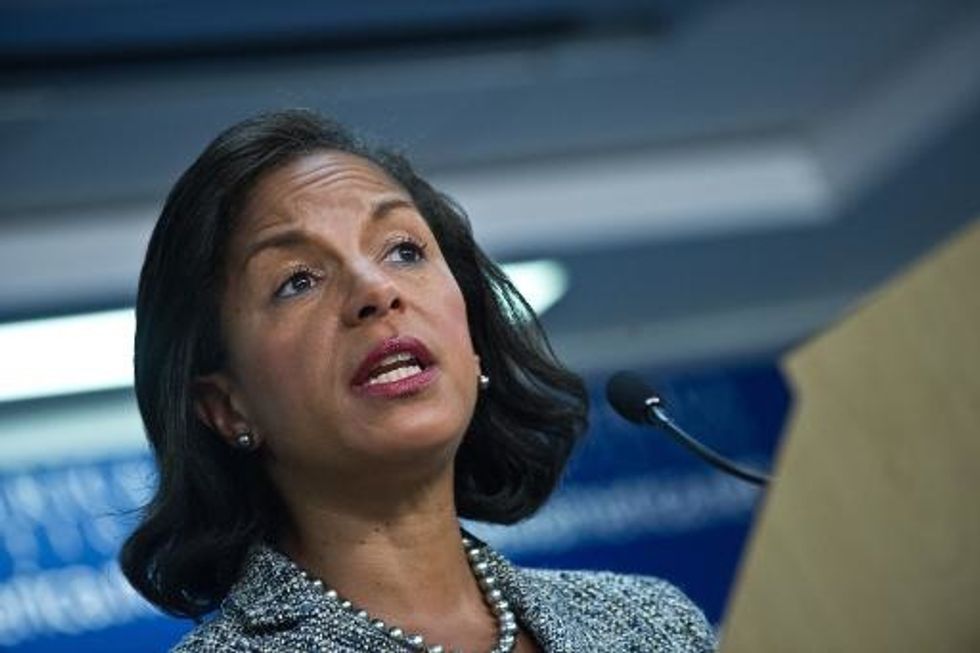 By Stuart Leavenworth, McClatchy Foreign Staff
BEIJING — National security adviser Susan Rice met with Chinese President Xi Jinping for 45 minutes on Tuesday, concluding a three-day visit to Beijing that was billed as a preparatory mission for President Barack Obama's visit to China in November but saw her pressing China to join a coalition to combat Islamic State insurgents in Syria and Iraq.
Rice also devoted part of her time in China to stressing ways to prevent mishaps involving Chinese and U.S. forces in the East and South China seas, according to officials traveling with Rice who agreed to talk on background.
How the Chinese responded was difficult to know. While the administration officials agreed to speak anonymously about the talks, they declined to comment on what the Chinese said and only summarized their version of what Rice imparted to the Chinese.
The officials said Rice's talk with Xi didn't get into a lot of specifics but focused primarily on the importance of the U.S. relationship with China. But it's clear the United States hopes the rise of the Islamic State will be an area where risk-averse China might be willing to join an international coalition to collectively combat terrorism.
During her talks, administration officials said Rice broached the topic of Hong Kong elections and human rights issues on the mainland. Officials declined to go into specifics but said "it was important for us to raise our support for universal suffrage in Hong Kong."
Rice also encouraged China to speak out on Russian excursions in Ukraine, officials said. Given China's strong stance on other countries respecting the sovereign integrity of China's borders, administration officials hoped that Ukraine would be an issue where "our interests align," they said.
A major concern was the potential for an incident between U.S. and Chinese military aircraft and ships.
"The Chinese understand how dangerous these incidents could be," said one administration official, adding that Rice's Chinese counterparts "took our concerns very seriously."
That contrasted with a news account Tuesday by China's state-run Xinhua news service, which reported that a top military official told Rice that the U.S. military should stop "close-in reconnaissance" if it wants to avoid a mishap that could rapidly escalate.
A Chinese fighter plane and a U.S. Navy patrol plane nearly collided a few weeks ago, in an incident U.S. officials say was caused by "unsafe and unprofessional" conduct on the part of the Chinese pilot. Chinese news media has characterized the incident as being caused by aggressive U.S. spying on China that had crossed a line.
"We hope the U.S. can promote the healthy development of new China-U.S. military ties with concrete actions," Xinhua reported Fan Changlong, vice chairman of China's Central Military Commission, as saying to Rice.
It was not unusual for a national security adviser to meet with China's top leader. Rice's predecessor, Tom E. Donilon, also met with Xi during a similar visit in early 2013, prior to Xi and Obama holding discussions at Sunnylands, a swank estate in Rancho Mirage, California, that was once a retreat for the late publisher Walter Annenberg and his wife. Those June 2013 meetings were deemed successful by both sides.
Although Susan Rice is fairly well-known among Chinese diplomats, at least one Chinese media outlet this week had trouble distinguishing her from Condoleezza Rice, former President George W. Bush's secretary of state, according to the South China Morning Post. According to the Morning Post, Chinese broadcast news network CCTV ran images of Condoleezza Rice before viewers complained and the correct images of Susan Rice were substituted.
AFP Photo/Nicholas Kamm
Interested in world news? Sign up for our daily email newsletter!