Suspect Captured In Charleston, S.C., Church Shooting That Killed 9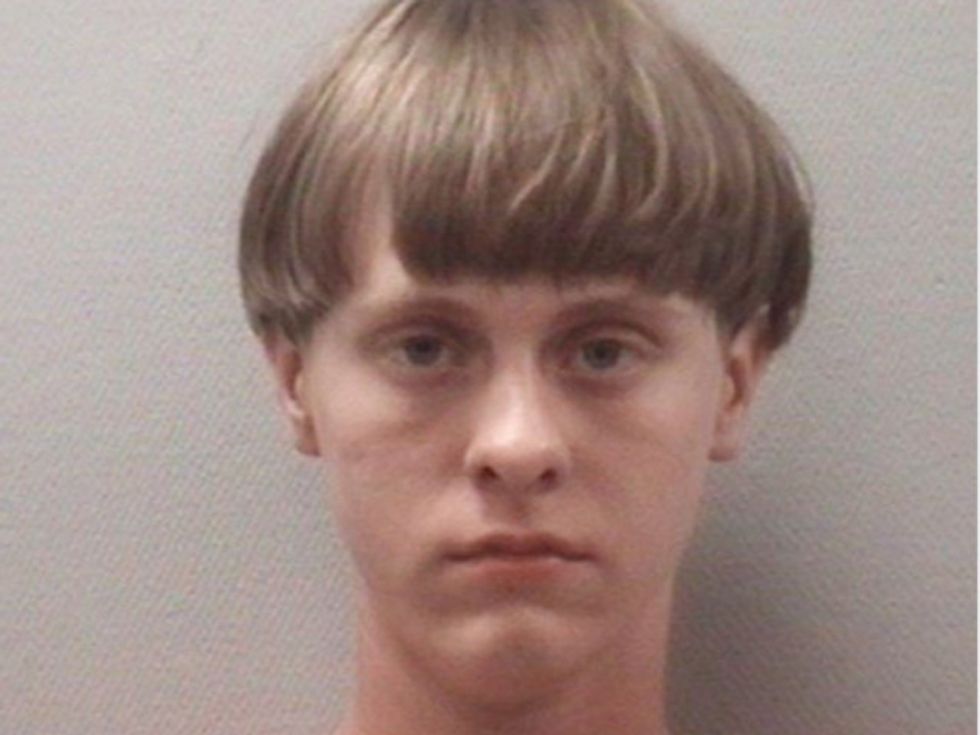 By Michael Muskal, Richard A. Serrano, and Christine Mai-Duc, Tribune Washington Bureau (TNS)
WASHINGTON — Authorities have captured a man suspected of opening fire at a historic black church during a prayer meeting and killing nine people in what is being investigated as a hate crime, officials said Thursday.
Statements by the local police and FBI identified Dylann Storm Roof, 21, of Columbia as the suspect.
Roof's Facebook page shows him in a photo wearing a dark jacket with the emblems of two flags from African countries when they were ruled by whites. One is from apartheid-era South Africa and the other is from white-dominated Rhodesia, now Zimbabwe.
A federal law enforcement official, who was not authorized to speak publicly, earlier told the Los Angeles Times that it appeared from the surveillance images that the assailant may have been wearing a wig and a fake nose, and may even have dyed part of his skin.
The official also noted that the man was wearing a heavy sweatshirt on an extremely warm day in Charleston, and may have been dressed like that to hide a firearm. The shooter also appeared to be carrying a small backpack over his right shoulder that could have contained a weapon and ammunition as well.
The gunman attended the church meeting for nearly an hour before he began shooting Wednesday evening, Police Chief Greg Mullen told reporters at a televised news briefing Thursday morning.
"We are committed, we are determined, we are definitely working with a number of agents and officers to identify the individual," said Mullen, who described the attack as a hate crime. "This is a situation that is unacceptable in any society, especially in our city."
One of the dead was identified as pastor and state Sen. Clementa Pinckney. Pinckney, 41, was a married father of two who was first elected when he was 23 years old.
The Justice Department's civil rights division, the FBI and the U.S. attorney's office for the District of South Carolina have opened hate crime investigations, which are parallel to and cooperative with the state's investigation.
"This is an unfathomable and unspeakable act by somebody filled with hate and a deranged mind," Mayor Joseph P. Riley Jr. told reporters. "We will make sure he pays the price for this act."
The mayor also pledged to reach out to the Emanuel AME Church, a major black congregation with a long and distinguished history that is rooted in the antebellum era.
"We will put our arms around that church and that church family," Riley pledged.
Police released photographs from a surveillance video showing a suspect and the getaway vehicle. Mullen said he had no reason to think the man had fled the Charleston area, but sent all information to agencies around the country.
Mullen repeatedly called the attacker a "very dangerous individual," urging people to call police and not pursue him or his vehicle on their own.
The federal law enforcement official also said they are investigating a bomb threat that was called into police to blow up the church with a countdown of 86 minutes, the official said. However, the source said it was not immediately known whether the threat was authentic. No explosives had been found. "We're not sure it's connected," the official said.
The church holds a Bible study class every Wednesday evening.
The gunman was in the church about 8 p.m. and apparently sat down, Mullen told reporters, based on information from a witness who was there and was unharmed. The witness, one of
a handful of survivors in the church, told authorities that the gunman let her live so she could tell her story.
The federal law enforcement official said that at one point the man said something to one of the survivors that indicated why he was there. The official did not know exactly what was said, or whether it was said before or after he started shooting, but that the man's words have led authorities "to consider this a hate crime."
About 9 p.m., the gunman opened fire. "He was in the church about an hour before the actual deaths," Mullen said.
The attack came two months after the fatal shooting of Walter Scott, an unarmed black man, by a white police officer in neighboring North Charleston, which sparked protests and highlighted racial tensions in the area. The officer has been charged with murder, and the shooting prompted South Carolina lawmakers to push through a bill helping all police agencies in the state get body cameras.
Pinckney, the slain pastor, was a sponsor of that bill.
(Serrano reported from Washington, Muskal and Mai-Duc from Los Angeles.)
(c)2015 Tribune Co. Distributed by Tribune Content Agency, LLC.
Photo: This April 2015 photo released by the Lexington County (S.C.) Detention Center shows Dylann Roof, 21. Charleston Police identified Roof as the shooter who opened fire during a prayer meeting inside the Emanuel AME Church in Charleston, S.C., Wednesday, June 17, 2015, killing several people. (Lexington County (S.C.) Detention Center)