Suspect Unemotional In Court As Victims' Families Express Grief, Call On Him To Repent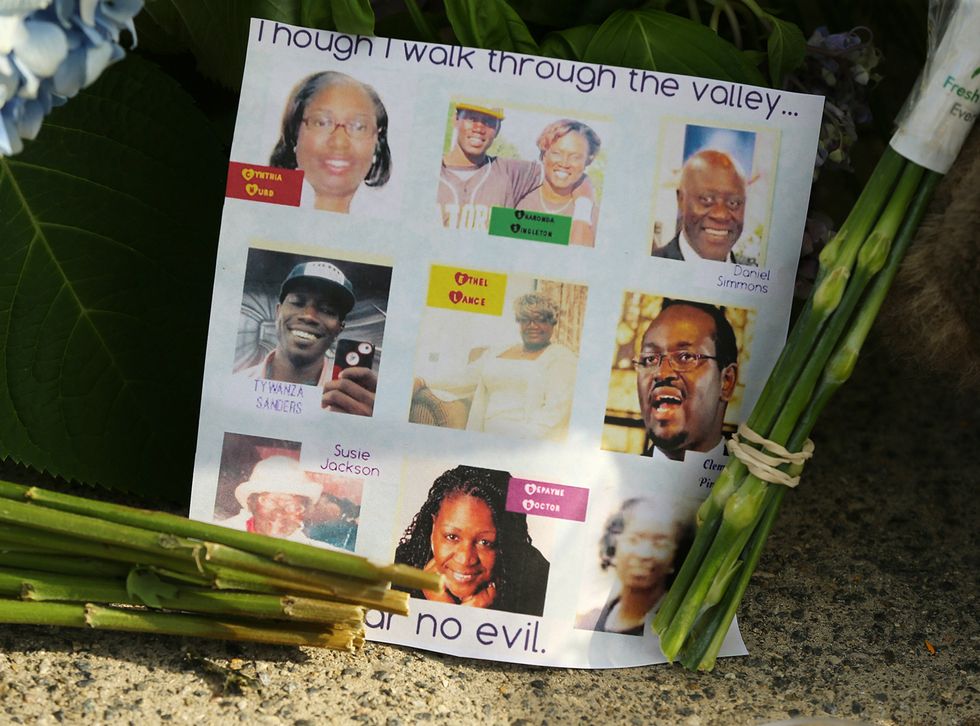 By Richard A. Serrano, Timothy M. Phelps, and Michael Muskal, Tribune Washington Bureau (TNS)
CHARLESTON, SC — Dylann Roof was ordered held without bail on murder charges in connection with an attack on a black church in Charleston, South Carolina, that left nine African-Americans dead and reopened a national debate about racial violence.
During the dramatic hearing in front of Chief Magistrate James B. Gosnell Jr., Roof, 21, stood in prison togs with his hands behind his back. Two heavily armed officers were behind Roof, who was unemotional as several representatives of the families of those slain expressed their grief and called on him to repent.
"I forgive you and my family forgives you," said a representative of Myra Thompson, 59, one of those killed in the Wednesday night attack during a Bible class inside the Emanuel AME Church. "Repent and confess and give your life to Christ and change your ways. You'll be better off than you are now."
"Every fiber in my body hurts, and I will never be the same," said Felicia Sanders, the mother of victim Tywanza Sanders. "May God have mercy on you."
The magistrate noted he does not have the authority to set bond for the murder charges but ordered a $1 million bail on one count of possession of a firearm during a violent crime. The next appearance was set for Oct. 23.
Roof, 21, appeared at the bond hearing via a video link. He is being held in a cell next to the former North Charleston police officer who fatally shot a fleeing, unarmed black man, an incident that had also roiled racial tensions in the region and nation.
Roof has reportedly made statements "tantamount to a confession" in the shooting during a prayer service inside the historic black church, a law enforcement source said earlier Friday.
The federal law enforcement official, speaking anonymously, said he was told that Roof talked to local investigators and described some details about Wednesday night's shooting. The source has been briefed on the matter but is not permitted to speak publicly because the case is unfolding.
Charles Francis, top spokesman for the Charleston Police Department, said Roof "has been interviewed by our investigators and he has made some statements about what happened" in the church. "Our detectives always interview suspects, and that is what happened here too."
Francis declined to discuss exactly what Roof told local detectives, but said that it was consistent with the decision by state prosecutors to file the nine murder charges and firearm charge against him.
The racial issue has remained a gnawing presence during the debate after the shooting.
Speaking at a news conference, NAACP national President Cornell William Brooks condemned the shooting as "an act of racial terrorism" and a hate crime that goes against the "conscience and soul of the country." He condemned state officials for continuing to fly the Confederate flag, an ongoing issue that has worsened race relations in the South.
"We cannot have the Confederate flag at the state Capitol," Brooks said. The leader of the NAACP criticized those who defended the flag, which represented the Southern states that seceded from the Union over black slavery, leading to the Civil War. It has become a symbol for some white supremacist groups.
"Some say it is a symbol of heritage and not hate," Brooks said, dismissing those arguments. "That symbol has to come down and that symbol has to be removed."
Brooks also condemned those who insisted the shooting was the work of a lone wolf, rather than an act of terrorism against all people, especially the African-American community.
"Is the right terminology a lone shooter or is the right terminology a domestic terrorist?" he said. "This was an act of racial terrorism."
South Carolina Gov. Nikki R. Haley called for Roof to face the death penalty in the shooting, which is being investigated by state and federal authorities as a hate crime.
Roof is the sole suspect in the shooting at the iconic Emanuel AME Church in Charleston. The attack has shocked this Southern city and the nation, already racked by race and police violence issues.
"This is a state that is hurt by the fact that nine people innocently were killed," Haley said Friday, adding that the state "absolutely will want him to have the death penalty."
Haley spoke on NBC's "Today" show and called the shooting "an absolute hate crime."
"This is the worst hate that I've seen — and that the country has seen — in a long time," she said. "We will fight this, and we will fight this as hard as we can."
Charleston Mayor Joseph P. Riley Jr. says that although he's not a proponent of the death penalty, it's the law in South Carolina and he expects it will be sought against Roof.
"If you are going to have a death penalty, certainly this case would merit it," he said at a televised news conference.
Continue reading

Several North Charleston residents had joined a crowd of media outside the court building on a scorching 100-degree afternoon, waiting for the hearing to begin.
"Charleston is like one family. We all talk to each other, all hug each other, even people you don't know," said April Cox, 29, of North Charleston. "And now the whole community is torn apart. It's everybody hurting. All races are hurting."
She said she's worried that anger from the slayings, and other incidents here and around the country, might spark more racial violence this summer. "That's what I'm afraid of," she said. "So we just pray and leave it up to the Lord."
Theius Singleton, 31, a merchant marine seaman from North Charleston, said he thought the massacre might have been borne of messages of racism heard by the shooter while growing up.
"You know those little wind-up things you got when you were young? Wind them up, and they go," he said. "That was somebody who was wound up. I'm not saying it was on purpose; it might have been just subliminal things he got all his life."
Roof was returned to Charleston under heavy guard Thursday night after his arrest in Shelby, North Carolina, about 250 miles away. During an intense manhunt, a citizen's tip led police to Roof, whose distinctive bowl-shaped haircut and boyish looks were broadcast near and far.
According to friends, Roof had been making racist comments. His Facebook page showed the high school dropout wearing small versions of the flags of two former white-dominated racist regimes in Africa.
Witnesses to the shooting told their fellow parishioners that Roof shouted racial epithets before gunning down six women and three men, old and young alike. They said he told one woman that he allowed her to live so she could tell the story of what he had done, while two others, including a child, played dead on the church floor.
Joseph Meek, a roommate of Roof's, said that Roof "was big into segregation" and had been plotting something for six months. "I think he wanted something big like Trayvon Martin," Meek told ABC News, referring to the death of a black teenager at the hands of George Zimmerman in Florida three years ago.
Meek said he and Roof had connected a few weeks ago and while they drank vodka Roof began complaining that "blacks were taking over the world" and that "someone needed to do something about it for the white race," The Associated Press reported.
Meek said Roof told him that he had used birthday money from his parents to buy a .45-caliber Glock pistol and that he had "a plan," the AP said. Roof didn't say what the plan was, but Meek said it scared him enough that he took the gun out of Roof's car and hid it in his house until the next day.
It's not clear whether Roof had any connection to the 16 white supremacist organizations operating in South Carolina, but he appears to be a "disaffected white supremacist," based on his Facebook page, said Richard Cohen, president of Southern Poverty Law Center in Montgomery, Alabama.
Roof entered the church, founded in 1818, at 8:17 p.m. and sat quietly with a dozen pastors and parishioners for nearly an hour before pulling out a gun and firing.
Among the victims was the church's pastor, state Sen. Clementa Pinckney, who had sponsored a bill in the Legislature to require police to wear body cameras, a move that came after a white police officer killed an unarmed black man, Walter Scott, in North Charleston.
The other victims were Cynthia Hurd, 54; Tywanza Sanders, 26; Myra Thompson, 59; Ethel Lance, 70; Susie Jackson, 87; and the Revs. DePayne Middleton Doctor, 49, Sharonda Singleton, 45, and Daniel Simmons Sr., 74. Three people survived.
(Serrano reported from Washington, Phelps from Charleston, SC, and Muskal from Los Angeles. Staff writer Molly Hennessy-Fiske in Charleston contributed to this report.)
(c)2015 Tribune Co. Distributed by Tribune Content Agency, LLC.
Photo: A note on the sidewalk memorial includes photos of the 9 who were killed at the "Mother" Emanuel A.M.E. Church on Friday, June 19, 2015, in Charleston, S.C. (Curtis Compton/Atlanta Journal-Constitution/TNS)