Suspected Cop-Killer Frein Taken Into Custody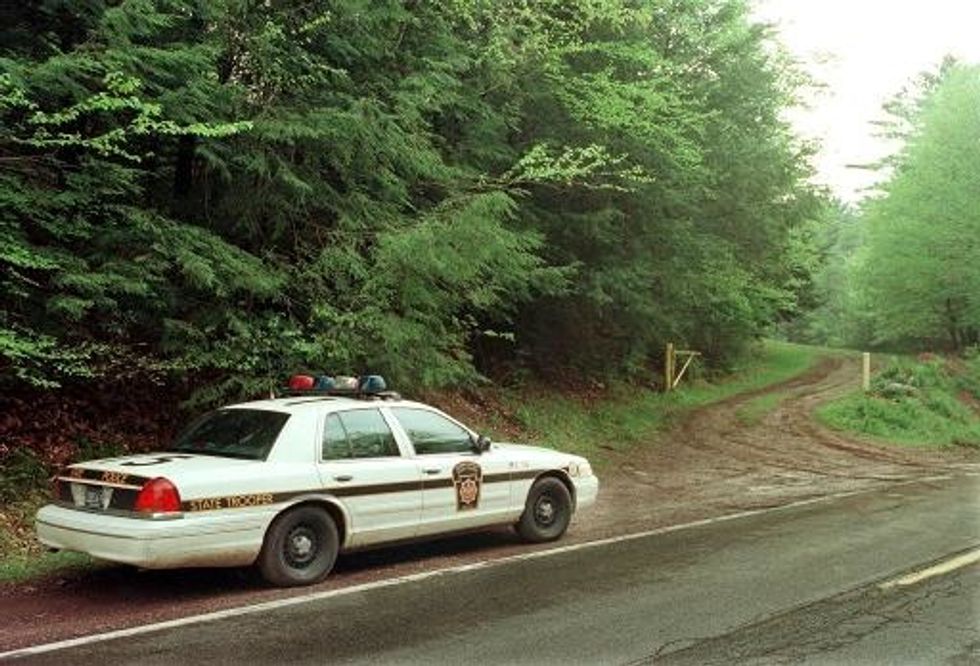 By Laura McCrystal and Mike Newall, The Philadelphia Inquirer (MCT)
PHILADELPHIA — Eric Frein, the suspected cop-killer who for six weeks was the target of a Poconos manhunt involving more than 1,000 law enforcement officers, surrendered Thursday after being discovered hiding in an abandoned airplane hangar, officials said.
A search team found Frein at the hangar at Birchwood Resort in Tannersville, Pa. U.S. marshals led the search team, two sources confirmed. Frein was unarmed and surrendered without incident, the sources said, and was expected to be transferred to nearby Pike County.
The site — on a near-deserted country road — remained an active crime scene Thursday night, with a road leading to the resort blocked off and law enforcement vehicles driving and in out. A group of police officers huddled at the entrance of the abandoned resort, and patrol cars, lights flashing, lined the road.
Pennsylvania State Police spokeswoman Trooper Connie Devens confirmed Frein was in custody but would not elaborate.
Edward Hanko, special agent in charge of the FBI's Philadelphia division, said no shots were fired and no one was hurt during the arrest.
At a late-night news conference, Gov. Tom Corbett and law enforcement officials discussed the manhunt and the arrest. Corbett thanked investigators for their hard work over the last several weeks.
"I particularly want to thank the residents of Northeastern Pennsylvania . . . whose patience, whose tolerance, and whose perseverance have been a tremendous support and lift to the law enforcement personnel," Corbett said. "You have demonstrated the very best of Pennsylvania."
He added: "Let me assure you . . . justice will be served."
A photo of Frein that surfaced after his capture showed him sitting next to a trooper in the back of a car with long dark hair, a thin beard, and what appeared to be a bloodied cut across the bridge of his nose.
The image was in stark contrast to the photos that for weeks had circulated on billboards, the Internet, and the FBI's Most Wanted List as agents combed the dense Pocono woods: the 31-year-old self-described survivalist, clean-shaven and smiling, and wearing European military garb.
Police say Frein, a fan of Cold War military re-enactments, fatally shot State Police Cpl. Bryon Dickson and wounded Trooper Alex Douglass in a Sept. 12 ambush outside the state police barracks in Blooming Grove.
Three days after the shooting, investigators found a Jeep stuck in the mud, and documents inside that identified Frein as the driver.
Thus began a laborious but tightly focused search that involved investigators from across the country, cost several million dollars, and disrupted daily routines and crippled the tourist business during the peak fall-foliage season. Schools were intermittently closed, and residents became accustomed to regular roadblocks and SWAT team personnel tiptoeing through their neighborhoods.
The manhunt included officers from state and local police, the FBI, U.S. marshals, the Bureau of Alcohol, Tobacco, Firearms and Explosives, and other agencies. Tactical teams from other states rotated in and out of the Poconos.
More than once, police said they had found evidence that suggested they were closing in Frein: Serbian cigarettes he was said to favor, two pipe bombs, an AK-47 assault rifle, clothing, and other clues that he wasn't far away. They said he survived on tuna and ramen noodles, and at least once turned on his cell phone, a misstep that enabled them to tighten their search radius to a five-square-mile area of Pike and Monroe Counties.
But despite multiple sightings, sometimes even by officers at close range, Frein was able to slip back into the woods — a terrain he had studied while growing up in Canadensis. The woods are so dense in some areas that officers tracking him could not see one another from 10 or 15 feet away, police said, and they had to sling their rifles over their shoulders to crawl through the underbrush.
The attack and retreat, police said, had been planned for years. In Frein's bedroom, they said, they found a book on sniper training. They cited other evidence that he had searched the Internet in 2012 and 2013 for information on police raids, cellphone tracking, and manhunt tactics.
Two weeks ago, officials said they had recovered journal pages handwritten by Frein at a campsite that they said reinforced their resolve to find him. "I will tell you, after reading this cold-blooded and absolutely chilling account, I can only describe Eric Frein's actions as pure evil," said State Police Col. George Bivens, who became the public face of the probe.
The journal, they said, offered the most compelling evidence to date of Frein's premeditation. It did not say why he targeted the barracks, they said, although the writings suggest Frein did not know the troopers he attacked.
Authorities recently added charges against Frein for possession of two weapons of mass destruction. Those are on top of the murder and attempted-murder charges, among others, that Frein faces when he finally ends up in a courtroom.
It was not known when that would be.
In a statement after the arrest, Pennsylvania State Troopers Association President Joseph R. Kovel said: "If you attack troopers, and a civilized society, the Pennsylvania State Police will bring you to justice. Eric Frein is a coward. Cpl. Bryon K. Dickson II and Trooper Alex T. Douglass are true heroes."
(Inquirer staff writers Ben Finley and Aubrey Whelan contributed to this article.)
AFP Photo/Tom Mihalek