Suspected Western Jihadists In 'Evil' IS Beheading Video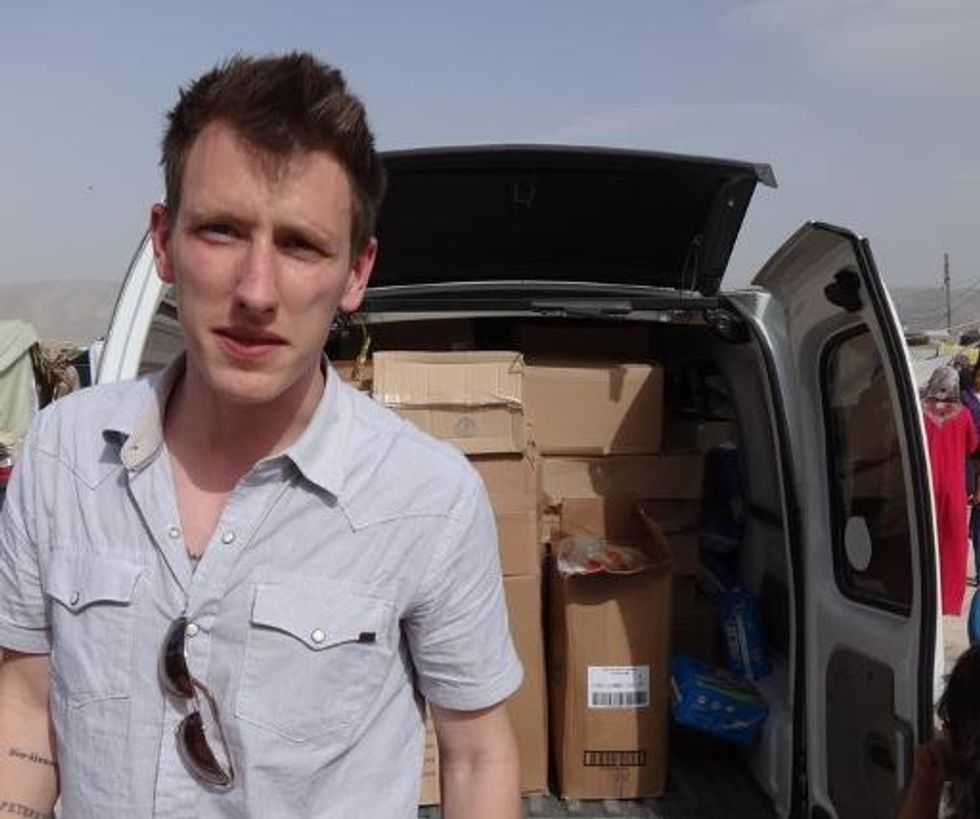 Beirut (AFP) — Authorities were on Monday investigating the suspected involvement of Western jihadists in the brutal video by the Islamic State group claiming the beheading of U.S. aid worker Peter Kassig.
The killing of Kassig and the simultaneous beheadings of at least 18 Syrian military personnel in the video sparked global horror, with U.S. President Barack Obama calling it "an act of pure evil".
It was the latest in a series of atrocities by IS, a Sunni Muslim extremist group that has seized control of large parts of Iraq and Syria.
The video showed the Syrian men kneeling on the ground each before a separate executioner, whose faces were uncovered.
Among the militants shown beheading the Syrian servicemen were some known foreign fighters, including at least one Frenchman and possibly a Briton, an Australian, and a Dane.
French authorities identified one of the executioners as Maxime Hauchard, a 22-year-old from a small village in Normandy in northern France who left for Syria in August last year.
The Paris prosecutor's office said "circumstantial evidence confirms the involvement of a Frenchman in the decapitation of Syrian prisoners shown in an IS video released on Sunday."
An investigation into Hauchard was opened in August by French authorities "for criminal association in relation to a terrorist organisation," a judicial source said.
– Lured by online videos –
Interviewed in July by French TV station BFM via Skype, Hauchard said he had decided to join IS after watching videos online.
"The personal objective of everyone here is (to become a) shahid (martyr). That is the greatest reward," he said.
An intelligence source said it was also being verified whether a second French citizen was among the jihadists seen in the video.
Thousands of foreign fighters have flocked to join IS in Iraq and Syria, and experts say they are often among the most violent and brutal of the jihadists.
A British-accented jihadist has been at the center of previous IS beheading videos and appeared again in Sunday's recording claiming Kassig's killing.
The father of another British jihadist fighting with IS initially told the media he had also seen his son in the video, but later said he was mistaken.
Britain's Foreign Office refused to comment on speculation about the identity of the fighters in the video, but a spokesman said: "We are analyzing its contents."
Kassig, who took the name Abdul-Rahman after converting to Islam, was captured last year and became the fifth Western hostage beheaded by IS after two U.S. reporters and two British aid workers.
"Abdul-Rahman was taken from us in an act of pure evil by a terrorist group that the world rightly associates with inhumanity," Obama said in a statement.
In the undated video released on Sunday, the jihadist stands above a severed head he claims is Kassig's and urges Obama to send more troops to the region to confront IS.
"Here we are burying the first American crusader in Dabiq, eagerly waiting for the remainder of your armies to arrive," the militant says, referring to a northern Syrian town.
Washington is preparing to double its military personnel in Iraq to up to 3,100 as part of the international campaign it is leading against the jihadists.
Kassig, an Iraq war veteran, had risked his life to provide medical treatment and relief supplies to those suffering from Syria's civil war.
– Flags lowered in mourning –
Kassig's parents said they were "incredibly proud" of his humanitarian work to help Syrians trapped in a bloody civil war.
"(He) lost his life as a result of his love for the Syrian people and his desire to ease their suffering," Ed and Paula Kassig said in a statement posted on Twitter.
Flags were to be lowered at government buildings in Kassig's home state of Indiana on Monday, Governor Mike Pence said in a statement, calling the killing "an unspeakable act of barbarism".
Sunday's video was substantially different from previous IS recordings of beheadings.
Kassig was not shown alive in the footage, and no direct threats were made against other Western hostages.
The video came as IS suffered battleground setbacks in Iraq backed by U.S.-led air strikes, with government forces Saturday breaking the jihadists' months-long siege of the country's largest oil refinery.
Monitoring group the Syrian Observatory for Human Rights said Monday it had documented the execution of 1,429 people in Syria by IS in the five months since it declared the establishment of a "caliphate" in areas under its control.
AFP Photo