SXSW Crash: 9 Remain Hospitalized After Deadly Incident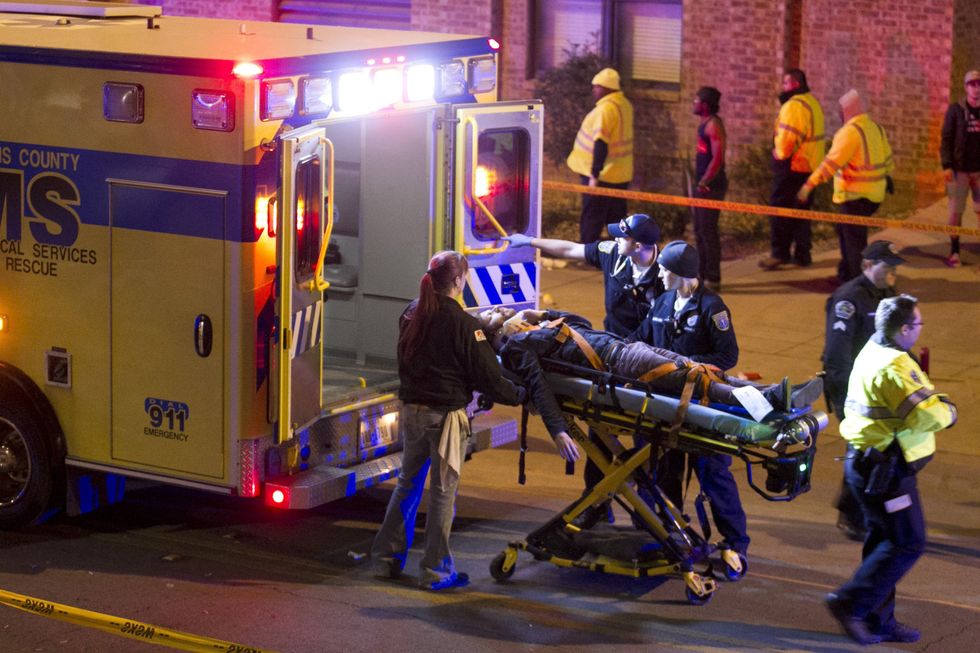 By Joseph Serna, Los Angeles Times
Nine people remained hospitalized Friday, including two in critical and one in serious condition, after police said a man drove drunk into a crowd at the South by Southwest music festival in Austin, Texas, leaving two dead.
Officials with University Medical Center Brackenridge told the Los Angeles Times that two people were discharged Thursday after being injured when Rashad Charjuan Owens, 21, allegedly tried to flee a DUI checkpoint and hit a bicyclist, two people on a moped, and then barreled into a crowd on the sidewalk.
Three other people were listed in good or fair condition at Brackenridge. Three other victims are recovering at St. David's HealthCare facilities and are listed in fair condition, hospital officials there said.
Owens, meanwhile, is being held in Travis County Jail without bond. He was held on suspicion of two murders and injuring 23 other people. Owens' court date was not immediately available. Owens has a previous conviction for a DUI in Fairbanks, Alaska, the Austin American-Statesman reported.
According to police, Owens was stopped at a sobriety checkpoint about 12:30 a.m. Thursday outside the music festival. He was in town to rap at a club in Austin, according to local news channel WFAA.
Owens allegedly fled the checkpoint and drove the wrong way down a one-way street and hit Steven Craenmehr of the Amsterdam music booking and promotion agency MassiveMusic. Craenmehr was riding a bicycle when he was hit and was pronounced dead at the scene.
MassiveMusic released a statement on its website Friday morning that read: "It is with great sadness that we announce the sudden passing of our close friend and colleague Steven Craenmehr, 35, on March 13th, 2014 at SXSW. During the 8 years that Steven worked for MassiveMusic, we got to know him as an unstoppable force, full of life, love and laughter.
"This is an irreplaceable loss for the MassiveMusic family and we are grateful for the years we spent with him. Our thoughts are with Steven's family and friends."
Also killed was 27-year-old Jamie Ranae West of Austin. West was on a moped when she was fatally struck. She was married and worked as a sales clerk at Leighelena Boutique.
Shon Cook, Jamie's mother, a resident of Garrett, Indiana, held back tears when talking about her daughter on the phone.
"She was beautiful and warm," she said. "She was excited about life and art. She loved her family and her family loved her."
Despite the crash, the festival will continue as planned, event officials said. And police said they would review how they block off streets for major events like SXSW but also noted sturdier blockades would make it difficult for them to quickly move emergency vehicles, the Statesman reported.
At a news conference, Austin Police Chief Art Acevedo said a person determined to mow people down in a vehicle would be difficult to stop, and that Owens "showed no regard for the human beings he plowed through … to get away," the American-Statesman reported.
At least one officer had to jump out of the way to avoid Owens' vehicle, police said.
Photo: Jay Janner/Austin American-Statesman/MCT