Sylvester Stallone Leads Night Of Surprises At Golden Globes
@reuters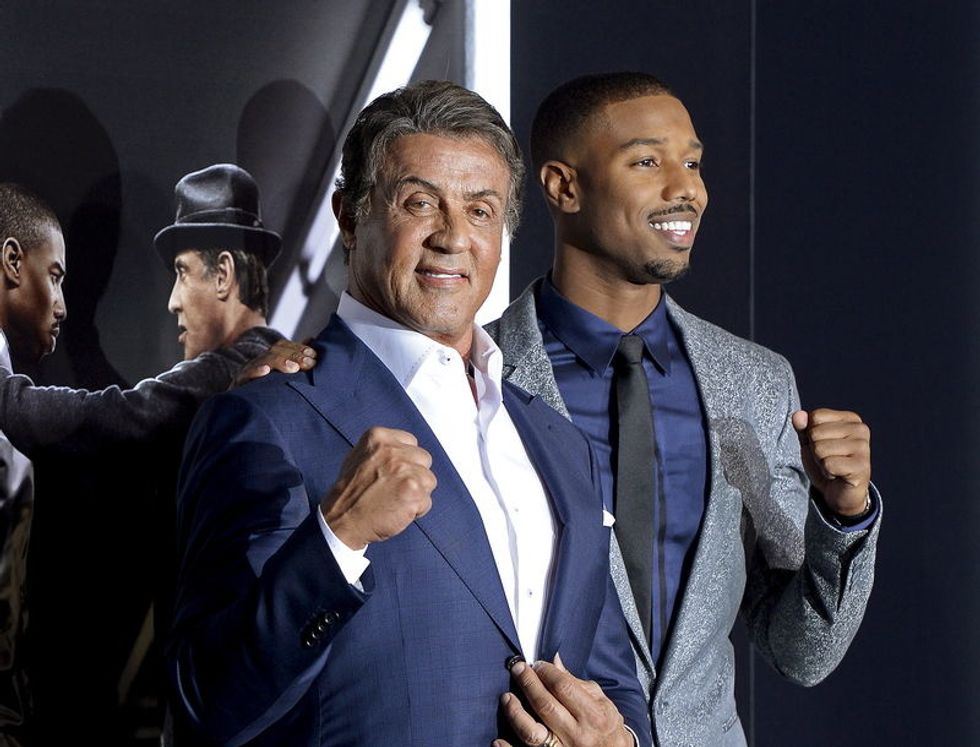 By Piya Sinha-Roy and Nichola Groom
BEVERLY HILLS, Calif. (Reuters) – Sylvester Stallone received a standing ovation as he won his first Golden Globe on Sunday, leading a slew of surprise wins as host Ricky Gervais roasted the likes of Jennifer Lawrence, Bill Cosby and Caitlyn Jenner.
Stallone, 69, won best supporting film actor for reprising his iconic role as boxer Rocky Balboa in Creed beating presumed frontrunner Mark Rylance for Bridge of Spies.
"I want to thank the legendary producers who mortgaged their house to take a chance on a mumbling actor and give me the shot of a lifetime," Stallone said.
"I want to thank my imaginary friend Rocky Balboa for being the best friend I ever had," he added. The last time Stallone had been nominated at the Globes was 1977 for Rocky.
Matt Damon won best comedy film actor for space adventure The Martian, beating Christian Bale, Steve Carell, Al Pacino and Mark Ruffalo.
"I've made a lot of movies that people just didn't go to see, so to make a movie that people just enjoyed this much … it really came down to (director) Ridley Scott," Damon said.
Other surprise winners included British actress Kate Winslet for her supporting role in Steve Jobs, and the movie's screenwriter Aaron Sorkin.
"I thought I had as much chance of winning the screenplay award tonight as I had of winning best actress in a musical," said Sorkin. Steve Jobs, about the late Apple co-founder, floundered at the box office last year despite winning early critical praise.
Giolden Globe organizers, The Hollywood Foreign Press Association, chose Disney-Pixar's feel-good movie Inside Out for best animated film, and Hungary's Holocaust drama Son Of Saul as best foreign language film.
Gervais, returning to host the Globes for the fourth time, riled up the audience with an opening monologue in which he called the A-list audience "disgusting, pill-popping, sexual deviant scum."
He praised Caitlyn Jenner for being a transgender role model before quickly quipping "She didn't do a lot for women drivers. But you can't have everything, can you?" referring to Jenner's Malibu car crash last year.
And Gervais, swigging from a glass of beer, took a swipe at Lawrence's essay on why women aren't being equally paid as men in Hollywood, saying "How the hell can a 25-year-old live on $52 million?"
In the television categories, Jon Hamm won one last award for his role as the troubled womanizing Don Draper on the 1960s advertising drama Mad Men.
"Thank you to Mr. Weiner who wrote this horrible person all the way to the end and picked me to play him," Hamm said, referring to show creator Matt Weiner.
But other TV awards went largely to newcomers, including Mozart in the Jungle for best TV comedy series and Mr.Robot for best TV drama.
(Editing by Jill Serjeant and Mary Milliken)
Cast members Sylvester Stallone (L) and Michael B. Jordan pose during the premiere of the film "Creed" in Los Angeles, California, in this November 19, 2015 file photo.  REUTERS/Kevork Djansezian