Syria Disarmament On Track As Rebel Attack Cuts Power
@AFP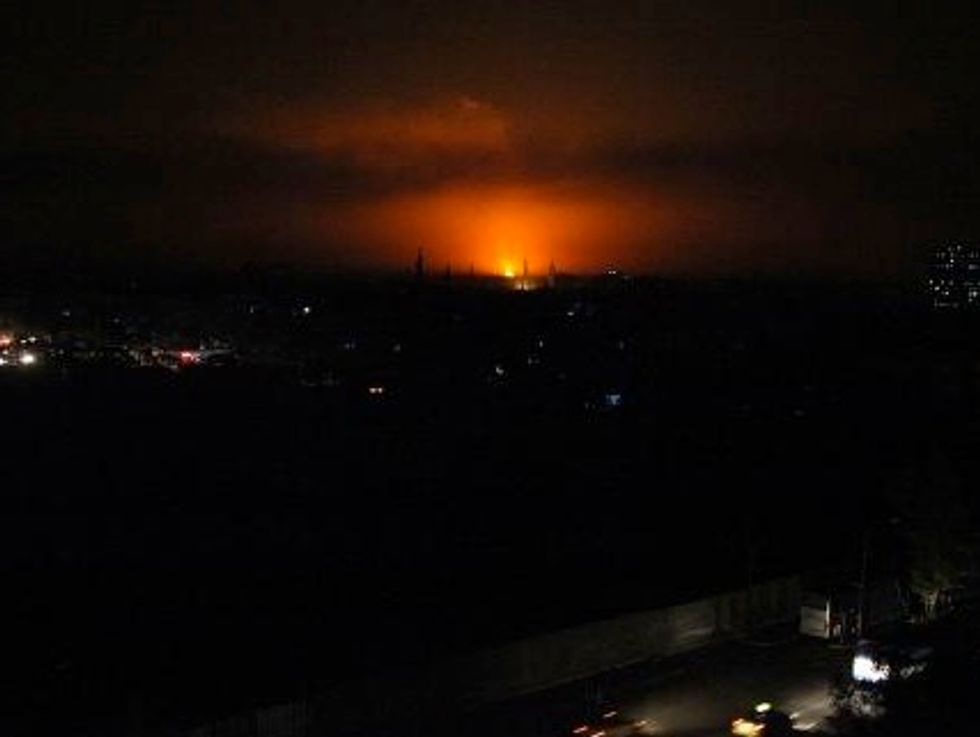 Damascus (AFP) – Syria is set to hand over a detailed plan for destroying its chemical arsenal Thursday, the international watchdog said, as a rebel attack near Damascus triggered widespread power outages.
The Syrian opposition meanwhile said it would meet November 9 to decide whether to attend a Geneva peace conference that the United Nations is trying to convene in parallel with the disarmament efforts.
Syrian authorities were working to restore power several hours after rebels attacked a gas pipeline, causing blackouts across the country and setting off a huge fire near the airport, where a key power plant is located, an AFP correspondent in Damascus reported.
Electricity Minister Emad Khamis said Thursday that the fire had been extinguished and that power was being "gradually" restored to some provinces after authorities secured an alternative source of fuel for the plant, according to the official SANA news agency.
The Syrian Observatory for Human Rights, a Britain-based monitoring group, said power outages were reported in the Damascus region as well as in Aleppo in the north and Homs in the centre.
"It is likely this was a large-scale operation planned well in advance," said Observatory director Rami Abdel Rahman.
In September, a similar outage was caused after a high voltage power line was sabotaged.
Elsewhere in Syria, Kurdish fighters battled with jihadists for several hours as they advanced on a border crossing with Iraq held by the Islamic State of Iraq and the Levant, an Al-Qaeda affiliate that operates in both countries.
In the central city of Homs a car bomb killed at least one person and wounded 43, state television reported.
Some 115,000 people have been killed and millions driven from their homes since a brutal crackdown on Arab Spring-inspired protests in the spring of 2011 set off a full-scale civil war.
The Organisation for the Prohibition of Chemical Weapons said the Syrian government was expected to hand over its disarmament plan by Thursday, the latest step under the terms of a U.S.-Russian deal to head off punitive military strikes on Syria after an August 21 gas attack.
The rare accord, enshrined in a U.N. Security Council resolution, calls for all its chemical weapons and production facilities to be destroyed by mid-2014.
A joint UN-OPCW team, in Syria since the start of the month, has inspected 18 of 23 declared sites, destroying production equipment in almost all of them.
But parallel efforts by the United Nations to convene a peace conference in Geneva next month have run into resistance from the opposition, which is insisting on a raft of preconditions.
Leaders of the National Coalition — the main opposition umbrella group — have insisted they will not attend unless regime change and Assad's departure are on the table.
'Their participation is pivotal'
A meeting in London Tuesday between opposition leaders and diplomats from 11 members of the Friends of Syria group produced little more than a joint statement that Assad should play no future role in government.
But behind the scenes Wednesday U.S. ambassador to Syria Robert Ford, who has built up a close relationship with opposition leaders, huddled with key figures in Istanbul seeking to coax them to the negotiating table.
"Their participation is pivotal. We will continue encouraging them to attend, and that's why Ambassador Ford's on the ground talking to them right now in Istanbul," said deputy State Department spokeswoman Marie Harf.
A member of the National Coalition confirmed the U.S.-led effort to convince the group to attend the Geneva talks, and said it would hold internal deliberations on November 9 before coming to a final decision.
"There is an international effort, notably American, to persuade the Coalition to take part," Coalition member Samir Nashar said.
"Putting off a decision until November 9 aims to allow more time for discussions and to assist efforts to change the mind of those opposed," he said.
The Assad regime said Wednesday that no foreign party could be involved in deciding the country's leadership, but that it was ready to attend the Geneva conference and "try its best to ensure its success without any preconditions or any foreign intervention."
AFP Photo