In Syria, U.N. Agency Distributes Most Food In Government-Held Areas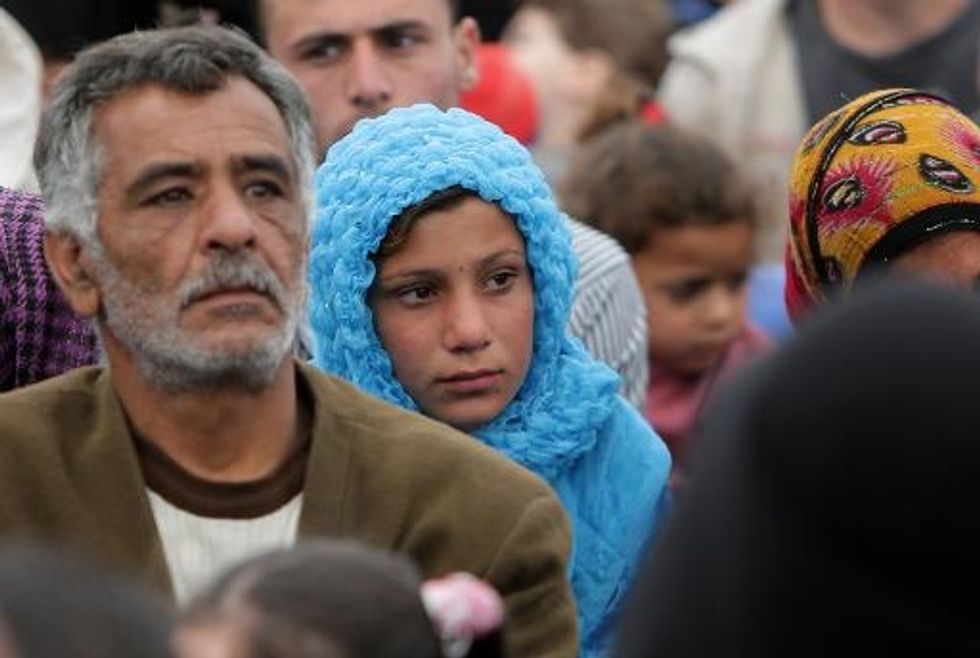 By Raja Abdulrahim, Los Angeles Times
The World Food Program gives out most of its food aid to Syria in government-held areas, with only a quarter of the distributions occurring in rebel-controlled territory, according to latest figures from the U.N. agency.
The findings underscore the obstacles facing the WFP, which is the major distributor of food aid in Syria, in getting help to rebel-held areas. Many of those zones are under frequent bombardment by Syrian forces, making access dangerous for aid workers and their drivers.
In addition, the WFP needs government permission to cross into rebel territory. And many Syrians fleeing combat are more likely to head for areas that are held by the government or are contested, drawing fewer airstrikes or heavy fire.
"The displacement is disproportionately higher in areas that they think is safer, which is government-controlled areas and contested areas," said WFP spokeswoman Abeer Etefa. "Our focus is always on those displaced population, which is one reason why you have increased distribution in government-controlled areas."
The distribution breakdown, presented in monthly WFP maps, shows the percentage delivered to both sides in each of the country's 14 provinces. In March, all food aid was given to government areas in six provinces, including Aleppo, Damascus and Hama. In Raqqa and Dara, all aid was distributed to opposition areas, according to the WFP.
In all but one of the remaining provinces, a majority of aid went to government areas, with an even split in the final province. On average across the provinces, the maps show, 75 percent of the aid distributions occurred in zones controlled by President Bashar Assad's forces.
The war has left immense poverty and need across the country. However, opposition towns and neighborhoods have been some of the hardest hit, with government shelling and air campaigns reducing some areas to disaster zones with little surviving infrastructure.
And though many civilians have fled to government towns and neighborhoods, a large number have moved to other opposition areas deemed safer. In the last few months, makeshift refugee camps have sprung up all along the border with Turkey, some of them little more than shelters made of tarps and sticks.
The WFP's most recent assessment in Syria revealed that more than 9 million people lack reliable access to sufficient food and 6.5 million cannot survive without food assistance. This comes at a time when humanitarian agencies are warning that the country may be facing a drought, which would exacerbate the situation.
The agency's goal is to reach 4.25 million people each month in Syria, which amounts to about 40,000 tons of food, but it has regularly fallen short. In March it reached 4.1 million people and distributed in all 14 provinces, Etefa said.
Kareem Shami, an opposition aid volunteer in Damascus, blamed the Syrian government for the lack of aid going to opposition-controlled areas.
Assad's military "has instituted the blockades so that aid cannot get in," he said. "He hasn't blockaded it for nine months in order for the U.N. to come in and provide aid."
The government has pursued a siege campaign against many opposition areas in Damascus and Homs, preventing food, medicine and other aid from entering for many months. Rebels have also laid siege to some towns, but to a lesser extent.
The WFP, like other U.N. agencies, operates under a General Assembly mandate that says Syria's sovereignty cannot be violated. That rule in effect bans crossing borders that are under opposition control, limiting aid distribution to such places as Aleppo, where all crossings with Turkey are in rebel hands.
But Etefa said safety was also a major concern. "Who are the truck drivers that you can send to an area that is being bombed in order to deliver?" she asked. "It's a war zone."
On Saturday, a blast in Hama killed an aid driver and injured two others, the Syrian Arab Red Crescent tweeted. "Each side has a role to play in the fact that many people are going hungry," she said, adding that at a time when access was improving, "I don't want to point fingers."
This month, the Syrian Arab Red Crescent and the Office of the U.N. High Commissioner for Refugees delivered humanitarian assistance to an opposition-held neighborhood in Aleppo. The government and rebels agreed on a rare cease-fire so the aid could be delivered.
The UNHCR had last delivered aid to the area in June 2013, and no assistance had reached the population there since, according to the United Nations.
There have been other one-time instances of aid getting into hard-to-reach rebel areas, including Qamishli in the northeast of the country and the eastern suburbs of Damascus, the capital. But such limited deliveries do little to alleviate the situation.
In the Yarmouk camp near Damascus, home to both Palestinian refugees and Syrians, aid has been allowed to enter on and off depending on government permission or clashes between rebels and government forces. More than 100 people are said to have died from starvation in Yarmouk, according to opposition activists.
On Sunday, a spokesman for the United Nations Relief and Works Agency for Palestine Refugees warned that U.N. food in the Yarmouk camp was about to run out after 12 consecutive days without food deliveries because of fighting between the rebels and government.
"The U.N. groups are always waiting for permission from the regime, and for the regime, aid is a red line," Shami said. "And even when it comes in, it is in such a small amount."
©afp.com / Joseph Eid