Syrian Boy Bewildered And Bloody After Aleppo Airstrike Goes Viral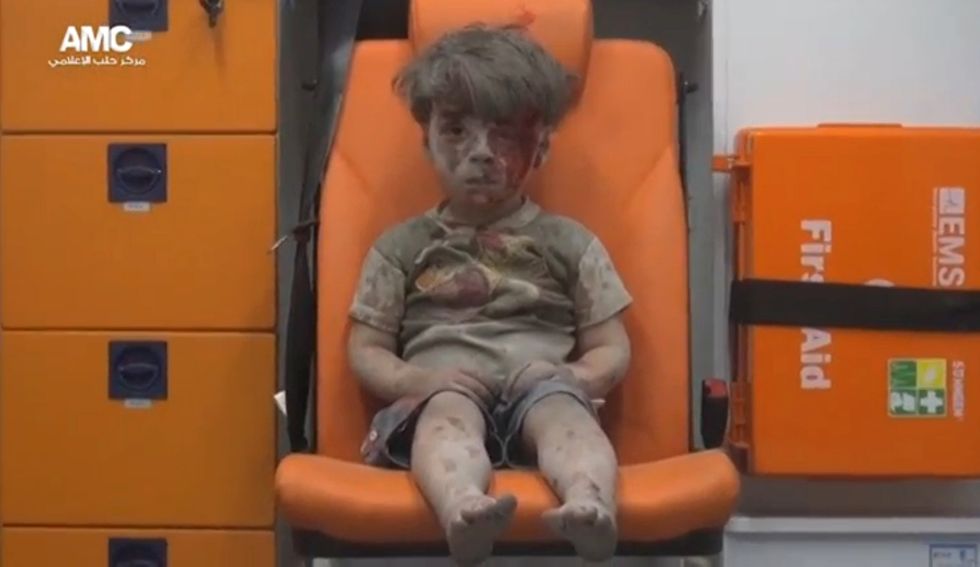 An image of a Syrian boy, bewildered, bloody, and covered in dirt after being pulled from a bombed building in Aleppo has gone viral on social media.
The photo was released along with a video by the Aleppo Media Center, an anti-Assad activist group. In the photo, the Syrian boy is sitting in an ambulance looking horrified and injured. Opposition activists first reported airstrikes in the al-Qaterji neighborhood of Aleppo late Wednesday.
The boy was identified as five-year-old Omran Dagnees by Khaled Khaled, a member of the Syrian Civil Defense, a volunteer rescue group. Dagnees was taken to get help by members of the group, and doctors in Aleppo confirmed he entered the hospital "M10" Wednesday night after the airstrike. Omran had head wounds, but no brain injury, and was released later that night.
Photojournalist Mahmoud Raslan took the video from which still images were captured and recalled helping pull people from the rubble: "We were passing them from one balcony to the other."
According to several reports, at least eight other people were injured in the strikes, and there were three casualties. The image of Omran, however, is the one that drew the most attention on social media. In the video, Omran is seen being carried away from the rubble and he then touches his face, which is covered in blood. He does not initially cry or otherwise express any emotion, and his face remains flat.
The Syrian civil war has ravaged the country for five years, and fighting has escalated in recent weeks, killing and injuring hundreds, including many children — largely the result of Syrian government "barrel bombs" and Russian airstrikes. Thursday morning, UN special envoy Staffan de Mistura called for a "gesture of humanity from both sides" and urged a 48-hour pause in the fighting to deliver aid.
Photo: A still image taken on August 18, 2016 from a video posted on social media said to be shot in Aleppo on August 17, 2016, shows a boy with bloodied face sitting in an ambulance, after an airstrike, Syria. Social Media