Syrian Rebels Can Play Role In Iraq, Says Kerry
@AFP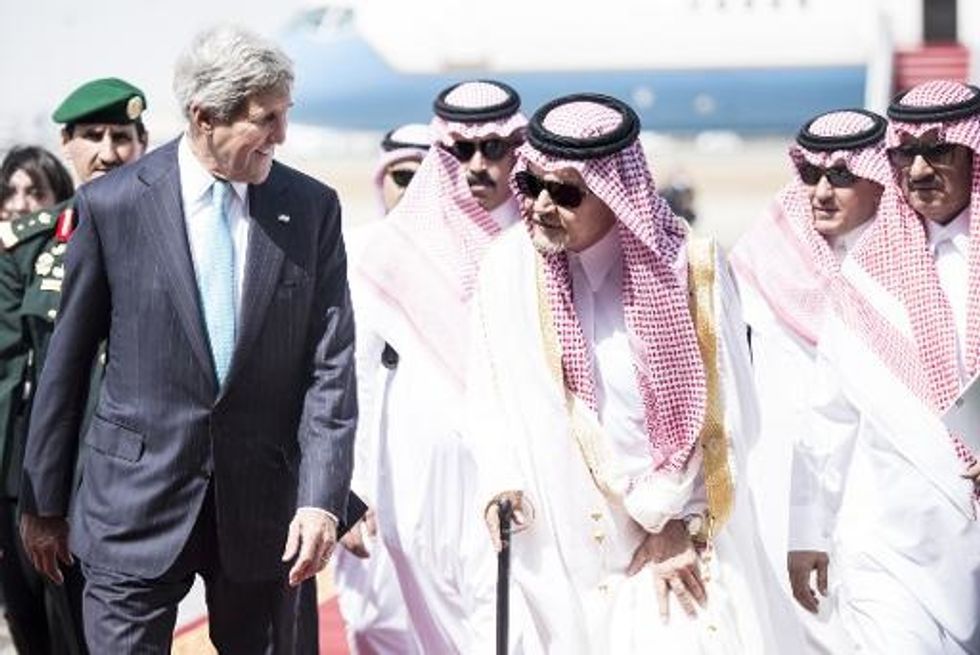 Jeddah (Saudi Arabia) (AFP) – Syrian rebels can help push back jihadists in Iraq, U.S. Secretary of State John Kerry said Friday as Washington unveiled plans to boost Syria's opposition with $500 million in arms and training.
The top U.S. diplomat, who landed in the Red Sea city of Jeddah in the afternoon, also met Saudi King Abdullah a day after hosting urgent talks in Paris with the Saudi, Jordanian and UAE foreign ministers on the widening crisis in Iraq and Syria.
King Abdullah has consistently called for greater U.S. military support for the Syrian rebels, whom the Sunni Gulf kingdom has long backed.
Following several signals in recent weeks by U.S. President Barack Obama's administration, the White House said Thursday it intends to "ramp up U.S. support to the moderate Syrian opposition".
The request is part of a $1.5-billion Regional Stabilization Initiative to bolster stability in Syrian neighbors Iraq, Jordan, Lebanon and Turkey, and to support communities hosting refugees.
Ahmad Jarba, leader of the Syrian National Coalition, welcomed the huge U.S. boost to his forces, battling to oust Syrian President Bashar al-Assad.
"The situation is very grave and there are sectarian leaders ruling the country so we have to have greater efforts on the part of the U.S. and regional powers to address the situation in Iraq," Jarba said.
Kerry said "the moderate opposition in Syria… has the ability to be a very important player in pushing back against (Islamic State of Iraq and the Levant) ISIL's presence… not just in Syria, but also in Iraq".
"Jarba represents a tribe that reaches right into Iraq. He knows people there, and his point of view and that of the Syrian opposition will be very important going forward."
The Saudi king has also been an outspoken critic of Iraqi Prime Minister Nuri al-Maliki, whose Shiite-led government has seen Sunni insurgents sweep up a huge swathe of territory, including second city Mosul, since June 9.
Riyadh accuses Maliki of excluding Iraq's Sunni Arab minority and has played down Western concerns that the insurgents are led by jihadists.
The U.S. assistance would go to what the White House has called "appropriately vetted" members of the Syrian opposition.
Although the United States has provided some $2 billion in humanitarian aid, Obama has so far shied clear of providing heavy weapons, fearful that they could fall into the hands of jihadists.
Jarba visited Washington in May to plead for arms, especially anti-aircraft missiles, to help the rebels defend themselves from air strikes and barrel bomb attacks by Assad's regime.
About $287 million in mainly non-lethal support has been cleared for the rebels since March 2011, and the CIA has participated in a secret military training program in neighboring Jordan for the moderate opposition.
The rebels have found themselves fighting on two fronts, as jihadists belonging to Al-Qaeda and the ultra-hardline ISIL have flourished in the chaos.
ISIL has now triggered international alarm by capturing parts of five Iraqi provinces, pressing ambitions to set up a wider Islamic state straddling Iraq and Syria.
Washington has been increasingly concerned that the jihadists' battlefield role on both sides of the Iraq-Syria border will play into the hands of the Assad regime.
Those fears were highlighted Thursday when Maliki "welcomed" Syrian government air strikes against ISIL fighters who control both sides of the Al-Qaim border crossing.
Washington responded that military action by Assad's government would not be "in any way helpful to Iraq's security".
US officials say Washington is calling on its Sunni allies to use their influence with Iraqi leaders to unite and quickly form a government, on the heels of April elections.
The United States has also urged Arab nations to work to stop the flow of funds and recruits joining the jihadists in the battles in Iraq and Syria.
King Abdullah on Thursday ordered authorities in the oil-rich kingdom to take "necessary measures" to defend the country from the jihadists battling in Iraq.
AFP Photo/Brendan Smialowski