Syrian Residents Return To The Ancient And Now Ruined City Of Homs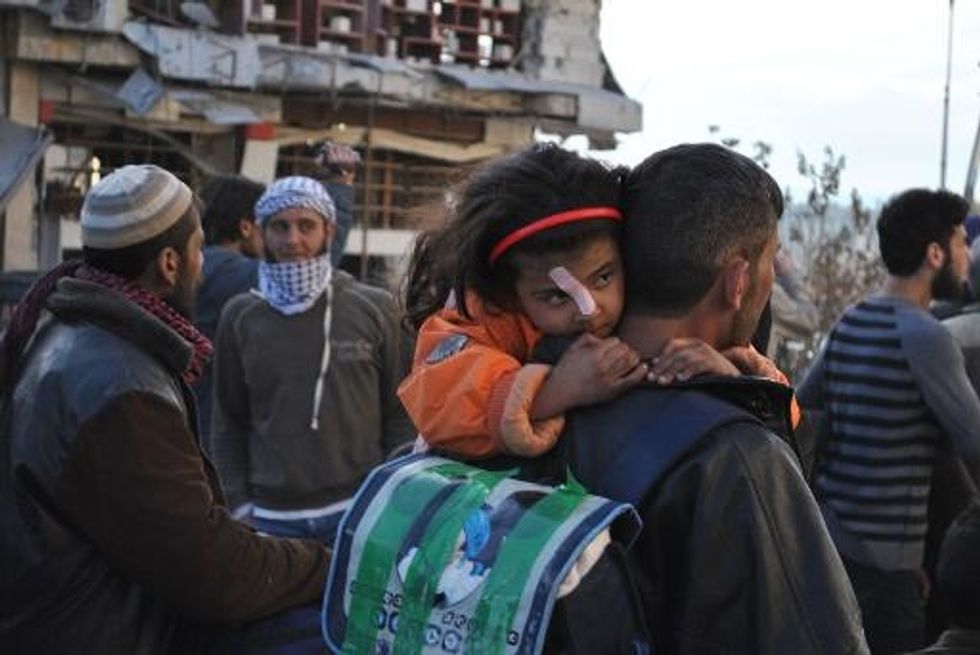 By Patrick J. McDonnell, Los Angeles Times
HOMS, Syria — Wary of looters and anxious to get back home, the displaced residents of the war-battered Old City of Homs have been filing back into their bombed-out neighborhoods.
They push baby strollers and drag suitcases to be used in an epic salvage operation. At times, it is hard to distinguish between ex-residents gathering what little is left of their belongings and those picking the ruins clean of others' possessions.
Soldiers checked IDs to be sure people had a right to what they were taking, but inspections weren't especially rigorous. Pickups parked outside blown-up buildings, their drivers busy emptying out the contents.
Some stood guard over their reclaimed dwellings.
"No one should leave their home now," said Ibrahim El Helu, 64, a Boston-trained engineer who packed a pistol to discourage thieves.
From afar, the vast rubble zone brings to mind images of Dresden, Stalingrad and other cities destroyed in World War II. Much will have to be razed.
Amid so much chaos, many returnees have camped out in their old homes, despite the lack of water and electricity and the apocalyptic scenes that greeted them. Few did not find their residences looted and trashed during the rebel occupation — closets emptied out, clothes scattered on the floor, drawers rifled through and wood furniture chopped for kindling.
"This is my home; I invested everything in it," said Umeima Aboud, 44, who decided to stay with her two grown sons at her second-floor flat in the Bustan al-Diwan district. "I will rebuild."
Access became possible early this month when gunmen agreed to decamp in a deal for safe passage. Insurgents had occupied the district for almost two years as government troops laid siege to the Old City, directing heavy bombardment at the vast warren of narrow streets and alleys.
Returning residents dumped soiled clothes, broken furniture and other items onto ever-growing trash piles on the rubble-strewn streets.
The mood was alternately cheerful and despondent, elated and sober. Many were outraged.
"This is their democracy?" asked Hassan Jubrail, taking a visitor through the charred remains of his home, cursing the rebels who had occupied the zone. "I don't want to have anything to do with their democracy!"
Still others came to the Old City to seek traces of missing relatives, believed kidnapped by the rebels during the worst of the fighting. Hundreds are counted among the "disappeared" in Homs. One man said he found his brother's car, burned beyond repair, but no sign of his sibling. Charred and crushed vehicles, some riddled with bullet holes, blot the streets.
Multitudes clamber inside bullet-sprayed storefronts and up creaky stairways to snatch some relic of a past existence. They are among Homs' displaced legions, their lives subject to great upheaval since the war began.
They haul out vacuum cleaners and beds, lamps and side tables, photos, toys, carpets, clocks — just about any reminder of the material hodgepodge of daily existence.
Many seem to take comfort in grabbing some artifact of their previous, stable lives in this once tranquil provincial town. Before the war, Homs was known for its fierce desert wind, its relaxed lifestyle and plethora of Muslim and Christian houses of worship.
"We're lucky; we found something," said a lamppost-thin man who went by the nickname Abu Anas. He pushed a bicycle stacked with a jumble of stiff arms, legs and torsos, a macabre apparition in a war zone. They were remnants of mannequins from his nearby clothing store, called Spring.
"There's a lot of damage, but we can rebuild," Abu Anas declared with relief as he urged his ghoulish cargo forward.
Walls remain sprayed with sometimes blood-curdling rebel graffiti, often of a blatantly sectarian nature. "Watch where you sleep," warns one scrawl. "I will come from a tunnel to kill you." Another announces the presence of "Abu Qutada … the Chechen." The walls of an apartment apparently used as a kind of command center contain scribbles proclaiming that fighters eagerly anticipate their posthumous encounters with the "mermaids," the virgins awaiting martyrs in the after-life, according to the militants' belief.
Ahmad Halbani, 50, a father of three, carried a pair of shopping bags filled with mementos salvaged from his destroyed apartment in the Khalidiya district, adjacent to the Old City.
They were just odds and ends: women's curlers and hairpins, and a stylized, 1960s photograph of Halbani's late father in military uniform.
"At least we all got out alive," said Halbani. He and his family headed down Hama Street, once a lively boulevard, now a ghostly route flanked by obliterated multistory buildings.
Some structures are pancaked, signature destruction of direct hits from aerial bombs; others are hollowed out, blackened and shot through with holes, like giant slabs of moldy Swiss cheese. Atop one six-story structure, a massive air conditioner perched precariously, seemingly about to cascade down onto a pyramid of debris atop of what was a sidewalk.
"At least I got what I came for," said an exhausted, veiled woman, 27, who went by the nickname Um Omar.
She pushed a wheeled metal hospital bed stacked high with household items.
"Our house is gone," Um Omar said, taking a break from her solitary labors.
She trudged off along Hamidiya Street, having found at least some part of her former life in this ancient and now ruined city.
AFP Photo