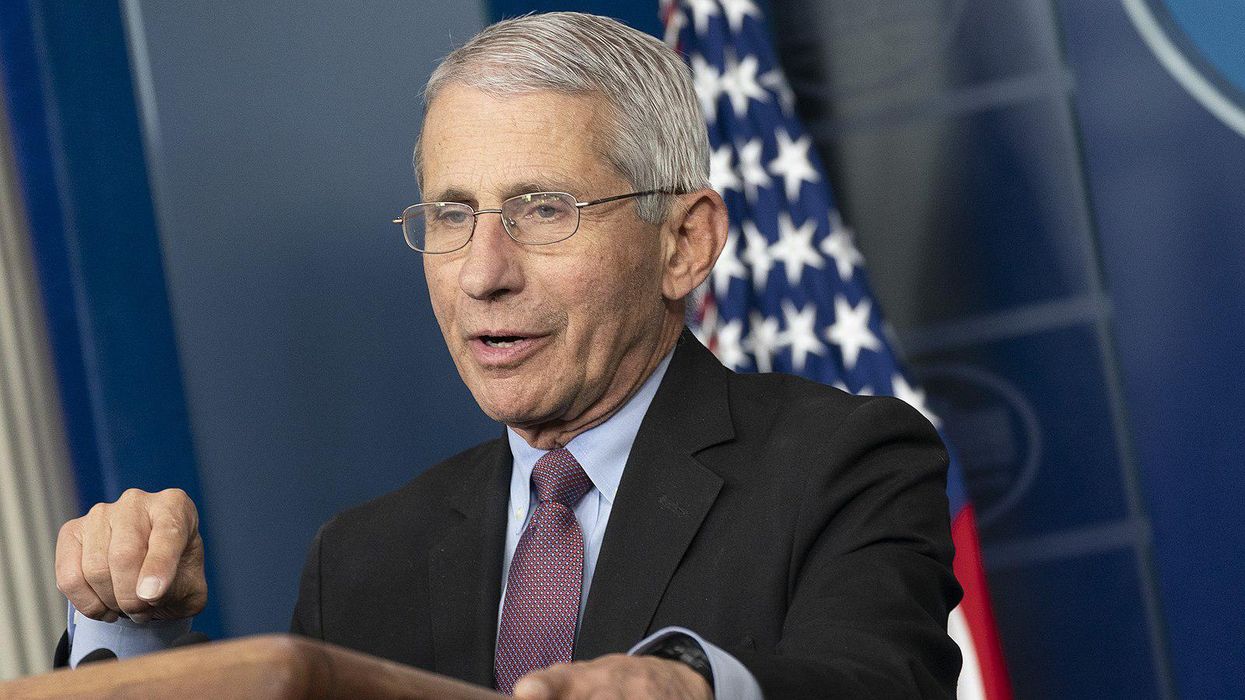 A Maryland anti-vaxxer is facing charges for threatening National Institute of Allergy and Infectious Diseases (NIAID) Director Anthony Fauci over email-- going as far as to warn the face of America's COVID-19 response that he would be "hunted, captured, tortured and killed," among other things-- according to court documents that were unsealed on Tuesday.
According to the affidavit filed in support of a criminal complaint, Thomas Patrick Connally, Jr. committed two violations-- threatening a federal official and sending interstate communication containing a threat to harm, both of which are felonies.
The documents also include the absolutely deranged emails Connally allegedly sent to Dr. Fauci from late December of last year to as recently as last week.
"Hope you get a bullet in your comprised satanic skull today," read the subject line of one email sent on December 28, 2020.
In that email, Connally repeatedly refers to Dr. Fauci as an "elf," while describing in grave detail ways he wished the nation's top infectious disease expert would die.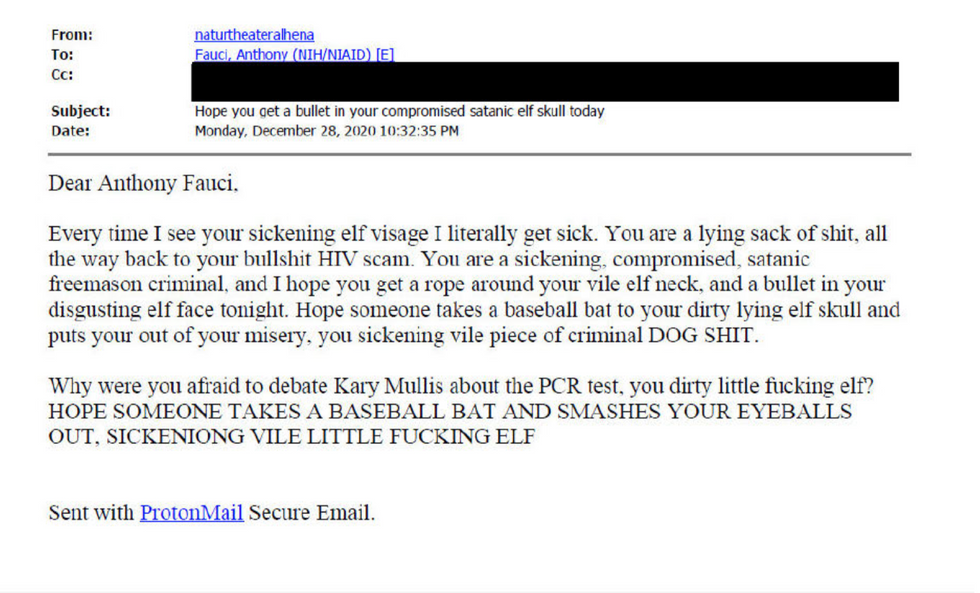 Connally sent a second email that day under the same subject, encouraging Fauci to "put a gun in your mouth and pull the trigger."
But the demented threats didn't end that day, as he sent a third email months later in late April where Connally wrote, "You will hunted, captured, tortured and killed, you sickening, vile, disgusting liar and fraud, you vile disgusting satanic elf."
Following this, he then sent a series of six emails threatening not only Fauci but also his family, according to the complaint.
In addition to terrorizing Fauci and his family, Connally also bombarded National Institutes of Health (NIH) Director Francis Collins with similar manic emails threatening the life of the health official.
"Drop the 'mandatory vaccine' talk, maggot, or you're getting 6 mandatory shots in your worthless satanist [f-slur] skull," Connally wrote Collins. "You and your buddies Gates and Soros too, you sick little fuck. I'll smash every tooth out of your [f-slur] skull."
Connally used an email account from "ProtonMail," a secure, encrypted email service based in Switzerland, to send the disturbing threats to the two health officials, according to the affidavit. An investigation by the Department of Health and Human Services (HHS) revealed that the account belonged to Connally.
Fauci has been the subject of an increasing number of threats since late last year.
"I've chosen this life. I mean, I know what it is," Fauci told NBC's TODAY Showin April. "There are things about it that are sometimes disturbing. But you just focus on the job you have to do and just put all that stuff aside and try as best as possible not to pay attention to it."
Connally is expected to have an initial appearance in a U.S. District Court in Greenbelt, MD tomorrow before Magistrate Judge Timothy J. Sullivan, according to the Department of Justice (DOJ).
The DOJ also notes that, if convicted, Connally could face up to 10 years in federal prison for threats against a federal official and a maximum of five years for interstate communication containing a threat.
"We will never tolerate violent threats against public officials," said Acting U.S. Attorney Jonathan Lenzner in a press release. "Our public health officials deserve our thanks and appreciation for their tireless work, and we will not hesitate to bring charges against those individuals who seek to use fear to silence these public servants."