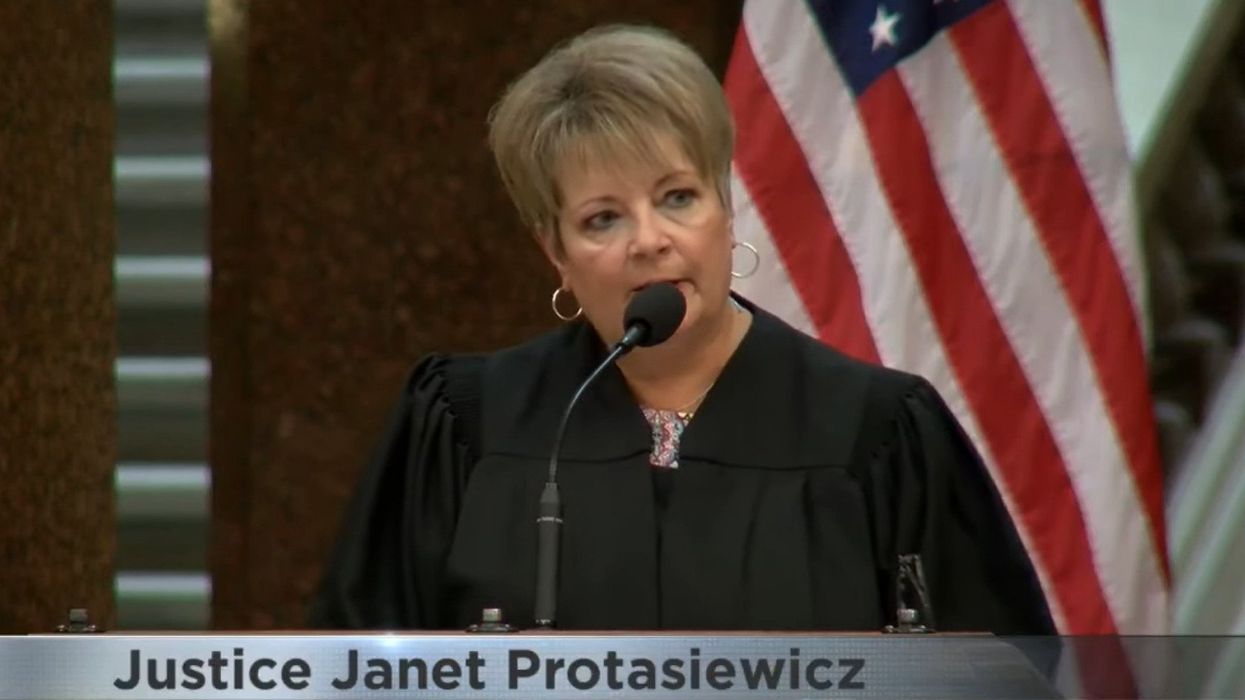 Judge Janet Protasiewicz was sworn in on Tuesday afternoon as the ninth justice of the Wisconsin Supreme Court, cementing a five–member liberal majority that could hear major cases on issues such as abortion and gerrymandering, potentially reshaping the legal landscape of the state.
Protasiewicz took the oath of office at the state Capitol rotunda in Madison, Wisconsin. The liberal Justice Ann Walsh Bradley administered the oath in front of hundreds of observers.
"We all want a Wisconsin where our freedoms are protected; we all want a Wisconsin with a fair and impartial Supreme Court; we all want to live in communities that are safe, and we all want a Wisconsin where everyone is afforded equal justice under the law," Protasiewicz said . "That's why I don't take this responsibility lightly."
Protasiewicz's swearing-in marks the end of 15 years of conservative control of the court.
The new majority on the court is predicted to strike down the state's abortion ban , which was passed in the mid-19th century but was rendered unenforceable for decades by the U.S. Supreme Court's Roe v. Wade ruling, and throw out the state's legislative maps. Critically, the Supreme Court of Wisconsin's liberal majority will be a bulwark against Republican attempts to limit voting access.
In an election held in April, Protasiewicz, formerly a prosecutor and a Milwaukee County judge, defeated conservative former Justice Daniel Kelly by an 11-point landslide . Protasiewicz's campaign for the open seat centered on abortion — it said in one of her first campaign ads that she supported "a woman's freedom to make her own decision on abortion" — and the state's legislative maps, which she called rigged.
Interest groups and donors were aware of the stakes. During the election, powerful pro- and anti-abortion rights groups broke along ideological lines to support Protasiewicz and Kelly, while labor unions and business groups, political parties , and wealthy in-state and out-of-state donors spent heavily to back their favored candidate. The race between Kelly and Protasiewicz was by far the most expensive state supreme court election in modern history, costing at least $56 million. Even that figure, according to WisPolitics, is likely an undercount.
Voter turnout also broke records. Nearly 2 million Wisconsin residents voted in the election. In the last race for Supreme Court, in 2020, 1.5 million Wisconsinites cast a ballot .
"The election of Janet Protasiewicz changed the balance of power, breaking what has for years been an extreme conservative stranglehold on Wisconsin's State Supreme Court," state Rep. Lisa Subeck, a Democrat, said in an email sent to the American Independent Foundation. "This opens the door to a new era of fairness on the court, and this gives us great hope on a number of issues."
"With a case challenging Wisconsin's criminal abortion ban already filed and expected to make its way to Wisconsin's Supreme Court, flipping the conservative majority on the court was vital to ensuring our case is given fair consideration," she added. "Protasiewicz's presence on the court means abortion could again be available in Wisconsin in the not-so-distant future."
On June 28, 2022, days after the U.S. Supreme Court overturned Roe v. Wade with its decision in Dobbs v. Jackson Women's Health Organization , Wisconsin Gov. Tony Evers and Attorney General Josh Kaul, both Democrats, filed a lawsuit challenging the state's abortion ban in the Dane County Circuit Court. In July of this year, Dane County Circuit Judge Diane Schlipper rejected arguments from state Republicans that the case should be thrown out and allowed the lawsuit to continue.
Also in play are Wisconsin's legislative maps, which determine how voters are grouped into districts. By strategically creating electoral districts, Republican map drawers have divided voters so as to give the GOP an advantage in the state's elections for the General Assembly and Senate, a strategy called gerrymandering. Under the current maps, Democrats would have to win by landslide margins to have a chance of securing even a narrow majority in the Assembly.
Right now, despite Democrats having won the last statewide election, Republicans in Wisconsin are two Assembly seats from a supermajority in the Legislature that would allow them to impeach elected state officials and override the governor's veto.
"If the court were to rule our legislative maps — considered by experts to be the most politically gerrymandered in the nation — unconstitutional, voters could finally have their say in choosing their representatives," Subeck said. "This comes after more than a decade of unfair maps drawn to ensure a large Republican majority and a decade later redrawn to expand and bake in that majority for another ten years, even as the voters of the state elect Democrats in nearly every statewide election."
A challenge is already in the works. Subeck noted that Law Forward, a progressive nonprofit law firm, has announced that it plans to file a lawsuit challenging Wisconsin's legislative maps later this year.
Law Forward declined to comment for this story.
"I think there's general agreement that the legal action that will be filed will result in a reopening of the redistricting that occurred … in 2021, and a revisiting of the maps," Jay Heck, the director of the nonpartisan good government group Common Cause Wisconsin, told the American Independent Foundation in an interview.
Originally, during the 2021 redistricting cycle, the conservative majority on the state Supreme Court selected maps drawn by Evers. However, after Republicans in the Legislature filed an emergency request with the U.S. Supreme Court, the six-justice conservative majority overturned the state court's decision. Conservatives on the state Supreme Court then adopted gerrymandered maps that gave Republicans a significant advantage.
Heck said that in their dissent, the three progressive justices "said that those maps were too partisan, that they disenfranchised lots of voters who don't really have the opportunity to be able to have their votes count as much as someone voting for a Republican because of the way some districts were drawn. And so I would assume that that would be the basis of the lawsuit."
If the maps are ruled unconstitutional the court could take a variety of steps to replace them, as redistricting fights in other states show. For example, in 2018, the Pennsylvania Supreme Court threw out Republican-drawn congressional maps on the grounds that they were gerrymandered and asked the state to provide new, less partisan maps, but then-Gov. Tom Wolf and the state Legislature couldn't come to an agreement. The court ultimately imposed maps of its own.
Heck said he doesn't think that the court would draw its own maps, but that it would instead solicit maps from elected officials and make a selection from among them, as the conservative majority on the court did in 2021.
"Evers did a very good job of submitting maps that were less partisan and less Republican-leaning than the maps that the Republican Legislature gave to the Supreme Court, which they accepted and ultimately chose 4-3," he said. "I think that would be the leading candidate as an alternative.
"Now they might decide to select other maps that are there," Heck added. "Here's the thing: Maps can be drawn relatively quickly by lots of different entities. And they may say, Well, we will, in the next month, look at some other maps. And so you can imagine the scrambling that I'm sure is already happening to do that."
In the 2021 round of redistricting, Common Cause Wisconsin supported the maps drawn by Evers' office. Heck said that, barring unforeseen circumstances, the group would do the same if the Republican maps were thrown out.
Looking ahead to 2024, Heck said, "I think the state Supreme Court majority will be more kindly towards voting, as opposed to the conservative majority that was less friendly."
Heck pointed to two decisions handed down by the court's conservatives: one last year to end the use of ballot drop-boxes and another barring election clerks from adding minor details, such as an omitted zip code, on ballots that would otherwise not be counted. Heck called the rulings "death by a thousand cuts to voting in Wisconsin."
"Under 30,000 separat[ed] the winner and the loser in four of the six elections for president in Wisconsin since 2000, and that's out of 3.5, 3.6 million votes cast. So it's infinitesimal, the separation. So every vote literally does matter here," Heck said.
Reprinted with permission from American Independent .