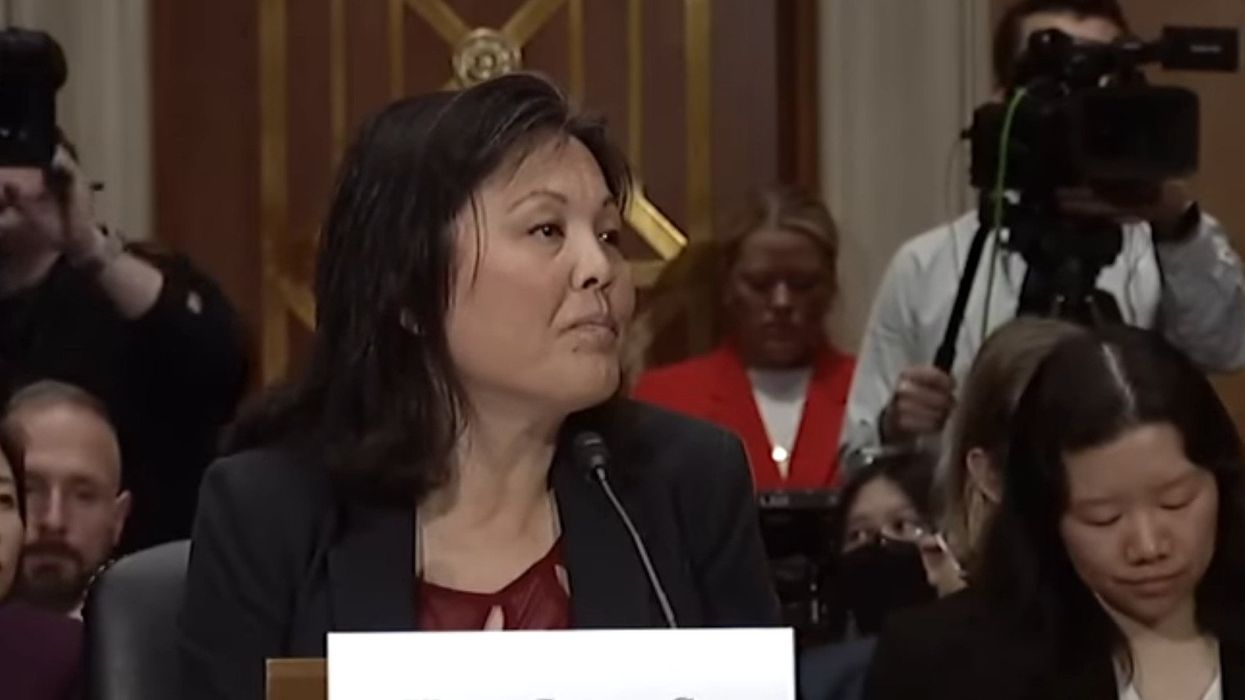 It wasn't enough for owners of lucrative Southern California car washes to cheat their workers out of wages and overtime.
They made workers pay for the towels they used to clean cars, denied them rest breaks, forced them to toil in filthy water that bred foot fungus, and even required the so-called "carwasheros" to hand-wash vehicles with skin-burning solvents.
Outraged members of United Steelworkers (USW) Local 675 launched an effort to help these workers about a dozen years ago , just as the state's new labor commissioner, Julie Su, kicked off her own battle against the state's shadow economy.
In a one-two punch that still reverberates through the industry, the USW empowered carwasheros at the negotiating table while Su ramped up enforcement of labor laws, pursued millions in back wages , and filed criminal charges against unscrupulous bosses.
Given this and other fights Su waged on behalf of ordinary people, it's no surprise that workers across the country are demanding her confirmation as the next U.S. secretary of labor. President Joe Biden nominated Su for the Cabinet post on February 28, but the Senate has yet to vote.
The labor secretary enforces workers' rights along with federal wage, overtime, and child labor laws. The nation's top labor cop also fights discrimination, oversees workplace safety agencies, administers pension security programs, and polices employer compliance with shutdown and layoff rules.
To truly make a difference, however, the secretary needs the ardor for working people and impatience for change that define Su's career.
"It's one thing to be a policy person. It's another to connect with people on an emotional level," said David Campbell, secretary-treasurer of Local 675, recalling not only the skill but the passion and tenacity that Su brought to the fight for car wash workers.
The multi-million industry preyed on recent immigrants, the homeless, and other vulnerable people, said Campbell, noting one "was paid with the privilege of sleeping in the car wash bathroom at night."
"The car washes knew there was a special enforcement program going on with the labor commissioner. So that made them—at least some of them—more amenable to collective bargaining agreements," which increased wages, improved working conditions, and gave workers a voice, explained Campbell, whose local worked with several community partners on the initiative.
Su tirelessly helps workers build better lives.
In the 1990s, as a 26-year-old attorney with Asian Americans Advancing Justice, Su helped 72 Thai workers start over after federal agents freed them from a garment sweatshop in El Monte, Calif., where they were imprisoned by barbed wire, watched by armed guards and paid by the cent.
Su won $4 million in back wages and legal protections for the workers. But she recalled being most gratified by how "the workers stood up, learned they had power , and, against all odds, defied the message they had heard their whole lives—that they should keep their heads down and know their place."
After her appointment as California labor commissioner in 2011, Su fought not only for the carwasheros but for poorly paid workers who cleaned buildings, harvested crops, and performed other essential yet largely invisible tasks in the state's underground economy.
She also stepped up to tackle other pressing issues, such as vigorously enforcing a California law requiring health care facilities to develop customized violence-prevention plans to protect workers like the thousands of USW members who work in hospitals and other medical settings.
And Su helped implement a law protecting workers whom unscrupulous employers deliberately misclassified as contractors so they could skimp on wages, benefits and workplace safety. That work spoke not only to Su's drive to help workers but to her long-held conviction about the need to provide a "level playing field for honest employers to prosper and thrive."
"Julie Su was able to greenlight important issues rather than let them founder in an uncaring bureaucracy," observed Campbell, noting that low wages and poor working conditions for some workers drag everyone down in the long run.
"The obvious move is to raise the floor, and that's what we should do," noting that unions and labor enforcers have a "common interest" to protect workers and fuel the economy.
Biden tapped Su to be deputy labor secretary, the department's No. 2 position in 2021, and then nominated her for the top role upon Secretary Marty Walsh's departure last winter. The USW, along with dozens of unions, social justice groups, and other organizations, quickly sent senators a letter urging Su's confirmation because of her record of accomplishments and ability to confront current challenges.
Just a couple of weeks ago, for example, she helped employers and dock workers negotiate a tentative contract that keeps West Coast seaports—and America's economy—operating. Her work on that case drew praise from both union workers and the Pacific Maritime Association, a trade group.
Americans need Su to watch their backs more than ever, especially as a growing number of workers join unions on the heels of the pandemic and advocates push for a national version of the California law protecting health care workers.
"If she asked me to knock on doors for her, I'd be out there knocking," said David Simmons, a member of the Steelworkers Organization of Active Retirees (SOAR) from Pasadena, Calif., explaining his eagerness to build support for Su's nomination.
Simmons, who worked on the car wash initiative, remembers not only Su's commitment to the workers but how she galvanized her entire agency to a mission that previous labor commissioners neglected.
"I think she'd make a great secretary of labor," he said.
Tom Conway is the international president of the United Steelworkers Union (USW).
This article was produced by the Independent Media Institute .
Reprinted with permission from Alternet .