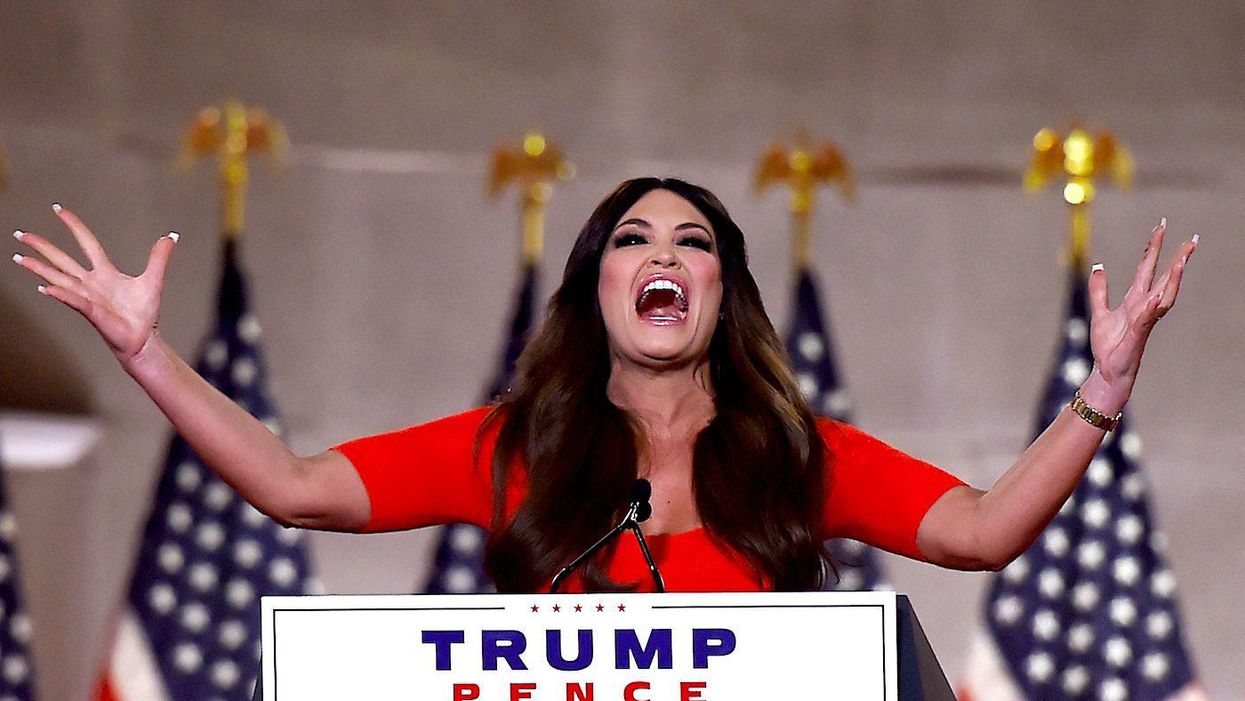 After an erratic video deposition gone awry with the House Select Committee investigating January 6, a formal subpoena has been served to Kimberly Guilfoyle, Donald Trump Jr.'s fiancée and proud fundraiser for the rally in Washington, D.C., that her soon-to-be father-in-law incited to insurrection.
The panel issued the subpoena on Thursday night, two weeks after Guilfoyle appeared remotely for the panel but failed to cooperate. Her attorney, Joseph Tacopina, cited a laundry list of grievances for her backing out, namely the very presence of committee members viewing her deposition.
Fearing media leaks of her testimony, she said she expected to meet with counsel for the select committee exclusively. But according to Committee Chairman Bennie Thompson, no such deal was ever struck.
"The Select Committee staff sought your voluntary cooperation with its investigation. Though you professed to want to cooperate, you produced only 110 pages in response to 14 document requests," Thompson wrote to Guilfoyle in a letter notifying her of the subpoena.
The February 25 interview was also slated to be transcribed, and, like other depositions, have full member participation.
Kimberly Guilfoyle Jan. 6 Committee Subpoena by Daily Kos on Scribd
The committee is interested in Guilfoyle's testimony because of her reported ties to fundraising for the rally at the Ellipse on Jauary 6. She allegedly helped raise $3 million from conservative Publix supermarket heiress and high-level Trump campaign donor Julie Fancelli.
ProPublica first broke the news of Guilfoyle's alleged fundraising activities after obtaining text messages sent to Katrina Pierson, a White House liaison for the rally.
"Raised so much money for this. Literally one of my donors Julie at $3 million," Guilfoyle wrote.
Guilfoyle was pushing Pierson to let her have certain speakers on stage next to Trump, like "Stop the Steal" rally organizer Ali Alexander and Trump's longtime adviser, craven Republican strategist Roger Stone.
Hamfisted conspiracy peddler Alex Jones was among the group Guilfoyle reportedly wanted to bring out front.
Guilfoyle also wanted to introduce Trump Jr.
But "credible evidence" from the committee, Thompson wrote, has indicated that she was told by officials that Trump had concerns about sharing the spotlight with the trio.
Guilfoyle was also in the Oval Office on January 6 and backstage at the rally, seen celebrating with Trump Jr., former White House Chief of Staff Mark Meadows, and others present, such as the outgoing president's daughter, Ivanka Trump.
Both Ivanka and Meadows have also been subpoenaed by the panel. Meadows waffled on cooperation with the committee months ago and awaits his fate from the Justice Department on a criminal contempt of Congress referral approved by the House of Representatives last year.
The committee recalled Guilfoyle's own words back to her in their demand, highlighting her spreading of Trump's long-debunked lies about the outcome of the 2020 election on January 6.
"You later spoke at the rally held on the Ellipse in support of President Trump and his allegations of election fraud. You told the crowd, 'We will not allow the liberals and the Democrats to steal our dream or steal our elections,'" Thompson wrote. "[You] were filmed backstage prior to your speech telling people to 'Have the courage to do the right thing. Fight!'"
Before handing down the subpoena, the committee said it did offer Guilfoyle one more chance to cooperate.
She declined.
Meanwhile, the committee has reportedly received cooperation from another Trump administration figure: former White House Deputy Press Secretary Judd Deere.
Deere, who now works for Republican Sen. Bill Hagerty of Tennessee, was quietly subpoenaed at the end of January, according to Politico.
It has been reported that Deere was part of a meeting on January 5 with Trump and Trump yes-man and Deputy Chief of Staff for Communications Dan Scavino.
Scavino was subpoenaed in September and has reportedly cooperated at length with investigators. Politico noted that in Michael Bender's book, Frankly, We Did Win This Election: The Inside Story of How Trump Lost, Deere was privy to that conversation where Trump discussed the upcoming rally with Scavino.
The National Archives was also asked by the committee to produce correspondence belonging to Deere and others in the Trump White House communications wing when it started its probe.
Reprinted with permission from Daily Kos