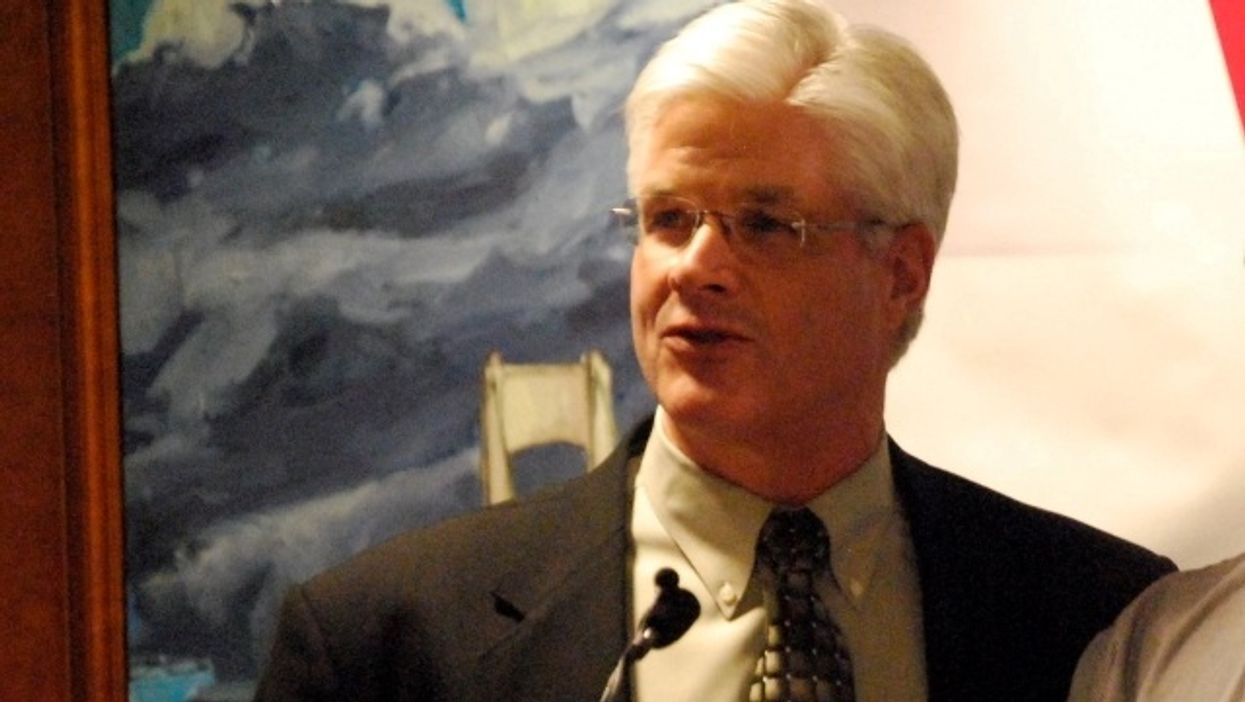 A White House meeting on Friday had observers spooked all day as it appeared to be a part of President Donald Trump's attempt to hold on to power despite losing the 2020 election to President-elect Joe Biden. But by Friday evening, it appeared the meeting had wrapped up with Trump no closer to his goal — and he was perhaps even farther from it than ever.
Trump met with Michigan's State Senate Majority Leader Mike Shirkey and Speaker of the State House of Representatives Lee Chatfield, two leading Republicans in the legislature. This was highly disturbing, because the president and his campaign have focused on Michigan as one of the key Biden states to contest. Earlier in the week, two Republican officials on a county board tried to block certification of Detroit's (heavily Democratic) votes, a move quickly celebrated by the Trump team. The Republicans relented and certified the vote, but they subsequently recanted and tried to withdraw their certification (though that move seems to have failed.) One of the officials admitted that she had spoken for Trump before reversing her position on certification.
So it was hardly surprising that Trump's meeting with top state legislators in the state raised alarm bells. Legislatures are ultimately the body empowered by the Constitution to appoint the electors that pick the president. There are powerful legal arguments that the legislatures' decisions have already been made and cannot be reversed at this point in time, but some fear Trump may be willing to push a dangerous gambit and pressure legislatures to subvert the law and the will of the voters to keep him in power.
It's a scheme that would be highly likely to fail, as I've argued, but it could cause a lot of chaos in the meantime.
However, the plan is stalling at the starting line. After the meeting, the legislators released a statement making clear they see no basis for overturning the result of the election:
The Senate and House Oversight Committees are actively engaged in a thorough review of Michigan's elections process and we have faith in the committee process to provide greater transparency and accountability to our citizens. We have not yet been made aware of any information that would change the outcome of the election in Michigan and as legislative leaders, we will follow the law and follow the normal process regarding Michigan's electors, just as we have said throughout this election.
Michigan's certification process should be a deliberate process free from threats and intimidation. Allegations of fraudulent behavior should be taken seriously, thoroughly investigated, and if proven, prosecuted to the full extent of the law. And the candidates who win the most votes win elections and Michigan's electoral votes. These are simple truths that should provide confidence in our elections. [emphasis added]
Of all the key swing states, Biden won Michigan by the largest margin of over 150,000 votes. Since it wasn't even close, it always seemed that Trump's chance of altering the final result was the biggest stretch (though changing the result of any state officially doesn't seem remotely plausible.)
But one benefit of the state's top legislators coming out to clearly reject the idea that the outcome was wrongly tabulated is that it may discourage other Republican officials elsewhere, such as in Pennsylvania, who may have been inclined to go along with Trump's attempted coup. If the Michigan officials had made clear they would try to facilitate Trump's steal, others may have been emboldened to do the same. But that door appears closed now.
And it should be noted that while the Skirkey and Chatfield were criticized for even taking the meeting with Trump under such dubious circumstances, it appears they tried to use their visit with the president for good. They explained:
We used our time in the White House to deliver a letter to President Trump making clear our support for additional federal funds to help Michigan in the fight against COVID-l9. We have since sent the same correspondence to congressional leaders
Months ago, Michigan received funds through the federal CARES Act, and we used that funding to quickly support front line workers, improve testing, ensure adequate PPE, provide additional support to out-of-work Michiganders, and deliver assistance to local businesses that are struggling through no fault of their own. We once again face a time in our state when additional support would go a long way to help those same residents who need our help.
We highlighted our commitment to appropriating further federal dollars to Michiganders most in need as we continue to deal with the impact of COVID-19. We also emphasized our commitment to fiscal responsibility in the state budget as we move forward.
The country as a whole truly is in desperate need of more support as the pandemic reaches new heights. Trump's attempts to deny the reality of the election and to block the transition to a Biden administration have only been a distraction and hindrance to the most important issue facing Americans right now. But unfortunately, with his days in office numbered, it's not clear if Trump sees any personal advantage in doing what's right.