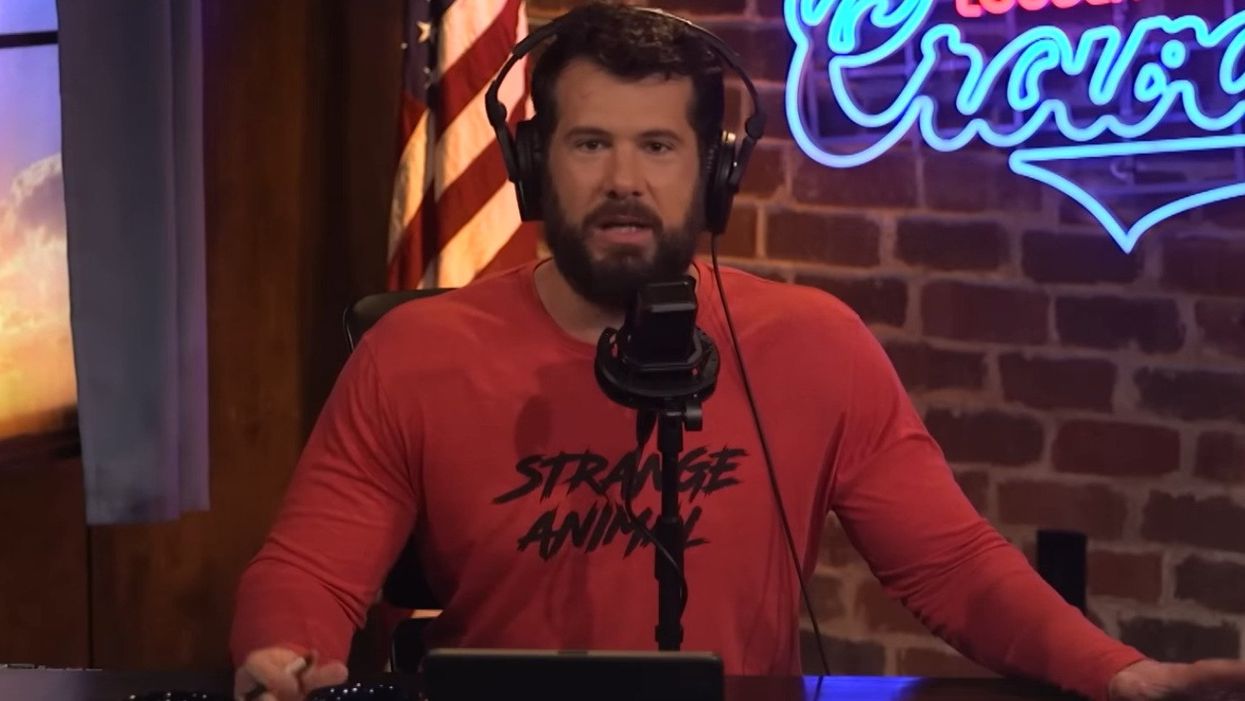 Hatemongering bully Steven Crowder has had a very bad year. After a brutal fight with conservative outlet The Daily Wire and a series of reports about his abusive behavior toward his family and staff, Crowder's Rumble and YouTube views have plummeted. Crowder's YouTube video addressing his split from Daily Wire from January received over 2 million views. His most recent video on the platform, however, barely broke 100,000 views (and his preceding video has only 59,000 views). Likewise with his Rumble account, Crowder's videos once received over two million views. He hasn't broken a million views on Rumble since May.
Along with a dwindling audience, Crowder has also lost support from other right-wing media personalities. Conservative columnist Bethany Mandel called Crowder a "narcissistic jerk." Conservative cartoonist Scott Adams said Crowder's attack on The Daily Wire was "bad form," and claimed the platform's offer was a "reasonable starting point." And conservative columnist Jonah Goldberg called Crowder an "untalented buffoon."

Crowder's once strong media presence appears to be collapsing. How did this happen?
In January, Crowder began a public war with The Daily Wire . It all started when Crowder accused an unnamed conservative platform of being in league with Big Tech against conservative content creators. The next day, Daily Wire CEO Jeremy Boreing posted a video confirming that the unnamed platform was, in fact, The Daily Wire . He spent 30 minutes explaining the terms of the "dream" contract that Daily Wire offered Crowder, which included four weeks of paid vacation, full editorial control over content, a staff, and the right to retain ownership of any previously created content, as well as $50 million. Crowder not only publicly rejected the deal, but he played a secretly recorded tape of him and Boreing discussing the possible contact. This was too much for The Daily Wire .
Ben Shapiro called Crowder " nasty " on his podcast. He went on to express his condemnation of Crowder, along with a full timeline of the events which precipitated the escalating war between the Daily Wire and the YouTuber. Daily Wire host Candace Owens went on the attack as well, accusing Crowder of a " bitch move " and calling him a " socialist ." She went on to make vague threats of revealing personal and damaging information about Crowder if he did not cease his assault on her employer.
It turns out that damaging personal information, though, was about to be exposed anyway. In April, Yashar Ali published Ring camera video of Crowder's property, which showed the YouTuber verbally abusing his wife, Hilary. In the videos, Crowder told his pregnant wife, "I will fuck you up" and ordered her to perform "wifely duties." Crowder and his wife have been in a contentious divorce since December 2021.
As conservative radio host Erick Erickson noted , there was scant defense of Crowder after this video was released.
The damage only continued. In May, The New York Post revealed that Crowder has a long history of abusing his staff. This included screaming — including at his father, Darrin, who acts as his booker — as well as exposing his genitals to his employees. Mediaite followed up, reporting in July that Crowder created a workplace that was "rife with bullying, alarming and unpredictable behavior, as well as lewd sexual workplace misconduct." In addition to the sexual harassment, the reporting also stated that Crowder would offer and ask employees for drugs, including Klonopin and opiates.
On his show, Crowder responded to the allegations that he sent pictures of his genitalia to male employees — " groomer-ish " behavior, according to an ex-staffer — by doing a skit in which he showed his genitalia to a staffer.
Crowder has long been a bully on air. After Columbus police shot and killed Ma'Khia Bryant in 2022, for example, Crowder mocked her weight . He once claimed a "disproportionate number" of trans people are rapists and pedophiles and said , "I would like to send out gangs of retarded people to lynch pedophiles." He's a racist who used the N-word on his YouTube show. He also frequently attacks LGBTQ people and women . What the reporting about Crowder demonstrates is that he is a bully both on camera and off.
Crowder has received an almost constant stream of YouTube suspensions. Most recently , he was suspended after allowing conspiracy theorist Alex Jones to host his show . He and Jones have been getting closer in their professional relationship, an indication that as Crowder declines in popularity, he's turning to more extreme outlets.
In March, Crowder signed a deal with Rumble to allow the extreme right-wing platform to exclusively manage his content. Viewership of his shows on Rumble this year, though, clearly show his audience is rapidly dwindling.
Through lack of character and professional foolishness, Steven Crowder's star is fading. He created a show that was as ugly as he is, and now people are finally tuning out.
Reprinted with permission from Media Matters .