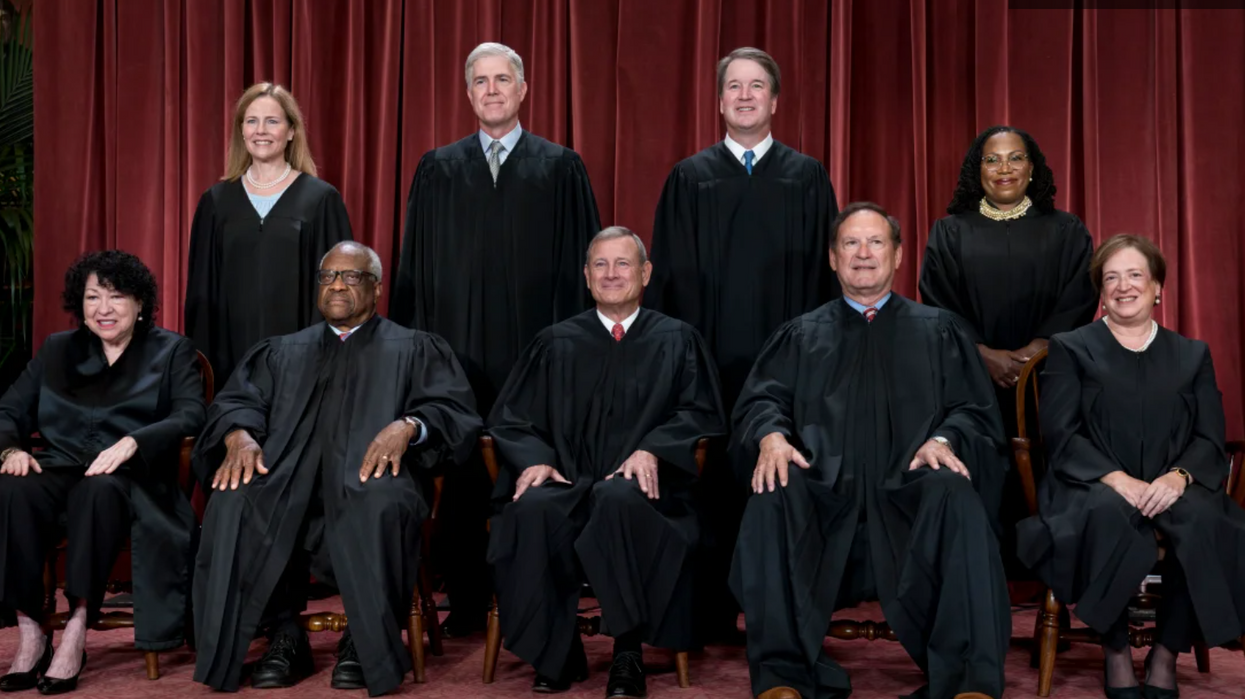 The filing last week by Trump with the Supreme Court asking for a partial stay of the 11th Circuit Court of Appeals' decision removing 100 classified documents from the purview of the Special Master was 37 pages long. The Department of Justice response this week to the Trump motion was 32 pages long.
The Supreme Court's rejection of Trump's motion, posted yesterday, consists of a single sentence on one page: "The application to vacate the stay entered by the United States Court of Appeals for the 11th Circuit on Sept. 21, 2022, presented to Justice Thomas and by him referred to the court is denied."
Not one justice, including Ginni's husband, dissented. The decision came down exactly two days after the DOJ filed its response to the Trump filing.
Trump's motion did not ask that the classified documents be barred from the DOJ's criminal investigation of Trump. Instead, it asked that the classified documents be returned to the Special Master to be reviewed for possible attorney-client privilege or executive privilege. This would have meant that the highly classified documents, some marked as very rare "Top Secret/Sensitive Compartmented Information," would have been available to Trump's lawyers and thus to Trump himself.
There has been much speculation about why Trump would want to see the classified documents, but most legal experts theorized that the entire 37-page Supreme Court motion was simply another delaying tactic which would have allowed the Trump legal team to continue to make mischief with the documents, possibly by insisting that they be included in any possible criminal trial because the government wouldn't want to introduce such sensitive secrets as evidence, causing charges against to be dismissed.
The court's order is also a blow to the reputation and career of District Court Judge Aileen Cannon, whose orders have kept Trump in the courts with his motions and filings until today when the Supreme Court stepped in and told Trump, and his pet judge, to take a walk off a short pier. That the court took only two days to issue its order amounts to an even sharper slap to Cannon and her attempts to meddle in the DOJ's investigation of Trump.
All that's left to do now is for Judge Raymond Dearie, the Special Master, to make his recommendations to Judge Cannon, pretty much all of which will now be moot because Trump's lawyers, if they want to continue to practice law and earn a living in this country, will tell Trump that his avenues of appeal have now dead-ended. There is nowhere else for Trump to go. His struggles with the DOJ have just come to a dead halt.
There is the possibility, which the DOJ is said to entertain, that Trump still has some classified documents he has not turned over to the FBI. Depending on the nature of these still missing documents – one already seized by the FBI contained information about nuclear weapons – Trump may use the documents in an attempt to graymail his way out of being indicted. This seems unlikely however, because nearly anything he could threaten to do with the documents would subject him to even more felony charges of mishandling national defense information or obstruction of justice.
Trump, who is famously blatant when he cheats at his favorite game, golf, has just met an opponent who won't put up with his shenanigans: Merrick Garland. The Attorney General of the United States just scored a hole in one page with the Supreme Court.
Lucian K. Truscott IV, a graduate of West Point, has had a 50-year career as a journalist, novelist, and screenwriter. He has covered Watergate, the Stonewall riots, and wars in Lebanon, Iraq, and Afghanistan. He is also the author of five bestselling novels. You can subscribe to his daily columns at luciantruscott.substack.com and follow him on Twitter @LucianKTruscott and on Facebook at Lucian K. Truscott IV.
Reprinted with permission from Lucian Truscott Newsletter