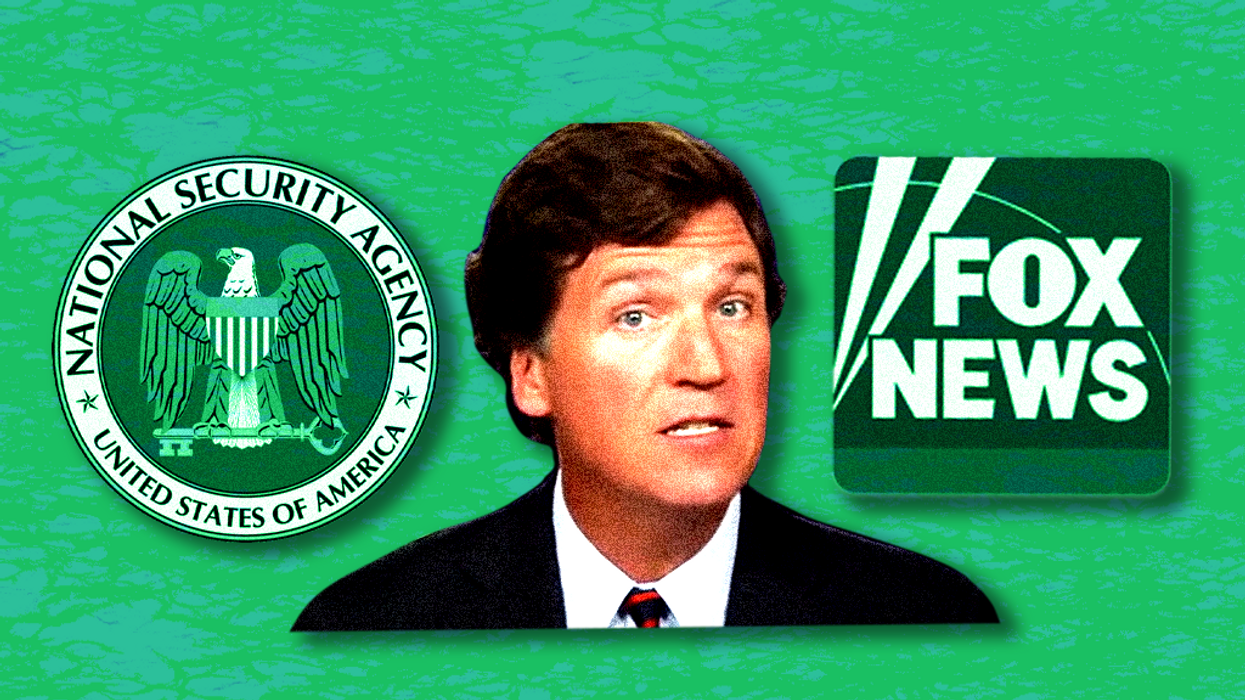 Reprinted with permission from Media Matters
Tucker Carlson's week-old claim that the National Security Agency is illegally "monitoring" his "electronic communications and is planning to leak them in an attempt to take this show off the air" finally made it to another Fox program when he gave an interview to Fox Business' Maria Bartiromo on Wednesday. The Fox star's incendiary allegation last Monday night had brought widespread news coverage, a rare denial from the NSA, and demands for investigations from congressional Republicans, including House Minority Leader Kevin McCarthy (R-CA). But one party remained notably silent about the host's description of a government plot to destroy his show until this morning: Fox.
Carlson's colleagues and bosses don't seem to buy his NSA claims. No other Fox News or Fox Business program had mentioned his allegations since he first offered them last Monday, even as Carlson returned to the topic the following three nights. That is significant because Carlson is the face of the network and his program's "reporting" often becomes grist for shows up and down the Fox lineup. Meanwhile, reporters asking Fox to comment on Carlson's claims have come up empty. That silence is particularly extraordinary given that Carlson is alleging that the Biden administration is illegally targeting the network's employee in order to destroy its 8 p.m. broadcast. If the Fox brass believed that was happening, they'd presumably shout it from the rooftops.
But Fox is right to tread carefully because its biggest star is a huge liar and has historically proven particularly dishonest in describing his own supposed persecution. Indeed, Carlson's dark and fraudulent tales of oppression by powerful enemies mirrors the network's effort to recast its viewers as targeted victims in an endless culture war.
It's unclear what, if anything, actually happened to Carlson. It's impossible to rule out the possibility that Carlson's communications were collected illegally given the dubious record of U.S. intelligence agencies -- though you'd expect a network with higher standards to demand more vetting and confirmation than a single unnamed source. Experts have also pointed to the possibility that Carlson was communicating with a legal foreign NSA target and his communications were swept up in the agency's routine surveillance of that person. (Earlier this year, for example, Carlson had interviewed the president of El Salvador.) Or Carlson's "whistleblower" could be wrong, or lying, or a figment of his imagination.
[EDITOR'S NOTE: Axios reported Wednesday evening that "Tucker Carlson was talking to U.S.-based Kremlin intermediaries about setting up an interview with Vladimir Putin shortly before the Fox News host accused the National Security Agency of spying on him." As Axios notes, many possible scenarios could explain and justify the NSA's surveillance of Kremlin associates who interacted with Carlson.]
It's hard to assess Carlson's claim because he often offers grandiose, conspiracy-minded claims about the forces arrayed against him that subsequently fall apart under scrutiny or die away.
If you're like me, you've endured the frustration of having a package delayed. If you're like Carlson, you've vented that frustration on your nationally televised cable news show by suggesting that nefarious forces at UPS may have seized your delivery as part of a plot to elect Joe Biden president. Just days before the 2020 election, Carlson claimed on-air that a cache of documents about Biden's family that his staff had sent across the country to him had mysteriously vanished. When UPS subsequently tracked down the thumb drive in question, which had been separated from its packaging in a facility, Carlson's response was to tell his audience, "Someone, for some reason, opened our package and removed a flash drive containing documents that were damaging to the Biden family." Strangely, Carlson never reported on the supposedly election-shifting documents in question.
Some people don't enjoy being reported on. Carlson is the sort of person who responds to reporting about him he doesn't like by lying about it on his show, resulting in a stream of abuse and threats directed at the journalists conducting it. In July 2020, Carlson claimed that The New York Times was about to do "a story on the location of my family's house" and suggested that the article would reveal his address and endanger his family -- claims he knew were false. He called out the two freelance journalists involved in the story by name; one told The Washington Post's Erik Wemple that he subsequently received "thousands" of abusive emails, while the other may have experienced an attempted home invasion.
Carlson himself had previously claimed to have been the victim of a similar attack. He told the Postin November 2018 that his wife was home alone when violent protestors arrived at their Washington, D.C., home after dark. The protesters, he claimed, were "threatening me and my family" and one "started throwing himself against the front door and actually cracked the front door."
I wrote on Twitter at the time that the activities described were "way over the line" and "unacceptable." They also don't appear to have actually happened. Local police told CNN they observed no damage to Carlson's door. Wemple found it undamagedwhen he went by the following afternoon. And my friend and former colleague Alan Pyke was reporting from the protest for Think Progress and described it as a roughly 10-minute event in which "a small group knocked on Carlson's door, shook a tambourine, and chanted slogans aimed at his chosen career hyping hateful speech aimed at racial minorities and political opponents, then left." (I still think protests at people's homes are generally a bad idea.)
Carlson's claim that the NSA is "monitoring" him as part of a plot to destroy his program came days after the New York Timesreported that he is a major source for DC journalists -- a report which in turn was published amid a media firestorm over his suggestion that the January 6 attack on the U.S. Capitol was a false flag effort planned by "FBI operatives."