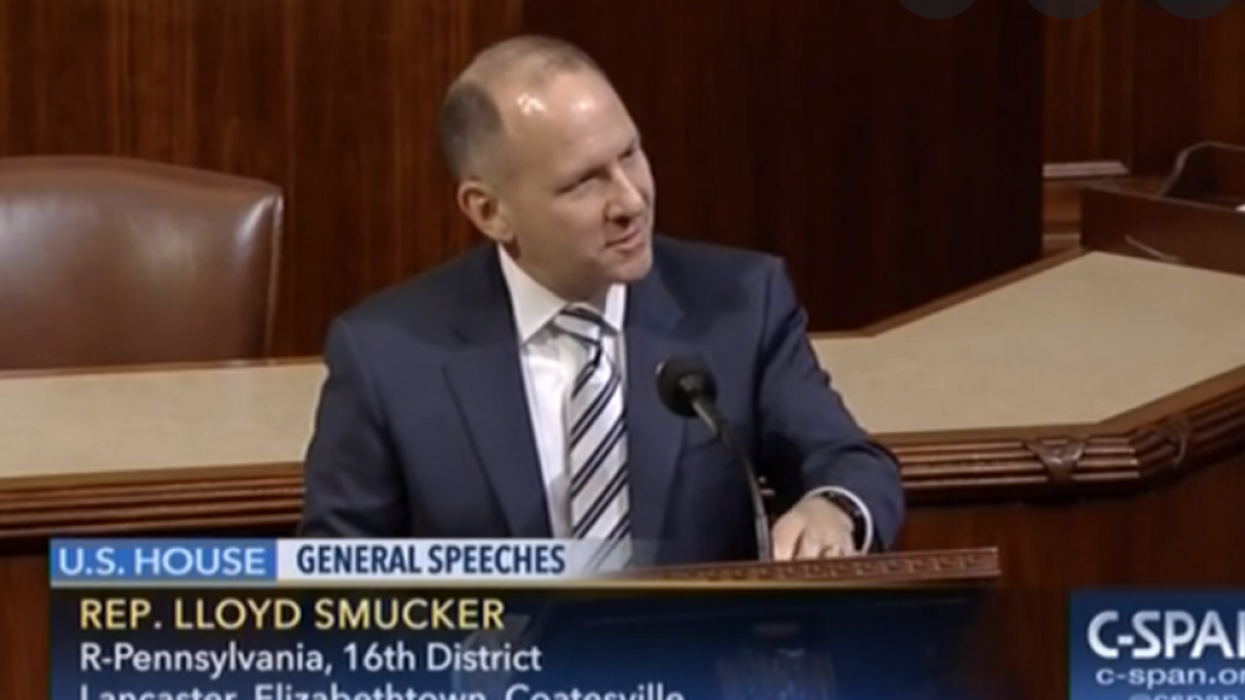 Perhaps the single most consequential story of the midterms season broke this week, and there's been virtually no coverage from major TV news shows, newspapers, and other mainstream outlets.
On Tuesday, Bloomberg Government produced a bombshell report that points to the massive economic consequences a Republican House would bring for Americans.
If Republicans gain a majority following next month's elections, the outlet reported, they plan to use a future increase or suspension of the debt ceiling as leverage to force through "top priorities" like seismic cuts to Social Security, Medicare, and other social safety net spending. Failure to act on the debt ceiling would result in an economic catastrophe, experts say.
There has been shockingly little coverage of this development given its significance. It earned a scattering of mentions in publications including New York magazine. And Sen. Elizabeth Warren (D-MA) and MSNBC's Chris Hayes detailed the stakes on his show Wednesday night.
But the story hasn't been referenced elsewhere this week on MSNBC, or on CNN, or on Fox News. The nationally broadcast morning and evening news shows on ABC, CBS, and NBC haven't discussed it. It hasn't been mentioned in the pages of major newspapers, including The New York Times, The Washington Post, The Wall Street Journal, the Los Angeles Times, and USA Today.
Republican leaders have been cagey about what they will do if they take control of the House of Representatives in November. House Minority Leader Kevin McCarthy (R-CA) produced a vague agenda last month that The New York Timesdescribed as an "an innocuous-sounding set of principles" that was "aimed at uniting members" but was "light on details," particularly on issues where the party's traditional positions are unpopular.
But the party's real strategy is quite specific, and it covers ground far from the GOP's culture war battlefield.
House Republicans will threaten to force the United States to default on its debt — setting off a global economic crisis — unless Democrats agree to such cuts, all four Republicans vying for the chairmanship of the House Budget Committee told Bloomberg Government:
"The debt limit is clearly one of those tools that Republicans — that a Republican-controlled Congress — will use to make sure that we do everything we can to make this economy strong," said Rep. Jason Smith (R-Mo.) , the ranking member of the House Budget Committee. He's seeking the top GOP spot on the tax-writing Ways and Means Committee but said if he doesn't get it, he'll remain in his Budget Committee position.
Reps. Jodey Arrington (R-Texas), Buddy Carter (R-Ga.), and Lloyd Smucker (R-Pa.) are seeking the top spot on the Budget Committee if Smith gets the Ways and Means role. Those three agreed Republicans must use the debt-limit deadline to enact fiscally conservative legislation.
The potential GOP committee leaders offered a variety of direct and indirect measures to carry out their vision, but the upshot for the American public is that a GOP House will try to slash the social safety net and plans to to capsize the economy if it doesn't get its way.
Bloomberg Government's story follows a September report from Axios stating that "GOP leaders, congressional aides and business groups are preparing for a potential 'nightmare scenario' next year if House Republicans take back the majority: a debt limit showdown reminiscent of the near-crisis in 2011."
Social Security and Medicare are on the ballot next month. If the American public doesn't know that, it's in part because the press isn't telling them.
Reprinted with permission from Media Matters.