Talks Between Kerry, Lavrov Fail To Produce Agreement Over Ukraine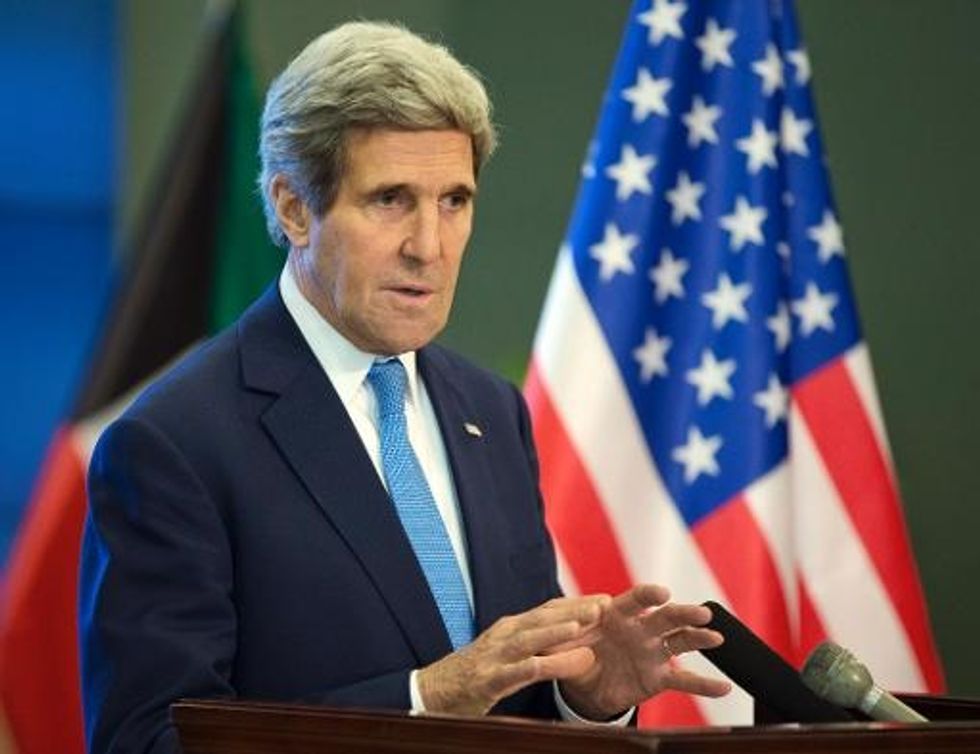 By Henry Chu, Los Angeles Times
LONDON — Eleventh-hour talks between the United States and Russia failed to break the deadlock Friday over how to resolve the crisis in southern Ukraine, where pro-Moscow forces have seized control of the Crimean peninsula and are set to hold a referendum on secession this weekend.
Secretary of State John F. Kerry said the United States and other Western nations would not recognize the vote and that they would swiftly impose limited sanctions on Moscow. He also warned that a move by Russia to ratify the outcome of the referendum, almost certain to be in favor of secession, would amount to an illegal "backdoor annexation" of Crimea.
"There will be consequences if Russia does not find a way to change course," Kerry told reporters after six hours of talks with Russian Foreign Minister Sergei Lavrov in London. "We don't say that as a threat. We say that as a direct consequence of the choices that Russia may or may not choose to make here."
Kerry said Lavrov had made clear that Russian President Vladimir Putin will not make any decisions before Sunday's plebiscite, which would offer Crimea the choice of withdrawing from Ukraine and joining Russia.
With hopes that diplomacy might stave off the disputed vote apparently dashed, hostility between the West and Russia looked likely to increase. The United States and the European Union are poised to impose travel bans and asset freezes on Russian officials deemed responsible for the military incursion into Crimea; Moscow has vowed to respond in kind.
Kerry expressed concern over Russia's troop movements close to the Ukrainian border, which have sparked fears that Moscow is preparing to mount an armed intervention there in the name of protecting eastern Ukraine's large Russian-speaking population. Putin has cited a similar rationale for the incursion into Crimea, where pro-Russian forces have seized control of nearly all the levers of power, including Ukrainian military and government installations and parts of the media.
"If Russia does establish facts on the ground that increase tensions or that threaten the Ukrainian people, then obviously that will beg an even greater response," Kerry said.
For his part, Lavrov declared that his country had "no plans of military intrusion into eastern Ukraine," despite what he described as an increasingly lawless atmosphere there.

Speaking at a separate news conference, Lavrov agreed that his negotiations with Kerry had not produced a "common vision" on how to proceed. He repeated Russia's contention that the new Ukrainian government is not a legitimate interlocutor in the crisis because it came to power through the unlawful toppling of former President Viktor Yanukovich, a Moscow ally.
For that reason, Russia rejects American and European demands that it open direct talks with Ukrainian officials, Lavrov said.
"This is the wrong approach. The crisis was not caused by Russia," he said.
Moscow continues to recognize this Sunday's referendum in Crimea as a valid expression of self-determination among the people of Crimea, Lavrov said. A majority of Crimea's 2 million residents are ethnic Russians or Russian speakers.
"Everybody understands that Crimea, for Russia, is something really important," Lavrov said.
"It means immeasurably more for Russia than the Falklands for the United Kingdom," Lavrov added, in a dig at the host of Friday's talks between him and Kerry.
Ties with Russia run extremely deep in Crimea, which came under Moscow's wing until 1954. Russia's historic Black Sea Fleet is based on the peninsula.
Kerry said the United States acknowledged that Russia had legitimate interests in Crimea. But he said those interests could be preserved through politics and diplomacy rather than through armed might.
AFP Photo/Pablo Martinez Monsivais