Tammy Duckworth Owns 'RedState' Punk In Twitter Takedown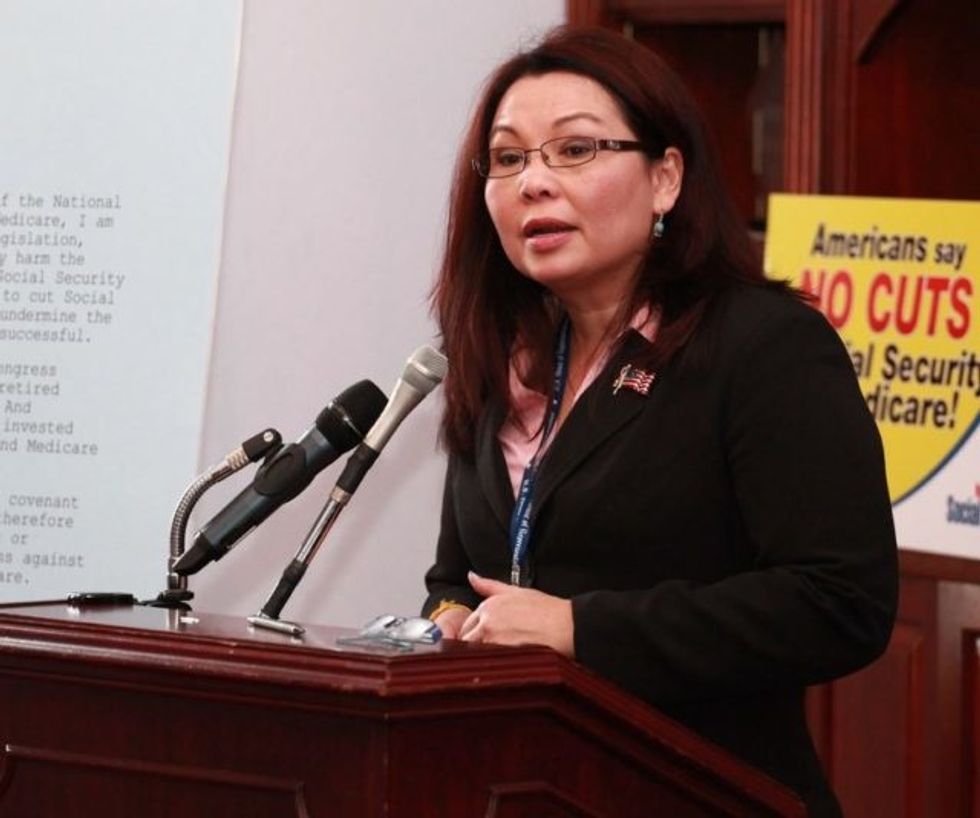 Reprinted with permission from Shareblue.com
Sen. Tammy Duckworth (D-IL) is not afraid to step into battle. After losing both of her legs while serving in the Iraq War, Duckworth joined the U.S. Senate, where she made a name for herself as an outspoken advocate for veterans and active-duty service members.
On Wednesday, right-wing outlet RedState found itself in the crosshairs after it tried to pick a fight with the combat veteran — a mistake it isn't likely to repeat.
In an article criticizing Duckworth for her advocacy on behalf of deported veteran Miguel Perez, anonymous RedState author "streiff" took a despicable cheap shot at the senator, writing, "Unfortunately, Duckworth really doesn't have a leg to stand on in making this argument."
The author was referring to Duckworth's efforts to help Perez return to the United States and establish retroactive citizenship. Before his deportation this week, Perez honorably served two tours of duty in Afghanistan during Operation Enduring Freedom.
But the RedState author couldn't resist throwing in a personal jab at Duckworth — one that didn't go unnoticed.
In a series of tweets posted Wednesday evening, Duckworth took RedState to task for the low blow, telling the author, "I actually have two legs. They're made of titanium, and they don't buckle."
Thanks for noticing, @RedState, but you're wrong. I actually have two legs. They're made of titanium, and they don't buckle. pic.twitter.com/uj2aIO0Ahr

— Tammy Duckworth (@SenDuckworth) March 28, 2018
But true to style, Duckworth was more concerned with the plight of Perez than the personal attack.
Instead of making it about her, the senator focused the rest of her tweets on dismantling the author's criticism of Perez, who struggled with PTSD, substance abuse, and legal problems after his return from combat.
"Many Veterans who suffer from PTSD struggle with addiction and land in legal jeopardy," Duckworth tweeted. "It's easy to pay lip service to supporting our troops and Veterans until they come home with complicated and often invisible wounds that they will carry for the rest of their lives."
"You don't truly support our Veterans if you're not willing to acknowledge and support them through the ugly havoc war can wreak on their lives," she added.
Duckworth's message to the RedState author is a lesson that many Republicans could stand to learn — that is, if they could stop exploiting our troops for long enough to listen.