Target Says It Will Remove Gender-Based Labeling In Toy Aisles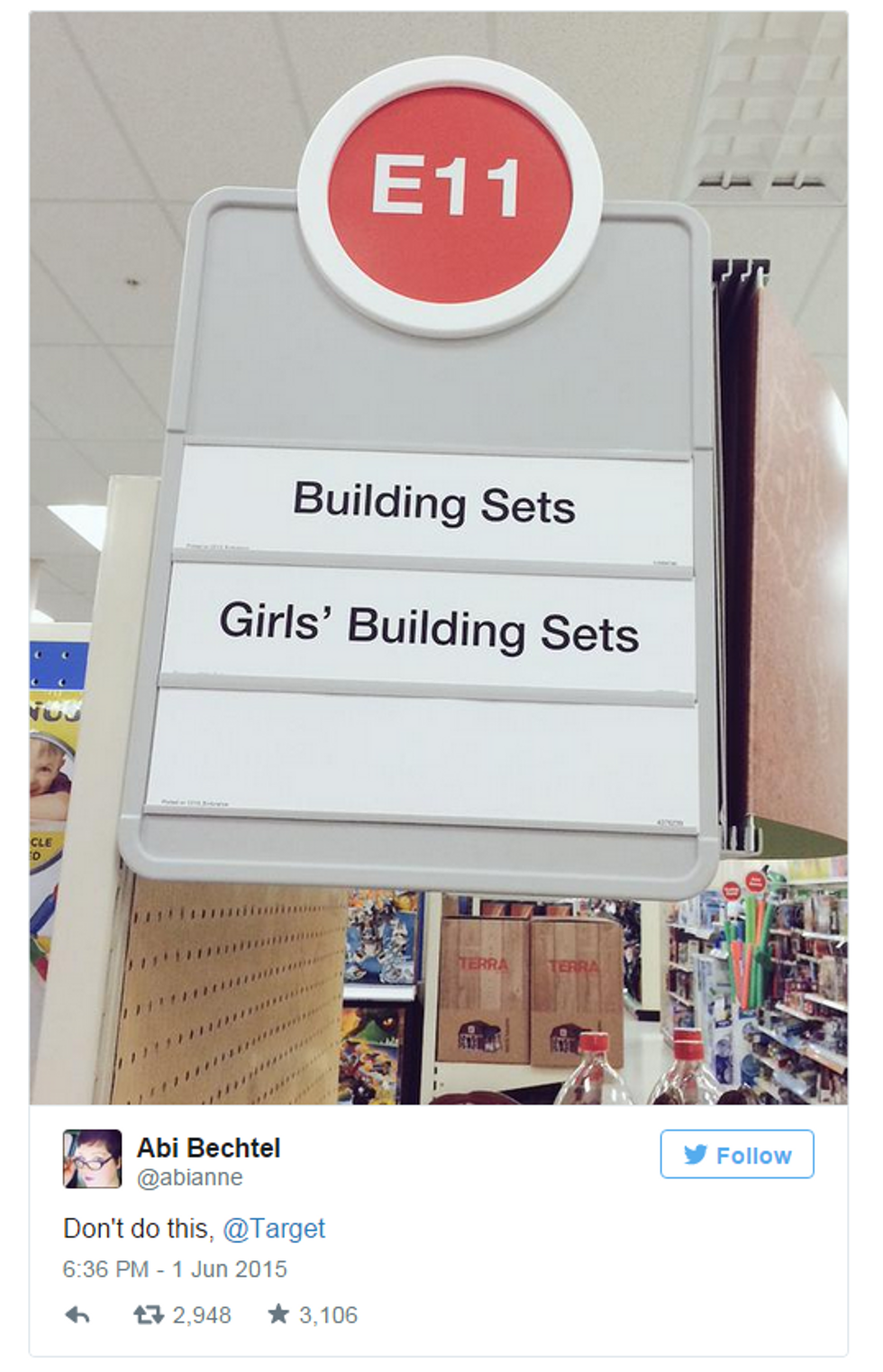 By Kavita Kumar, Star Tribune (Minneapolis) (TNS)
MINNEAPOLIS — After a tweet of a sign in a Target store that distinguished between "building sets" and "girls' building sets" created a social media firestorm earlier this summer, the Minneapolis-based retailer said Friday that it will use gender-neutral signage in toys aisles as well as in other areas such as kids' bedding and in children's books.
In addition, the company said it will remove the pink, blue, yellow and green paper on the back walls of its toy shelves that indicate a gender and replace it with wood paneling. Target said its teams are identifying other areas to phase out similar signage, but added that gender-based language still makes sense in some departments such as apparel where sizing and fit are different. The changes will be phased in over the next few months.
But the gender references for toys and other products will remain on Target.com, where gender is often used as a search term when people shop online, said Molly Snyder, a Target spokesman.
In a blog post on its corporate website, Target said that in the past, shoppers have said signage by brand, age or gender has helped them find gifts faster. But the company went on to say that shopping preferences change and it has heard loud and clear from customers that signage by gender in some departments is unnecessary.
"We never want guests or their families to feel frustrated or limited by the way things are presented," the company said.
The news was greeted with delight by Abi Bechtel, the mother in Akron, Ohio, who tweeted the initial picture that sparked the debate back in June.
"That's fantastic," she said in a phone interview when she was, coincidentally, heading to Target to do back-to-school shopping for her three sons. "I think it's great they are paying attention and re-evaluating how they are doing this kind of marketing."
In June, Bechtel had been shopping with one of her sons who had birthday money to spend when she saw the sign in the aisle that called out "girls' building sets" apart from just "building sets."
She tweeted a picture of the signage and wrote "Don't do this, @Target." It was retweeted thousands of times.
Bechtel was surprised that her tweet got so much attention.
"I didn't expect it to become the center of this entire discussion about gender and the way toys are marketed," she said. "But Caitlyn Jenner's pictures had just come out. And the Supreme Court's ruling on same-sex marriage came out soon after. So there was a whole lot of discussion about gender and gender roles anyway. The tweet just landed at the right time."
Up until a few weeks ago, she had still seen the "girls' building sets" sign in her local Target in Green, Ohio. But on Friday, when she got to the store, she happily reported that the sign was no longer there.
The "girls' building sets" sign in Target stores was mostly a reference to a line of products called Lego Friends, which include items such as hair salons and flower stands.
Snyder said the "girls' building sets" signs were recently taken down across the chain and that the changes to signs in the home and entertainment departments will happen in the next few weeks.
Photo: This is the tweet that changed Target's policy. Via Abi Bechtel/Twitter