Tarrant County Democrats Turn Out To See The 'Ready For Hillary' Bus In Fort Worth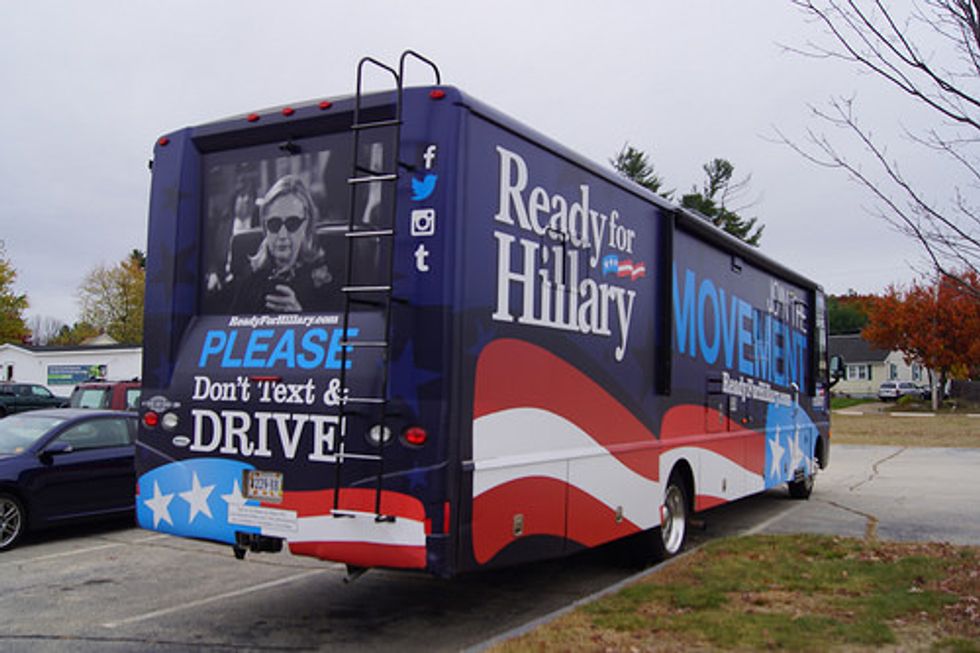 By Anna M. Tinsley, Fort Worth Star-Telegram (TNS)
FORT WORTH, Texas — Rosalinda Martinez is ready for Hillary Clinton.
That's why she headed downtown Wednesday night, in the rain, to try to catch a glimpse of the "Ready for Hillary" bus.
"I was hoping she would be on there," Martinez said of the bus that is crossing the country, trying to build enthusiasm for a Hillary Clinton presidential campaign in 2016. "I knew it was a long shot."
But Martinez said she hopes it's just a matter of time before Clinton declares that she is running for president.
"I am ready," she said.
The bus was in Fort Worth this week as part of a more than year-long effort encouraging Clinton — the former first lady, senator and secretary of state — to run for president in 2016.
The visit comes just a day after former Florida Gov. Jeb Bush revealed on Facebook that he is forming an exploratory committee for a possible 2016 presidential bid of his own, potentially setting up another Bush-Clinton match-up.
Bill Clinton won the last match-up in 1992, denying Jeb Bush's father — former President George H.W. Bush — a second term in the White House.
Jeb's son is George P. Bush, who next year will be sworn in as Texas' newest land commissioner. His brother is former Texas Gov. and former President George W Bush.
Seth Bringman has been driving the bus across the country, through 44 states so far.
He said he brought it to Fort Worth at the request of Tarrant County Justice of the Peace Sergio De Leon.
"We definitely wanted to come to the area — North Texas — and let supporters here see the bus and be part of the effort," said Bringman, communications director for the Ready for Hillary effort. "This is a good opportunity to harness the enthusiasm that's out there for Hillary.
"This bus will be rolling every day until Hillary makes her decision."
De Leon said he asked for the bus to come to North Texas to ramp up enthusiasm for Hillary Clinton.
"I can't think of a person better qualified to lead this nation. Who else has a resume like she does?"
De Leon, U.S. Rep. Marc Veasey (D-TX), Fort Worth Mayor Pro Tem Sal Espino and Tarrant County Democratic Party Chairwoman Deborah Peoples were among those gathered to welcome the bus and talk to the crowd.
Many spoke of this year's election and said it was a tough time for Democrats.
"On Nov. 4, something happened we didn't want to see — we got our butts kicked across the state and in Tarrant County," Peoples said. "But on Nov. 5, we got up and said, 'We are Democrats. We don't accept defeat.'
"We said, 'Where do we go?' Come on 2016," she said. "We are going to put another Democrat back in the White House."
Supporters say the goal is to line up an army of supporters for Clinton, hoping to make it easier for her to decide to jump in the race.
Longtime Clinton friends and former co-workers also have spread out throughout the country in the past year, as part of this grass-roots effort, talking to supporters and trying to build up support for this potential candidate.
A website touting the effort said the number of supporters has grown to nearly 3 million.
Tarrant County supporters of Hillary Clinton were the first last year to gather batches of donations in the amount of $20.16 — a trend that later spread nationwide — to help raise money for the effort.
A Virginia-based Ready for Hillary political action committee so far has raised nearly $9 million this year and spent slightly more than $8 million, leaving nearly $900,000 in cash on hand, according to documents filed with the Federal Election Commission.
In 2008, Clinton fought hard for the Democratic Party's presidential nomination, battling with Barack Obama in state after state. For some time, many thought the presidential nomination might be decided by the party's super delegates.
Texas had an influence on the race and will be long remembered for giving Clinton the popular vote in that year's Democratic primary — but ultimately giving Obama the victory by awarding him more delegates through the caucus process.
As a result, the state's two-tiered system, which that awards delegates through a popular vote and post election caucuses known as the "Texas Two-Step," drew national scrutiny.
Turnout was so massive in precinct conventions after the polls closed that they essentially overwhelmed the system.
Espino said Tarrant County will be ready for the 2016 presidential campaign.
"Let's make history again in 2016 by nominating Hillary Clinton for president," he said.
Photo: Marc Nozell via Flickr