Taxpayers Foot The Bill For Tea Party Candidate's Debate Coach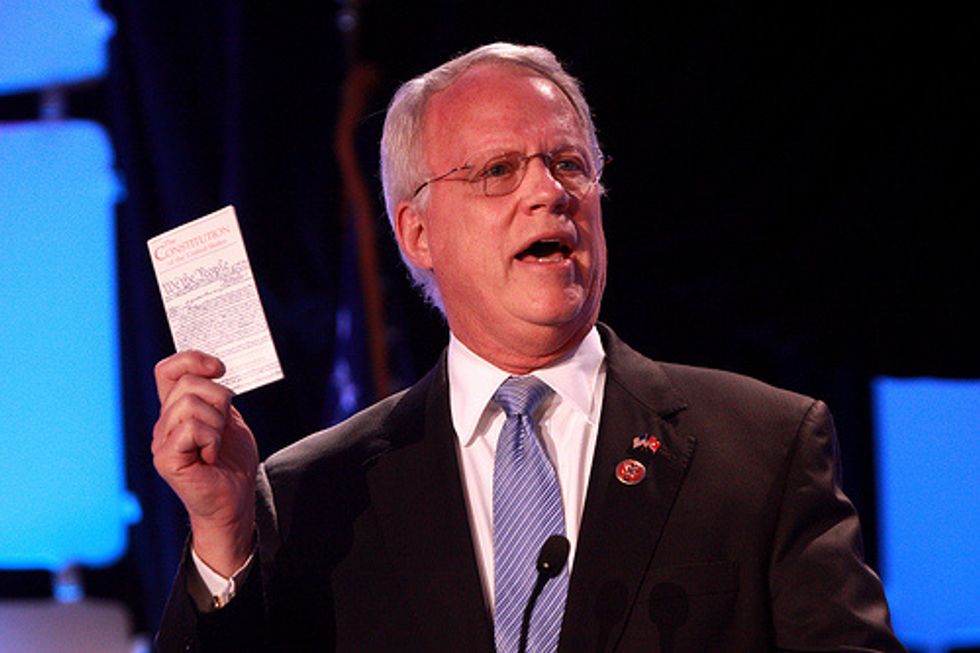 You should not be shocked to learn that gaffe-prone congressman and Senate candidate Paul Broun (R-GA) has spent tens of thousands of dollars on a rhetoric coach. But you may be surprised to discover that you are footing the bill for it.
According to a report by WSB-TV's Justin Gray, Rep. Broun has spent $33,000 of his congressional office budget over the past two years to pay rhetorical specialist and debate coach Brett O'Donnell. When Gray noticed the curious expenditure of taxpayer money, he paid a visit to Broun's D.C. office — only to have the door slammed in his face.
"Can we ask you why you're spending all this money on a debate coach?" Gray asked the third-term congressman.
"I'm sorry, I don't have time to talk," Broun replied.
"Can't we talk to you for just one minute please, sir?" Gray asked. Broun then shut his office door on the reporter.
Broun's press secretary later provided a statement to WSB-TV, explaining that O'Donnell "provides training with public speaking, on-camera interviews, and media appearances so that Dr. Broun can best communicate his legislative priorities, issues, and message with his constituents."
As Ed Kilgore notes at Washington Monthly, Broun appears to be toeing an ethical line by using taxpayer money to pay O'Donnell. If O'Donnell is doing any campaign work — which certainly seems likely for a debate coach — then he would have to be paid at least partially through campaign funds.
Even if the arrangement is legally sound, asking taxpayers to foot the bill for his rhetoric coach should tarnish Broun's self-styled image as an extreme fiscal conservative (the congressman even criticized Rep. Paul Ryan's budget for not cutting enough spending).
Voters may also wonder what, exactly, Broun was getting for their money. After all, even with a coach, Broun can't seem to stop saying things like evolution and the Big Bang theory are "lies straight from the pit of Hell," or that "the only Constitution that Barack Obama upholds is the Soviet constitution," among many other curious claims.
(If you're wondering how O'Donnell hasn't been fired yet, perhaps the answer lies in a story from 2012. A former campaign aide to Rep. Michele Bachmann accused O'Donnell of developing an "unnatural," "Rasputin-like" control over the congresswoman while working on her 2012 presidential run, leaving Bachmann "fearful of O'Donnell" and "broken emotionally" by the end of her campaign. O'Donnell strongly denied the claim.)
Ultimately, the incident is just the latest reason that Democrat Michelle Nunn is likely rooting for Broun to emerge from Georgia's crowded Republican primary (in which Broun is not the only candidate to spend taxpayer money controversially).
According to The Huffington Post'spolling average, Broun currently holds an 11-point lead in the primary.
Photo: Gage Skidmore via Flickr