Tea Party PAC Funding Increases While Candidates Falter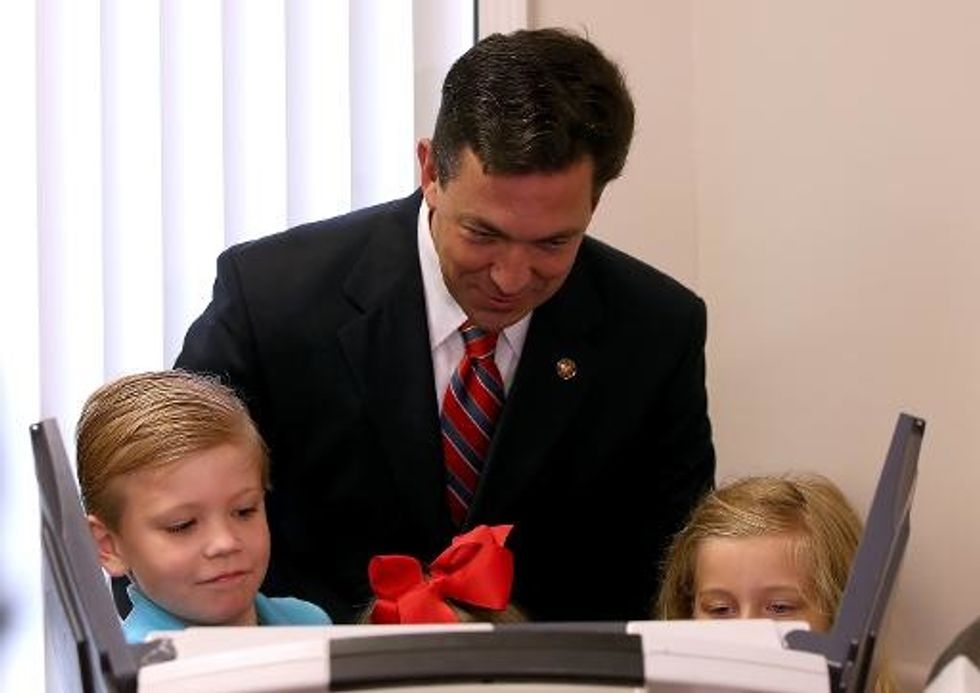 The Tea Party's really been struggling this primary season. They've failed to unseat a single Republican incumbent in the Senate primaries, and haven't won many victories in House primaries, either. But, as Patricia Murphy points out in The Daily Beast, fundraising for Tea Party SuperPACs continues to increase.
The right's top three Washington-based SuperPACS — the Senate Conservatives Fund, Club for Growth Action, and FreedomWorks For America — have recently experienced some of their best fundraising months, according to the Federal Elections Commission.
Club for Growth raised the most money, with a 73 percent increase in fundraising from May to June. The SuperPAC spent more than $3 million on its failed attempt to defeat Senator Thad Cochran (R-MS) in his June primary.
FreedomWorks had its third best month of the election cycle in June, even though its favored candidate, Matt Bevin, had just lost his primary to Senate Minority Leader Mitch McConnell (R-KY). And the Senate Conservatives Fund saw its funding increase by 46 percent in June, even though over 65 percent of its spending went towards failed Senate candidates.
As Murphy points out, these SuperPACs had nothing to do with the biggest primary upset of the season, Dave Brat's victory over House Majority Leader Eric Cantor (R-VA). But she notes that it doesn't matter who wins or loses.
"The fact that McConnell had to think about his primary for even a minute, and then adjust his agenda in Washington while he did it, made anyone who gave Matt Bevin $25 feel pretty good," she writes.
It's important to remember that these organizations aren't just funded by $25 donations. There are also people and corporations with deep pockets who are very committed to seeing the Tea Party succeed.
But even though they haven't had the best election season, it's not hard to see why the SuperPACs are doing well. It makes sense that fundraising would spike in June, when contested primaries were approaching. And while a June Gallup poll showed that 24 percent of Americans still support the Tea Party, a Gallup poll released on Tuesday finds that only 13 percent of Americans approve of Congress. In other words, there are plenty of voters who are ready for an insurgency.
A similar fundraising spike occurred in 2012, except from July to August instead of May to June. The Senate Conservatives Fund's fundraising increased by 87 percent from July to August, and FreedomWorks for America had a 91 percent spike from July to August.
It's important to note that all of this money doesn't go to campaigns. For example, in the 2014 election cycle, Club for Growth Action spent $356,400 on fundraising, $79,200 on strategy and research, $17,450 on actual campaign expenses, and $5,113 on contributions to committees. The Senate Conservatives Fund, however spent more on contributions to actual candidates than it did on fundraising or research.
Other Tea Party groups, such as the Tea Party Express, have been criticized in the past for putting their money toward fundraising and consulting fees, instead of giving it to campaigns.
AFP Photo/Justin Sullivan
Interested in U.S. politics? Sign up for our daily email newsletter!