Tea Party Rep. Gohmert Shares Wild New Conspiracy Theory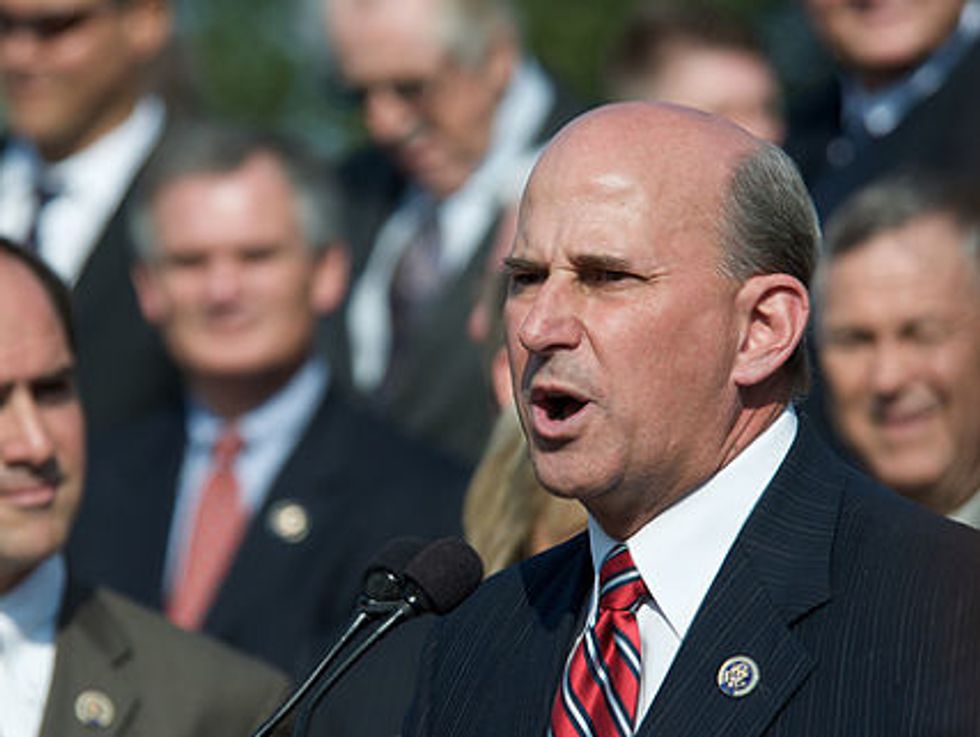 Texas Rep. Louie Gohmert has a wild new conspiracy theory about President Obama, and even by his unhinged standards, it's pretty far out there.
During an appearance on fellow right-wing loon Frank Gaffney's radio show, Gohmert claimed that the Obama administration helped to depose Moammar Gadhafi "so that al Qaeda and the Muslim Brotherhood could take over Libya."
Audio of Gohmert's bizzare rant is below, courtesy of Think Progress:

"This administration really embraced blowing out Mubarak — yes, do it up by all means — getting rid of Qaddafi, it wasn't enough to send verbal accolades," Gohmert said. "This administration sent planes and bombs and support to oust Qaddafi so that al-Qaeda and the Muslim Brotherhood could take over Libya."
No explanation, however, of how killing Osama bin Laden and dozens of his top lieutenants fits into Obama's master plan to elevate al Qaeda into power.
This is not Gohmert's first deranged conspiracy theory with regards to national security. In July, Gohmert joined Michele Bachmann and three other Republican congresspeople in a bizzare campaign demanding an investigation into the Muslim Brotherhood's "deep penetration" into the federal government. After Senator John McCain publicly defended Hillary Clinton's deputy Chief of Staff Huma Abedin, whom Bachmann had singled out, Gohmert memorably referred to the senator as "numbnuts."
Additionally, Gohmert once warned that "terror babies" represented a grave threat to national security, leading to this heated confrontation with CNN's Anderson Cooper:
Despite his strange theories and behavior, Gohmert seems likely to stick around Congress for a while; in 2012, he won re-election in Texas' 1st congressional district with 72 percent of the vote.
Photo credit: Associated Press