Tea Party Scores A Win In Nebraska Senate GOP Primary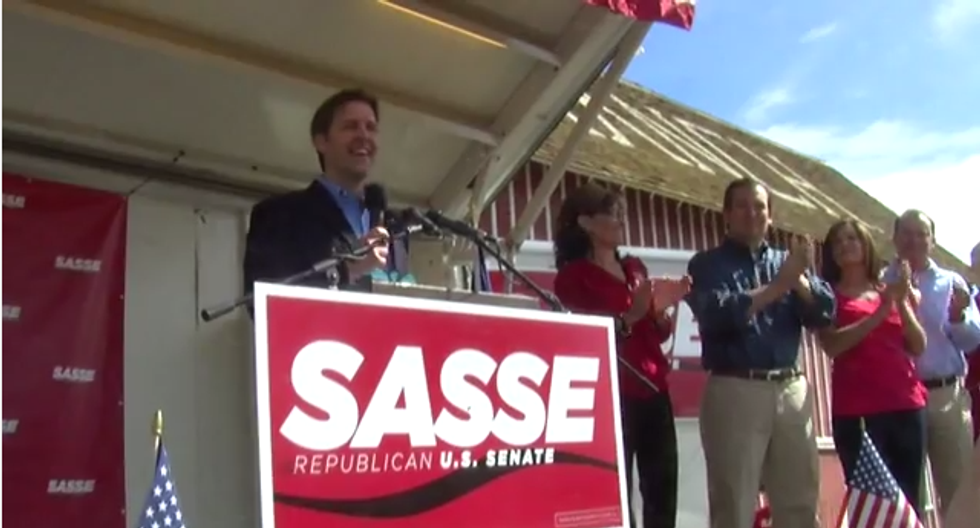 By Lisa Mascaro, Tribune Washington Bureau
WASHINGTON–The tea party scored a victory over the Republican establishment Tuesday, with Nebraska voters choosing conservative Ben Sasse as the party's U.S. Senate nominee.
As is happening in Republican primaries across the country, however, the difference between tea party and establishment has blurred.
The tea party-aligned Sasse, the Harvard-educated president of Midland University, is a former George W. Bush administration official and corporate consultant. The youthful dad of three swept several other candidates after an outpouring of tea party support that included campaign stops by Sarah Palin and hard-line GOP Sen. Ted Cruz of Texas.
The Nebraska seat came open with the retirement of Republican Sen. Mike Johanns and is expected to remain in GOP hands, all but ensuring that Sasse will become the state's junior senator.
In Washington, Senate Republican campaign Chairman Jerry Moran welcomed Sasse's win, emphasizing his record as "problem solver," rather than as a hard-right conservative.
Shane Osborn, a former Navy pilot who became Nebraska's state treasurer, had been a conservative favorite. But he was sidelined as tea party groups coalesced around Sasse. Also losing was Sid Dinsdale, a third-generation banker endorsed by the Omaha World Herald as the candidate most Nebraskans would be "comfortable with."
Outside groups poured $3 million into the Nebraska race, most of it to prop up Sasse and oppose the other two main candidates as Republicans battled Republicans, according to the nonpartisan Center for Responsive Politics.
The GOP has a good chance of winning the six seats needed to wrest control of the Senate from Democrats this November, but first they must pick their candidates amid the continued party divide.
A primary was also held Tuesday in West Virginia, where Shelley Moore Capito, a seven-term Republican congresswoman, easily won the GOP Senate nomination. She is favored in November against Democrat Natalie Tennant, the secretary of state.
The West Virginia seat came open with the retirement of longtime Sen. Jay Rockefeller, a Democrat. But the Mountain State has drifted away from Democrats since Rockefeller's election 30 years ago; it is expected to tilt to the GOP in November.
Screenshot: YouTube